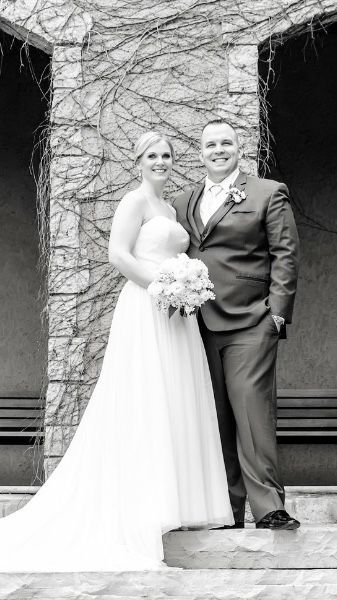 Kimberly Sidor and John Czarnecki, both of Vernon Hills, Ill., were married on April 21st, 2018, at the Makray Memorial Golf Club in Barrington, Ill.  Monica Sidor preformed the 5:30 pm ceremony for the daughter of Rick Sidor of Kildeer, Ill., and Patricia Burbank of Arlington Heights, Ill., and the son of Lawrence Czarnecki and Kristine Czarnecki, both of Kenohsa, Wisc. 
Jaclyn Sidor was the Maid of Honor.  Ashley Walkanoff, Leah Coscia, Jill Kenesie, and Lisa Ackerson were the Bridesmaids. 
The three brothers of the Groom shared the honor and title of Best Men, Greg Czarnecki, Randy Czarnecki, and Todd Czarnecki.  The Groomsmen were Tyler Rauber, Chris Sidor and Josh Hearn. 
Ryan Schmidt and Roy Balder were the Ushers. 
Aubrianna Kenesie was the Flower Girl and Luke Sidor was the Ring Bearer. 
Kimberly graduated from Glenbrook North High School in Northbrook, Ill., and Michicagn State University, East Lansing, Mich., with a degree in Supply Chain Management.  She is employed in the purchasing department at Uline in Pleasant Prairie, Wisc.
John graduated from St. Joseph High School and the University of Wisconsin, Parkside, with a degree in Business and Human Resources.  He is employed in the strategic sales department at Cree Led Lighting in Durham, N.C.
A reception was held to celebrate the couple at the Makray Memorial Golf Club in Barrington, Ill., they will be deciding on a Honeymoon destination at the later date.  The couple plan to reside in Bristol, Wisc.