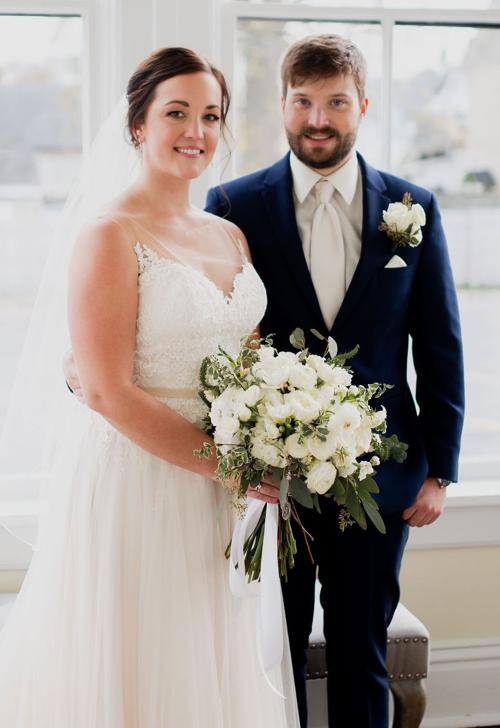 Cassie Rosmann of Kenosha, Wisc., and Kyle Diesner of Winthrop Harbor, Ill., were married on November 3, 2018 at the Covenant at Murray Mansion in Racine, Wisc. Walter Escobar preformed the 4:30 p.m. ceremony for the daughter of Bob Rosmann Jr. and Marsha Rosmann of Kenosha, and the son of Curt and Elaine Diesner of Winthrop Harbor. 
The bride graduated from Bradford High School and Herzing University with a Bachelor of Science in Nursing.  She is employed as an RN at Froedtert South, Inc., St. Catherine's Medical Center in Pleasant Prairie, Wisc.
Her groom graduated from St. Joseph High School and the University of Wisconsin-Milwaukee with a Bachelor of Science in Biology and Conservation and Environmental Studies.  He is employed as Fire and Aviation Management for the US Forest Services in Redding, Calif.
Beth Rosmann was the matron of honor and Kayla Diesner, Elise Elmblad, Anna Dix, Sarah Ceschin, and Courtney Seiler were the bridesmaids. 
Anthony DiCello was the best man.  Josh Rosmann, Alan Cianci, Josh Ruiz, Vinnie LaRosa, and Adam Kok were the groomsmen.  The ushers were Andrew Martins and Peter Napierala.
A reception was held at the Covenant at Murray Mansion following the ceremony to celebrate Cassie and Kyle.  The couple honeymooned in Punta Cana, Dominican Republic.  They will reside in Redding.    
Be the first to know
Get local news delivered to your inbox!