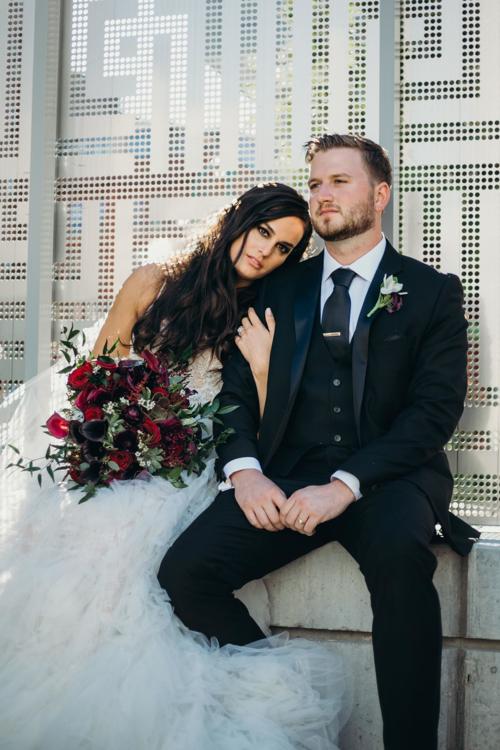 Anne Elizabeth Matteucci and Michael Jeffrey Eggert, both of Kenosha, Wisc., were married on September 22, 2018 at St. Robert's Parish in Milwaukee, Wisc. Father Ray Guthrie performed the 1 p.m. ceremony for the daughter of Charles T. and Julie Matteucci of Kenosha, and the son of Jeffrey and Catherine Eggert, also of Kenosha.
The bride graduated from St. Joseph High School and the University of Wisconsin-Milwaukee with a degree in journalism and mass media communications.  She is the owner Matteucci Creative Lab LLC.
Her groom graduated from Tremper High School and the University of Wisconsin-Milwaukee with a degree in architecture.  He is a superintendent at Logan Pass Construction based out of Denver Colo.
Ruth Matteucci was the matron of honor and Gina Matteucci, Karley Paul, Carrie Schiel, Jennifer Kreuser, Lindsay Wilbik, Jessica Brown, and Michelle Dimitrijevic were the bridesmaids.
Lilliana Matteucci, Hannah Matteucci, and Philomena Ruth were the junior bridemaids. 
The best man was Nicholas Eggert and Joseph Matteucci, Anthony Matteucci, Samuel Eggert, Brandon Ruffalo, Bradley Eggert, Thomas Montemurro, and Joseph Ouimet were the groomsmen. Paul Brown, Matthew Eggert, and Thomas Brown were the ushers. Roman Matteucci and Tyler Brown were the ringer bearers.
A reception was held after the ceremony at Tuner Hall Ballroom in Milwaukee, Wisc.  Anne and Michael honeymooned in Athens, Mykonos, and Santorini in Greece.  The couple will be traveling around the county for the foreseeable future until they settle down in a permanent home. 
Be the first to know
Get local news delivered to your inbox!