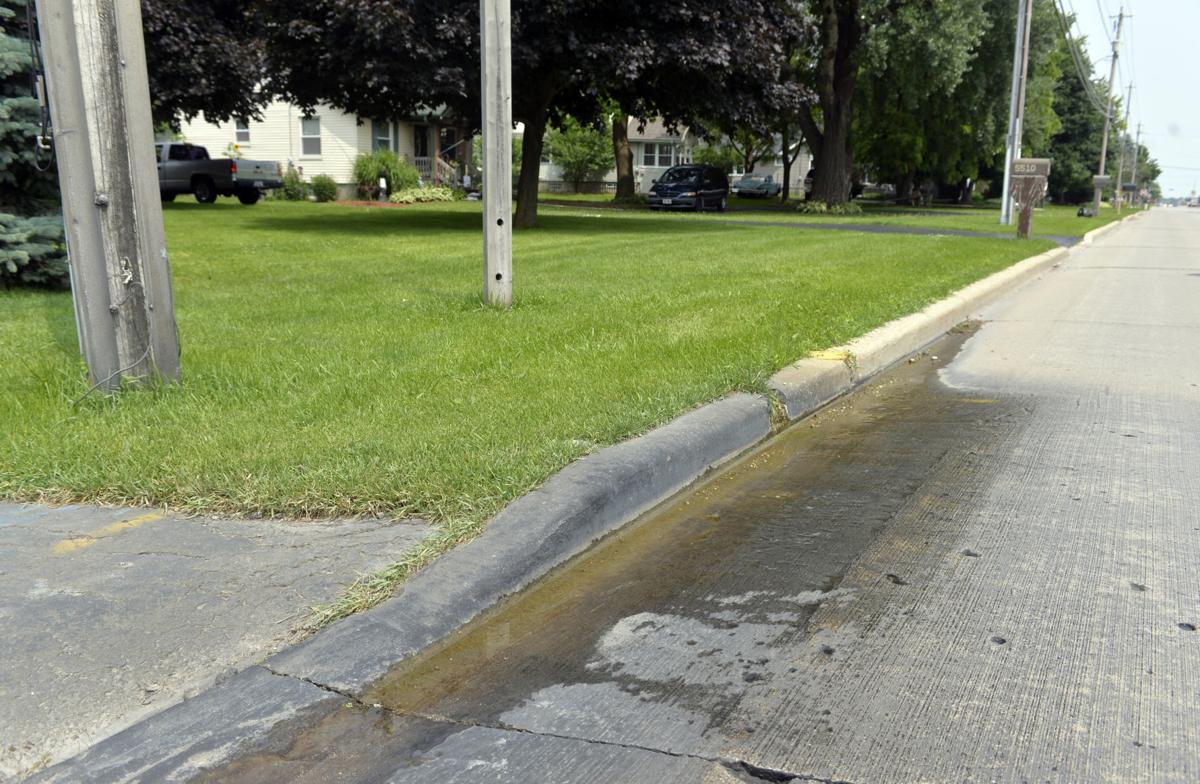 Today's problem: A reader contacted Fix It questioning why what appears to be a sump pump discharges into the roadway on the west side of the 5500 block of Green Bay Road.
JS wrote: "There is a house ... that continually pumps water into the right-most lane of southbound Highway 31. I believe it is discharge from a sump pump. In the winter, as the temps drop below freezing, a sheet of ice forms. Above freezing temps, cars spray up the water onto other cars and some cars try to swerve to avoid the puddle. Ultimately, the water flows down the curb to the sewer.
"It's a clear safety hazard but I'm not sure about the law regarding this practice."
Observations: This discharge is visible on the overhead satellite view on Google Maps. If you drive by the area, you'll be able to see it. It is in the far right lane of southbound Green Bay Road, or Highway 31, between Highway 158 (52nd Street) and Highway K (60th Street).
From the City's 2019 ordinances: "5.115 SUMP PUMPS A. Definitions.
1. 'Director' shall mean the Director or acting Director of the Department of Public Works, or his/her designee. 2. 'Public Nuisance' shall mean a water discharge from any sump pump within the City which accumulates or freezes on any public right-of-way or which is discharged into a City sanitary sewer or which otherwise endangers the public health, safety or welfare."
Fix It asked the city's Public Works Department about this location.
City responds: A spokesperson for the Public Works Department wrote: "The nuisance ordinance is 100 percent complaint driven and as of today our records do not show that we have ever received a complaint on the sump pump discharge at this address. Upon the submittal of your e-mail staff has entered it into our complaint system and staff will begin monitoring and inspecting this discharge over the course of the next few months."
Update: Fix It asked Public Works a follow-up question about the 60th Street construction project east of Highway 31.
What will happen with this 60th Street construction zone when the traffic pattern changes and goes to the west? Any timeline for when that might happen?
Brian Cater, deputy director of Public Works, responded: "Traffic on 60th Street is not planned to ever be westbound only. There is a traffic switch scheduled for this week that will move traffic from the south lanes to the north lanes (eastbound traffic only) at which point construction on the south lanes will commence.
"Eastbound traffic only will be maintained for a couple of weeks following this traffic switch to finish the north side sidewalk. Two-way traffic will be reintroduced after that. Two-way traffic will be maintained for the remainder of the project with the exceptions on paving days where eastbound traffic will be maintained and westbound detoured as before."
Send your ideas our way: If you have an idea for a future Fix It, send a note to Brian Passino at bpassino@kenoshanews.com or call 656-6280.