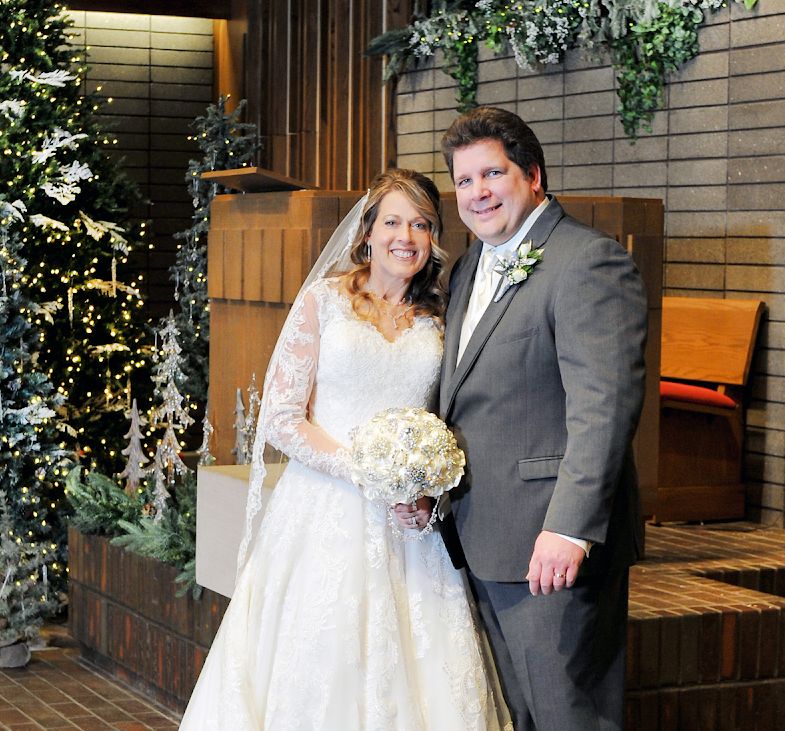 David Hanson of Kenosha and Eileen Bruton of Twin Lakes were married on Dec. 30, 2017, at First Presbyterian Church.
Pastor Larry Bruton (brother of the bride) and Pastor Lance Loveall officiated the 1 p.m. ceremony for the daughter of Lawrence and the late Patricia Bruton of Twin Lakes., and the son of the late Dale and Patricia Hanson of Kenosha.
Judy Robers, Linda Wingreen, Donna Leach; sisters of the bride and Kris Bruton, Tonya Bruton and Kathy Bruton; sister-in-laws of the bride were the matrons of honor. Jeffrey Hanson, brother of the groom, was the best man.
Jacob Hanson, Dan Young, Phil Gagliardi, Dave Adam and Bob Schuler were the groomsmen. Terry Bruton and Jim Bruton were the ushers. Augie Baum was the ring bearer and Jack Reagles was the page boy. Alexa Bruton was the flower girl. Savanna Bruton and Katelyn Reagles were the junior bridesmaids.
The bride graduated from Wilmot High School and Aurora University with a doctorate in education. She is employed at Salem School District.
The groom graduated from Tremper High School and the University of Wisconsin with a bachelor's degree in electrical engineering. He is co-owner of Electrical Contractors of Wis. Inc.
The reception was located at Mercantile Hall in Burlington.
Their honeymoon location was Disney World in Orlando, Fla. The couple will reside in Pleasant Prairie.