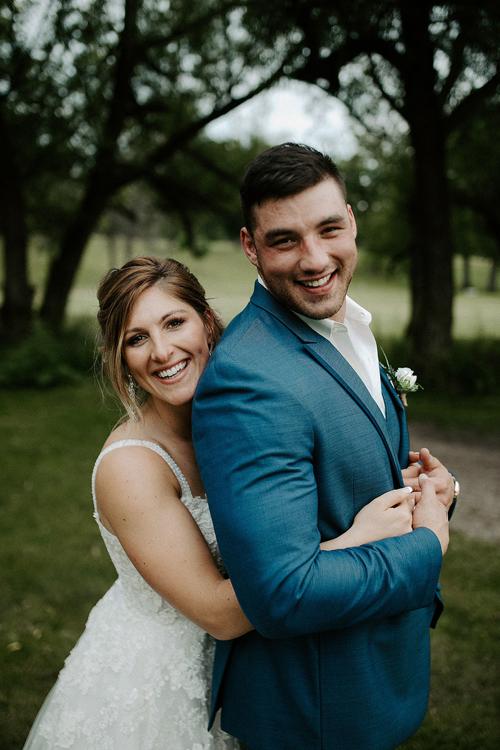 Ashley Anderson of Pleasant Prairie, Wisc., and Lucas Kailing of Virginia Beach, Va., were married on June 22, 2019, at Friedens Lutheran Church in Kenosha, Wisc.  Pastor David Pagel performed the 2 p.m. ceremony for the daughter of Chris and Sandy Anderson of Pleasant Prairie and the son of Robbin Schweinsberg of Kenosha. 
The bride graduated from Shoreland Lutheran High School in Somers, Wisc., and Carthage College with her bachelor's in exercise and sport science.  She is employed with the Rec Plex in Pleasant Prairie as a personal trainer. 
Her groom graduated from Tremper High School and attended both the University of Wisconsin-Madison and Carthage College.  Is he as Master at Arms in the United States Navy stationed in Little Creek, Va.
 The maid of honor was Amanda Weiss and Shelby Anderson, Nicole Stanley, Briana Varnes, Jenny Tenyer and Jamie Feasby were the bridesmaids.  Brookelynn Therriault was the miniature bridesmaid. 
Douglas Carlson was the best man and the groomsmen were Tyler Jass, Connor Patty, Brian Fuhrer, Abe Lee, and Kennon Slaughter.  Ryan and Nicolas Anderson were the ushers and Landon LaBadie was the ring bearer. 
A reception was held for the couple at the Red Barn in Twin Lakes, Wisc.  They will reside in Virginia Beach. 
Be the first to know
Get local news delivered to your inbox!