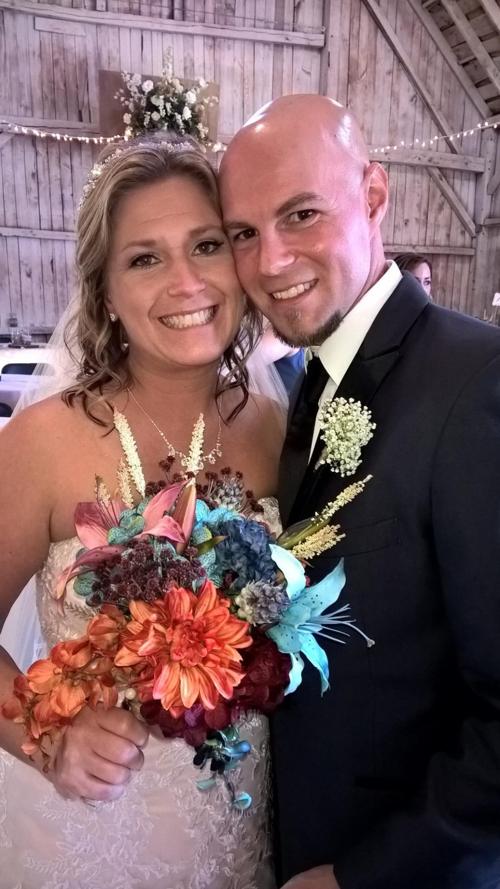 Alisha Marie Greene and David Martin Larson IV, both of Salem, Wisc., were married on September 22, 2018 at Camp Dewan in Burlington, Wisc. Brian Vergenz preformed the 2 p.m. ceremony. Alisha is the daughter of Joddy Green of Green of Racine, Wisc., and Kelly Krueger of Kenosha, Wisc. David is the son Buzz and Kim Larson also of Kenosha.
The bride graduated from Reuther High School and Gateway Technical College with an associates degree in nursing. She is employed as a rehab care coordinator and infection preventionist at Brookside Care Center in Kenosha.
Her groom graduated from Lakeview Tech Academy and the University of Wisconsin-Stout in Menomonee, Wisc., with a bachelor's degree in industrial management. He is employed as an electrical engineer at R + D Custom Automation in Lake Villa, Ill.
Tiffany Harding was the maid of honor. The bridesmaids were Jennifer Greene, Nicole Conway, Brianna Hirsch, and Krystal Puckett. Kayla and Dakota Larson were the flower girls.
The best man was Kurt Clemens. Buzz Larson, Luke Harding, David Schmidt, and Kyle Warnock were the groomsmen. Logan Baratki was the ring bearer.
A reception was held at Camp Dewan following the ceremony to celebrate the couple. They will reside in Salem.
Be the first to know
Get local news delivered to your inbox!