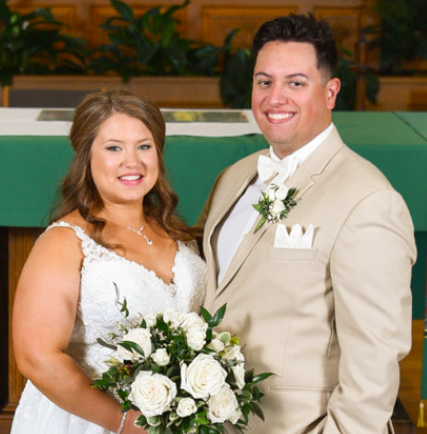 Jaclyn Yunker and Steven Pacheco, both of Pleasant Prairie, were married on June 30th at Saint Mary's Catholic Church. Deacon Ron Lesjak preformed the 2 PM ceremony.
Jaclyn is the daughter of John and Nita Yunker of Salem, Wisc., and Steven is the son of John and Tina Sauceda of Kenosha, Wisc.
The bride graduated from Wilmot Union High School and the University of Wisconsin-Whitewater with a degree in Math Education. She is employed as a Middle School Math Teacher at Lakewood Elementary School in Twin Lakes, Wisc.
Her groom graduated from Tremper High School. He is a Desktop Support Analyst at Trustone Financial in Kenosha.
Laura Grimes was the maid of honor and Patrick Braun was the best man.
Jade Kloster, Whitney Scozzaro, Shannon Slove, and Elizabeth Stone-Yunker were the bridesmaids.
John Scozzaro and Andrew Yunker were the groomsmen.
A reception was held to celebrate the couple at the Kenosha Country Club. Jaclyn and Steven honeymooned in Jamaica. They will reside in Pleasant Praire.