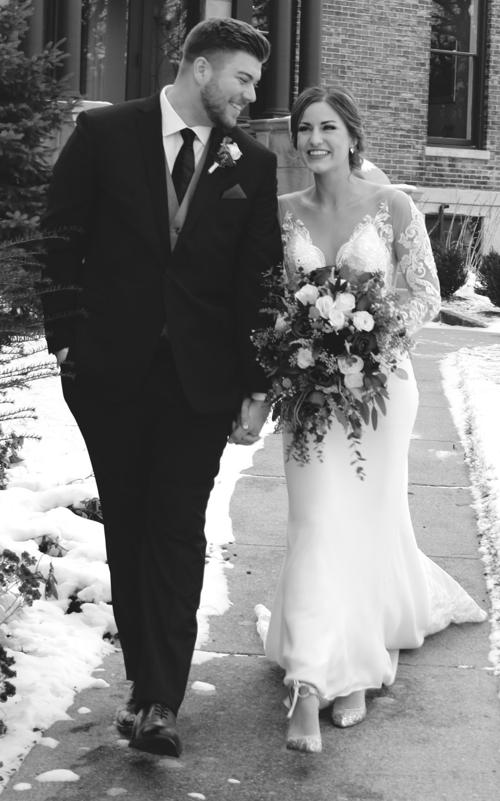 Bryanna Koehnle and David Parmentier, both of Pleasant Prairie, Wisc., were married on November 10, 2018 at Saint Mary's Catholic Church.  Deacon Wilson Shierk and Father Roman Stikel preformed the 12 p.m. ceremony for the couple.  She is the daughter of Cary and Robyn Koehnle of Minn., and he is the son of David and Karen Parmentier of Pleasant Prairie. 
The bride graduated from Rush City High School in Rush City, Minn., and the University of Wisconsin-LaCrosse with a Bachelor of Science in Nuclear Medicine Technology.  She is employed with Children's Hospital of Wisconsin in Milwaukee in their Nuclear Medicine Department. 
Her groom graduated from Tremper High School and Winona State University in Winona, Minn., with a Bachelor of Arts degree with an Emphasis in Business Management and Cardiopulmonary Rehabilitation.  He is a Broker for Hays Companies in Milwaukee. 
Paige Lindrud and Danica Schellbach were the maids of honor.  Jennifer Friedrich, Kayla Nickles, Lisa Dummer, Megan Dummer, Stephanie Guentzel, Jamie Friday, and Sarah Cedarleaf were the bridesmaids.  The personal attendants were Melanie Reuss and Spencer Simmons, Savanna Kuehn was the flower girl.
Jack Kugler, Jacob Parmentier, and Alex Parmentier were the best men.  Steven Rasch, Dominic Pisciotti, Brandon Koehnle, Brett Koehnle, Lucas Atzmiller, Benjamin Barner, and Mitchell Unger were the groomsmen.  The ushers were Matthew Hovey, Derek Smidt and Matthew Vogel.  Luke Peltier was the junior groomsmen and Bowen Krabben was the ring bearer. 
A reception was held to celebrate the couple at The Covenant at Murray Mansion in Racine, Wisc.  They honeymooned at Sandals Resort in Barbados.  Bryanna and David will reside in Pleasant Prairie. 
Be the first to know
Get local news delivered to your inbox!