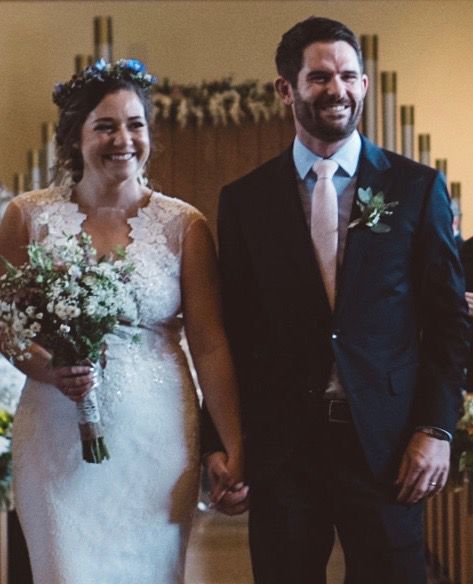 Emily Ortlieb and CJ Ricciardi of St. Paul, Minn., were married on September 1, 2018 at St. Francis de Sales in Spooner, Wisc. Father Randy Knaaf preformed the 1 p.m. ceremony. Emily is the daughter of Thomas and Vicki Ortlieb of Algonquin, Ill. CJ is the son of Joseph and Calla Ricciardi of Kenosha and the grandson of Carlo and Marcy Ricciardi and the late Franklyn and Colleen Deiniger.
The bride graduated from Marian Central High School in Woodstock Ill., and the University of Illinois-Champagne-Urbana with a degree in music performance. She is currently a third-year law student at the University of Minnesota-Minneapolis.
Her groom graduated from Tremper High School and the University of Wisconsin-Parkside with a bachelor's degree in business with an emphasis in finance and marketing. He is employed at Scannell Properties in Minneapolis.
Emily Comberiate was the maid of honor. Michelle Ortlieb (sister-in-law of bride), Bridget Casey, Amy Ricciardi (sister of groom), Eileen Nemetz, and Susan Zubrik were the bridesmaids. The flower girl was Marcella Tonies.
Anthony Ricciardi, brother of groom, was the best man. Michael Ortlieb, (brother of bride), Thomas Ortlieb (brother of bride), Steve Zander, James Gourley, and David Anderson were the groomsmen. The ring bearer was Ben Tonies.
A reception was held to celebrate the couple at Pine Brook Farms. Emily and CJ are planning a honeymoon to Patagonia for next summer. They will reside in St. Paul.
Be the first to know
Get local news delivered to your inbox!