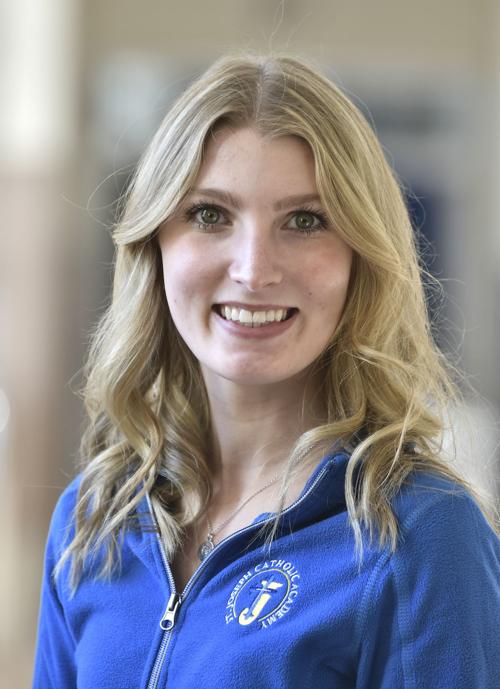 St. Joseph Catholic Academy
Parents: Bradley Haugstad and Wendy Crowe-Haugstad
Most memorable high school moment: Competing at the 2018 American Quarter Horse Youth Association World Championship Show in Oklahoma City.
Most influential teacher: Louise Meyer
Class taught: Pre-AP Chemistry; AP Chemistry
Please explain why: Ms. Meyer has been my most influential teacher because she nurtured my interest in chemistry. She always challenged me to think outside of the box and approach problems from multiple viewpoints. She helped me not only grow in my understanding of chemistry, but also fostered analytic and collaborative skills that will aid me in my future studies.
School activities/clubs: Art Club, Key Club, National Honor Society, peer helpers/tutors, performing arts/theater, stage crew, student government
Other school activities: Explore the World Club
School athletics: Cross country, softball, track, volleyball
School offices held: Sophomore class secretary; junior class treasurer; senior class representative
Honors, letters or awards: National Merit Scholar; Senior Class Valedictorian; Princeton Club of Wisconsin Book Award Winner; Outstanding Science Student of the Year (grade 11); World History Student of the Year (grade 10); Biology Student of the Year (grade 9); Spanish 1 Student of the Year (grade 9); English Student of the Year (grade 9); Varsity Softball Letter; Varsity Cross Country Letter (2); Varsity Track Letter (2); Most Valuable First Year Runner Award
Out-of-school activities/hobbies: Competitive equestrian; 4-H Club president
College choice: University of Wisconsin-Madison
Intended major/field of study: Chemistry
Role model: My role model is my horse trainer, Valerie Kearns.
Three words that best describe my role model: Dedicated, candid, selfless
What I hope to accomplish in my lifetime: I hope to complete pharmaceutical research for Alzheimer's disease and contribute to a cure.
Be the first to know
Get local news delivered to your inbox!