Crime-and-courts
alert top story topical
KENOSHA COUNTY HOMICIDE TRIAL
Kenosha Police detective describes apartment where Zachariah Anderson allegedly killed Kenosha man in 2020
A Kenosha Police detective described in court some of what he saw when he entered the bloody apartment unit where a Kenosha man was allegedly killed in spring 2020.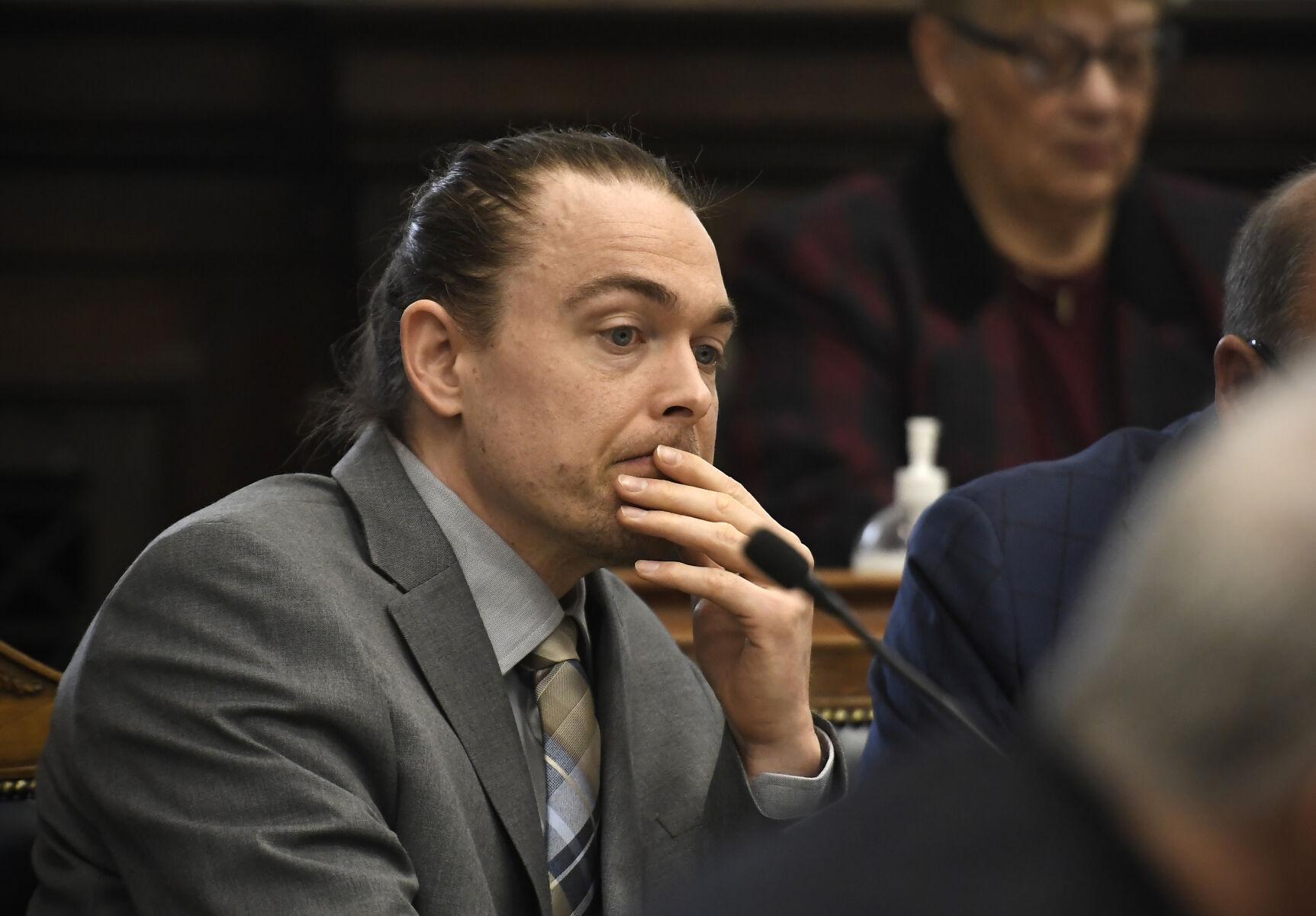 Kenosha Police Det. Lorn Anschutz testified for hours Thursday in Kenosha County Circuit Court in the trial of Zachariah J. Anderson, the 42-year-old Mequon man accused of killing Rosalio Gutierrez Jr. in a jealous rage on May 17, 2020.
Anderson is charged with first-degree intentional homicide, a Class A felony that carries a sentence of life in prison if he is found guilty. Anderson is also charged with hiding a corpse and two counts of stalking, all felonies.
Anderson allegedly killed Guitierrez Jr. inside of his Wood Creek apartment on the city's north side. Prosecutors allege he did so because he was upset Gutierrez began having a romantic relationship with Sadie Beacham, his ex-girlfriend and mother to his three children. Gutierrez went missing on May 17, 2020, and his body has never been recovered.
Gutierrez, a 40-year-old father of two young children, was reported missing May 19, 2020, after Beacham, who had been unable to reach him, went to his apartment in the 3700 block of 15th Street, found the patio door open and blood splattered on the floor and furniture, according to prosecutors.
Police focused on Anderson after Beacham reported that Anderson — her former partner — had been stalking her in the weeks after she began developing a relationship with Gutierrez.
District attorney Michael Graveley said Anderson killed Gutierrez because he was "jealous" and "irrational" and also wanted to feel like he was still in control of Beacham.
On Thursday, Anschutz testified he arrived at the apartment in question the morning of May 19, 2020, to investigate the scene and that when he arrived he spoke with Beacham who was visibly upset.
"She was scared. She was visibly shaking, having a difficult time spitting out words ... frightened, worried," Anschutz said. "She told me she got to the apartment, observed the screen door closed but the glass door opened, she looked inside (and) saw blood everywhere and walked out. She said she was frightened for her children because she knew Zach Anderson had something to do with this."
Anschutz said Beacham later left to check on her children and he entered the residence.
Photos of the exterior and interior of the apartment unit on the first floor were shown to the jury and Anschultz explained some of what they depicted. Anschultz said he observed "a substantial amount of blood" at many locations and in various amounts throughout the unit, including on the ceiling and in the walls.
One photo showed a pool of blood on the living room carpet. Another photo showed streams of blood on the back cushion of the couch.
"This wasn't just a spray. It was a large amount of blood," Anschltz said.
The photo of the bloody couch also showed Gutierrez's black wallet on a cushion.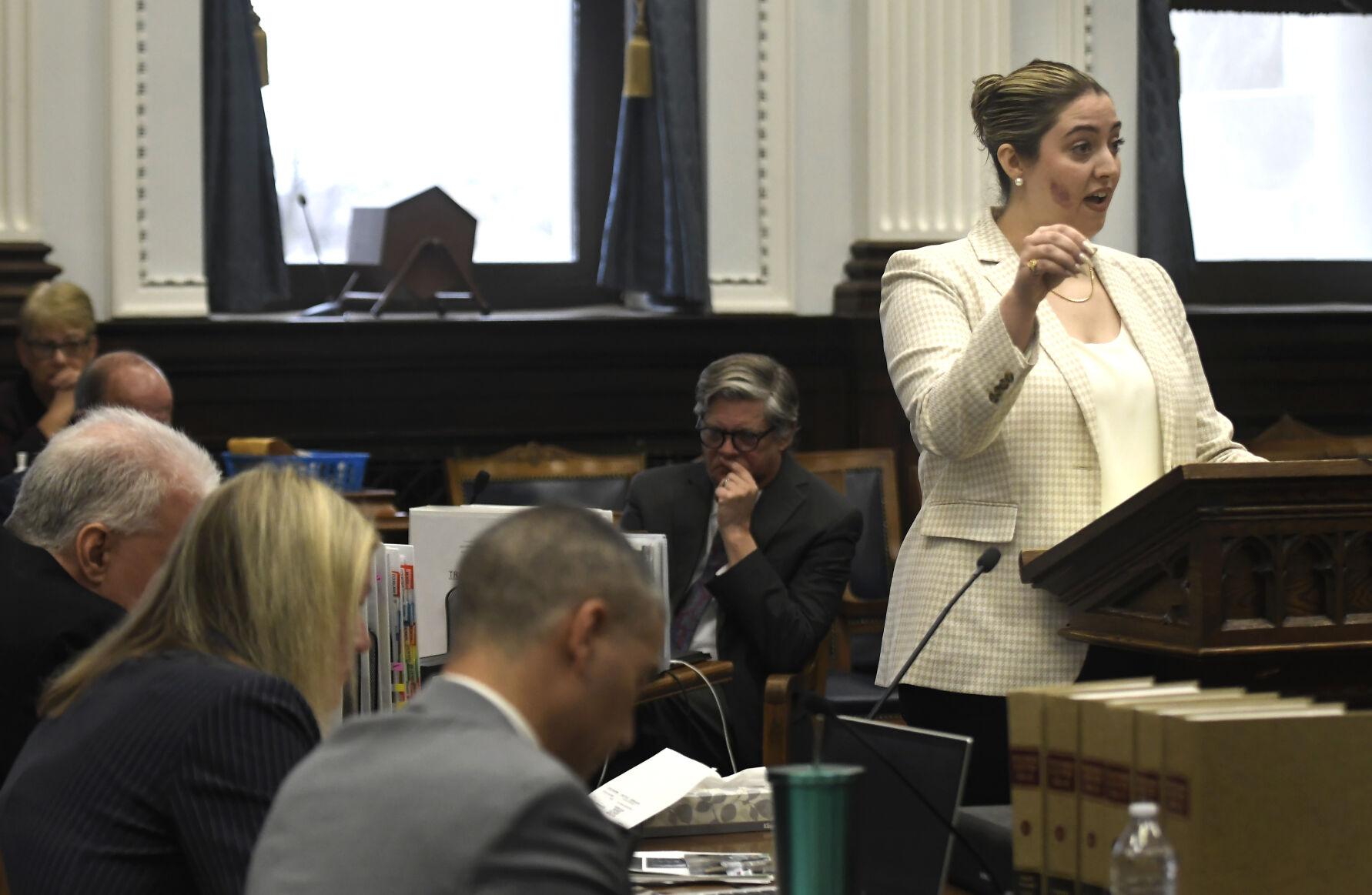 Anschutz continued to testifying into the afternoon and was questioned by defense attorney Nicole Muller.
Defense finishes opening statement
Before Anschutz, the first witness, testified Thursday Muller finished her opening statement. On Tuesday, Muller suggested someone else could have killed Gutierrez.
To some in the court it seemed to suggest it could have been possible Beacham had arranged to have someone kill Gutierrez to frame Anderson.
Because of that raveley asked for a mistrial because he said some statements uttered before the jury violated established case law, the so-called Denny rule. According to the Denny rule, if the defense wants to blame a third party there must be "some evidence to directly connect a third person to the crime charged which is not remote in time, place or circumstances."
Graveley said Muller's statements Tuesday regarding Beacham should have been hashed out long before in pre-trial hearings without the jury present to show motive or a connection to the alleged crime.
The trial was stalled Tuesday and the jury was sent home until Thursday morning so both sides could debate the matter Wednesday before Kenosha Circuit Court Judge Bruce Schroeder. In the end, both sides came to an agreement to avoid a mistrial and have Schroeder instruct the jury to disregard portions of the defense's opening statement regarding a third party.
In the remaining potion of her opening statement Muller said shoddy police work has led to Anderson being unfairly accused of killing Gutierrez. She highlighted what she called "investigative failures."
"Where I had left off when I last was speaking with you all was about how law enforcement in this case failed to actually investigate the events the state asserts transpired on May 17, 2020. How they ignored leads. How they didn't follow-up on things. How they failed to look in places that should've been looked into," Muller said.
Muller continued: "You'll hear that law enforcement really did no searches of Mr. Gutierrez around the immediate vicinity of Wood Creek apartments, where Mr. Gutierrez lived. That there's a wooded park area that is property of UW-Parkside and that all that they did with that area was send some drones to look around. But you'll hear that it was forested at that point because we're in the middle of May and that they would not have been able to see the floor of that entire wooded area. Law enforcement looked nowhere close to Mr. Gutierrez's residence in an attempt to find potential evidence."
Anderson has been in custody since shortly after Gutierrez's disappearance, initially charged with stalking.
The homicide charge was added in December 2020 after a police investigation reportedly found evidence that indicated Anderson may have moved Gutierrez's body in his vehicle. A patch of carpet was removed, along with the seats, and the interior appeared to have been scrubbed with bleach. A photo of the empty van was shown to the jury Thursday.
Authorities also indicated that burn pits were found on property belonging to Anderson or his family, with evidence that the clothing Anderson was wearing at the same time Gutierrez went missing may have been burned.