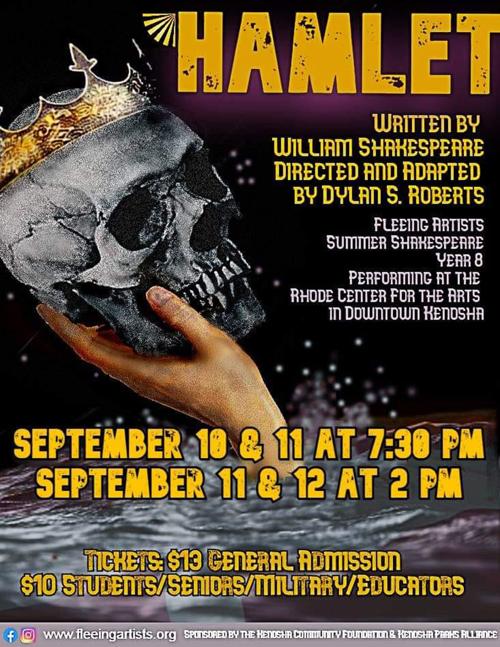 What: Fleeing Artists Theatre's production of Shakespeare's tragedy "Hamlet"
When: Performances are 7:30 p.m. Friday (Sept. 10), 2 and 7:30 p.m. Saturday (Sept. 11) and 2 p.m. Sunday (Sept. 12).
Where: The Rhode Center for the Arts in Downtown Kenosha, 514 56th St.
Admission: $13 for adults and $10 for students, senior citizens, members of the military, teachers and first responders. (Bring an ID for a discount.) Tickets will be available at the door and can be ordered online in advance at the theater troupe's Facebook page.
About the play: The tragedy was written by William Shakespeare sometime between 1599 and 1601. It is Shakespeare's longest play, with 29,551 words. Set in Denmark, the play depicts Prince Hamlet and his revenge against his uncle, Claudius, who has murdered Hamlet's father in order to seize his throne and marry Hamlet's mother.
"Hamlet" is considered among the most powerful and influential works of world literature and has been adapted many times. It was one of Shakespeare's most popular works during his lifetime and still ranks among his most performed plays, topping the performance list of the Royal Shakespeare Company and its predecessors in Stratford-upon-Avon since 1879.
"Hamlet" inspired many other writers and has been described as "the world's most filmed story after Cinderella." (Minus the glass slippers, of course.)
What the Fleeing Artists say about the play: Often called "the greatest play in the English language," "Hamlet" truly lives up to the hype. Equal parts thriller, thought exercise and ghost story, at the start of the play the young prince Hamlet is tasked by his father's Ghost to slay his murderer: the new King, and his uncle, Claudius.
Hamlet uses all his wits and cunning to determine if his uncle is indeed the culprit, but Claudius isn't about to let Hamlet squander his ill-gotten gains. Along with his trusted advisor Polonius, Claudius wastes no time in recruiting Hamlet's friends and even family to keep Hamlet from the throne.
Full of swordplay, spirits and poetry, we are proud to perform "Hamlet" as part of our annual Summer Shakespeare series.
Running time: About 2 hours and 15 minutes, plus an intermission
Rated PG: For some scary imagery, acts of violence, live combat and references to death. Recommended for ages 10 and up.
More information: Search "Fleeing Artists Theatre" on Facebook.
Next show: "The Odd Couple," Oct. 22-24
Auditions: "Master Harold ... and the Boys" by Athol Fugard. Auditions are Sept 20 and 21. Performs Nov. 19-21. Directed by Kenneth Montley and Alex Metalsky. "A Christmas Carol" by Charles Dickens. Auditions on Oct. 20 and 21. Performs Dec 17-19. Directed by Brandon Poler. "Failure: A Love Story" by Philip Dawkins. Auditions Dec. 20 and 21. Performs Valentine's Day Weekend, Feb. 11-13. Directed by Alex Metalsky.
COVID-19 precautions: Due to the rising number of cases of COVID-19 in our community, the following measures will be taken to ensure audience safety, as well as the safety of the performers and staff:
All audience members will be seated at least 10 feet away from the stage and performers.
Social distancing of about 6 feet will be implemented between audience members who did not arrive at the theater together (including seating). The theater will seat about 60% capacity.
All audience members who do not either (a) provide proof of being fully vaccinated or (b) provide a same-day negative COVID-19 test, MUST wear masks except for when they are sitting in their seats. No exceptions. Please bring your own masks: however, masks and hand sanitizer will be provided as needed.