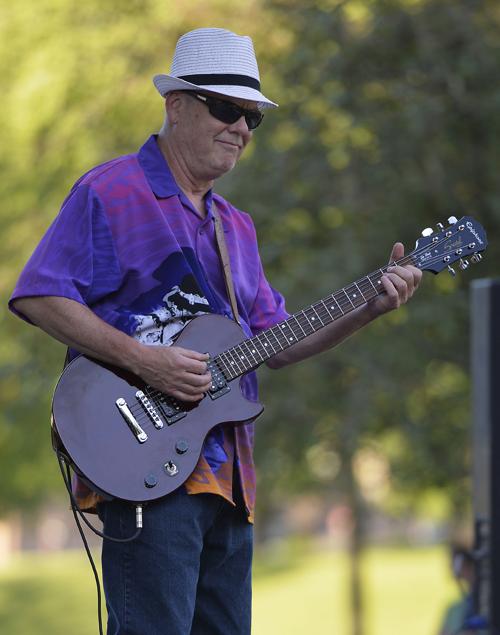 Editor's note: Because COVID-19 concerns can cause last-minute changes, please make sure to double check with the band or venue before heading out. Stay safe.
Kenosha Creative Space is hosting another live stream Saturday night. Performers will include two busy and respected artists, Maxwell Melendrez and Malcolm Wright.
According to Kenosha Creative Space Director Francisco Loyola, this stream represents the relaunching of the "Into the Space" series.
Melendrez is known as a local artist and educator. He has been busy with bands including The Oscillators, Lunar Lizard and Spirit Shakers, among others. Melendrez's music is a high-energy mixture of genres and styles.
Wright came of age busking the streets of Reno, Seattle and wherever good music and energy was needed. His music mixes elements of indie, folk and rock. He also performs regularly with various bands. The two are good friends and bandmates, so the show will be a mixed bag of genres.
Maxwell Tate and the Clean Plate Club will open the show. Wright will fill in on guitar for that part of the show, and Melendrez will drum for Wright during the headline part of the evening.
"Into the Space" with Malcolm Wright and Maxwell Melendrez will be Facebook live streamed starting at 7 p.m. Saturday (Jan. 16). Check out the Facebook pages of Kenosha Creative Space and the performers for links.
It seems like it's been awhile, but metal is back at Hattrix. Saturday's Mid Winter Metal Mayhem features five bands. The 21-and-older show is also a celebration of Pat Maxwell's birthday. Cost is $7 at the door.
Bands performing at press time are Deprived of Construct, in their debut show; Eyes of Anguish, an Indiana MetalCore band; nearby friends Luna In Sanguinem performing death thrash/metal; Chicagoland's Skeletal Prison; and thrash core act Children of Dismay. Bring ear protection.
The Mid Winter Metal Mayhem show featuring five bands is Saturday (Jan. 16) at Hattrix, 2425 60th St.
Hard to believe, but Pat Garrett will be performing Saturday night, along with The Good Ole Boys.
The band — Greg Herr (guitar), Randy Horton (drums), Eric Knight (bass), Keith Lindahl (vocals) and Garrett on vocals and guitar — plays a wide variety of music from the '50s through today.
According to Garrett, they hit on everything "from Elvis to Merle to Elton John. Steve Earle to the Beatles to Blackberry Smoke." They will be performing at 58 Below (rest in peace and rock, Dom).
Pat Garrett and the Good Ole Boys perform Saturday (Jan. 16) at 58 Below, 504 58th St. Also on the bill is MacKenzie Knight.
Guitarist Terry James has been playing the guitar and blues for 40 years or so and performs Saturday at Union Park Tavern.
In addition to playing guitar with the Rhythm Dogs, The Terry James Band and Terry James and the Blue Flames, he has opened for the likes of Luther Allison, Buddy Guy and Buddy Miles. He has lived the blues.
Terry James and the Blue Flames perform starting 8 p.m. Saturday (Jan. 16) at Union Park Tavern, 4520 Eighth Ave.
Party rock band Royal Bliss has been through the area several times over the past decade or so. The band will be performing unplugged shows Friday and Saturday at Route 20 up in Sturtevant.
The Salt Lake City-based band is a relentless touring act, having performed with Kid Rock and Buckcherry, along with many others. They have also notched a fair amount of chart success. The shows are part of an advance before going on the Cabin Fever Getaway. It's sort of a bon voyage. The Friday show starts at 7 p.m.; the Saturday show is an early 3 p.m. performance. Special guests are Nate D and Keith Magnine. Both shows are open to all ages. For information and tickets, go to www.95wiilrock.com/event/royal-bliss-live-and-unplugged/. Route 20 is located on Highway 20, just west of I-94.
Royal Bliss performs Friday and Saturday at Route 20, 14001 Washington Ave. in Sturtevant.
That's it for this week. Bands, artists and venues, please send me your gig listings, event posts, bios, Facebook event invites or anything else you think might be useful to me to write you up. Email me at pjfineran@gmail.com.