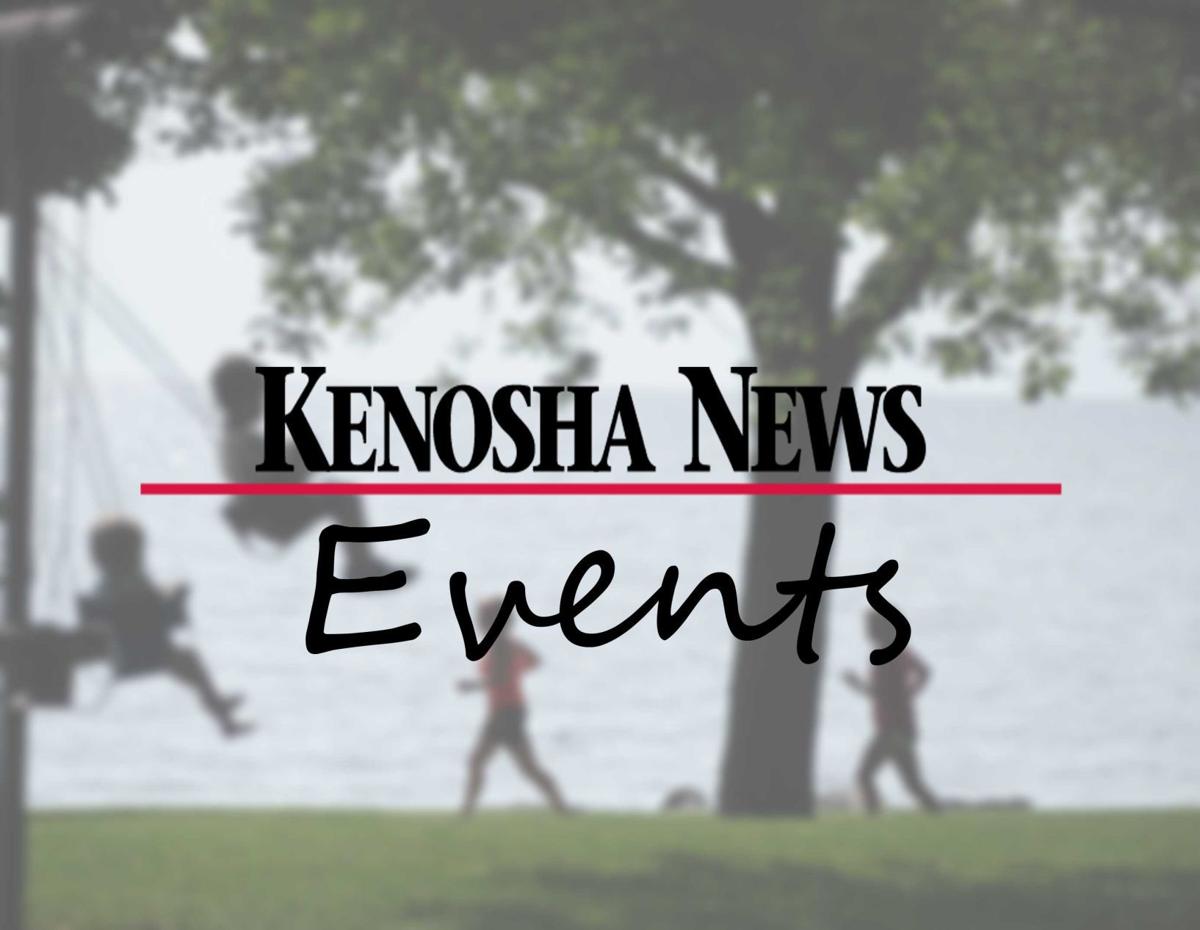 Hot Sheet Feb. 14-22, 2020 --
Happy Valentine's Day! Do something sweet for someone else — and for yourself. We suggest eating lots of dark chocolate! It's also Book Giving Day, which is a great way to celebrate the book lover in your life (including yourself).
The University of Wisconsin-Parkside's Noon Concert Series starts a new semester today with a free performance by percussionist Eliana Firmani Alcocer. The free performance is noon in Bedford Concert Hall, located on the west side of the campus at 900 Wood Road.
"Little Shop of Horrors" continues this weekend at the Rhode Center for the Arts, 514 56th St. The musical will be performed at 7:30 tonight and Saturday night and 2 p.m. Sunday (shows continue Feb. 21-22). Tickets are $18 for adults; $15 for senior citizens and students. www.rhodecenter.org.
It's Hippo Day and World Whale Day. Which makes us think it's a perfect day to visit one of our area zoos. The Racine Zoo doesn't have a resident hippopotamus, but you can find one at the Milwaukee County Zoo.
Sing. Sing a song. That's what you'll hear tonight at the Kenosha Unified School District's 54th annual Choral Festival. More than 1,300 students from KUSD's elementary, middle, high and charter schools will be performing. The guest conductor is Pearl Shangkuan; the accompanist is Kristen Singer. 6:30 p.m. at Indian Trail High School and Academy, 6800 60th St. Tickets are on sale at kusd.edu/finearts.
Do you have a Valentine date who loves dance? Head to Milwaukee's beautiful Pabst Theater for a performance of "Ballet Russe Reimagined." In early 1900s Paris, the world's most influential artists (Chanel, Picasso, Matisse, Debussy and more) collaborated to create new, ground-breaking ballet. They would become the Ballets Russes. Milwaukee Ballet, a home for new work, honors this legacy by presenting new works inspired by the Russes' iconic pieces, created by its own choreographers. Performances are 7:30 p.m. Feb. 13-15 and 1:30 p.m. Feb. 16. Tickets are $16-$112 (plus fees) at pabsttheater.org.
Put a little bit of almond joy into your life today to celebrate Almond Day. Go ahead, go nuts!
The Fine Arts at First concert series at First United Methodist Church continues its season with a performance by the Milwaukee-based Philomusica String Quartet. Philomusica's members — violinists Jeanyi Kim and Sascha Mandl, violist Nathan Hackett and cellist Adrien Zitoun — "have been delighting audiences in southeastern Wisconsin since their founding in 2008," according to concert organizers. The program will include works by J.S. Bach and Robert Schumann. 3 p.m. at the church, 919 60th St. Admission is free. Audience members are invited to a free reception after the concert. www.fineartsatfirst.org.
Wrap up your Valentine's Weekend by starting the workweek with Random Acts of Kindness Day. Be a sweetheart and bring someone coffee ... or bake some muffins and share them with friends and family ... do something to make the world a better place by spreading a little light around.
Today is your final chance to visit the 2020 Chicago Auto Show — also known as "the place to see all those cool concept cars we'll never be able to actually purchase and drive." At Chicago's McCormick Place, 2301 S. Lake Shore Drive. Admission is $7-$12; free for kids 6 and younger. www.chicagoautoshow.com.
It's Drink Wine Day ... which is a great way to celebrate a Tuesday in February. But wait, there's more!
Drink Wine Day also goes well with today's celebration of Pluto Day. (Not Mickey Mouse's dog; this day celebrates our far-off solar system neighbor). We grew up with a solar system that had nine planets in it. And that's how we like it. Then one day, the powers that be decided that designating Pluto as a planet was just wrong, and our most distant friend in the solar system suddenly was told he wasn't good enough for the planet club anymore and would forever be considered a "dwarf planet." So raise your wine glass and toast Pluto Day, which celebrates the discovery of Pluto in 1930, when it was designated as a planet ... and that's how it should have stayed!
It's also the Spring Primary today. Did you know that? Get out and vote! The primary will narrow three candidates to two in the statewide race for state Supreme Court and locally for the District 15 seat on the Kenosha City Council.
The Kenosha Public Museum, 5500 First Ave., is hosting a "Museum Munchkins" program from 9:30 to 10 this morning. Today's program focuses on ravens ... the bird, we assume, and not the NFL team. This is a free program, open to preschoolers with an adult. For more information, call 262-653-4140.
The Southwest Library is hosting another Chess Night at the Library with the Kenosha Chess Association. Everyone is welcome to play chess at the library, 7979 38th Ave., from 6:30 to 8 tonight. Admission is free. www.kenoshachess.org.
Genre-bending singer-songwriter Ben Folds blends his chart-topping hits with the full power of the Milwaukee Symphony Orchestra tonight at the Riverside Theater in downtown Milwaukee. The program will feature Folds' tunes, including "Brick," "You Don't Know Me," "Luckiest" and a movement from his Billboard chart-topping piano concerto. 7:30 p.m. Tickets are $25-$91 (plus fees) at pabsttheater.org.
It's Love Your Pet Day, but isn't that EVERY day? Seamus and Ruby say yes!
Tinseltown Theater, 7101 70th Court, is showing sneak peeks tonight of the new film "The Call of the Wild," starring Harrison Ford and a dog named Buck, who share an adventure in 1890s Alaska. In other words: The perfect flick for "Love Your Pet Day"! The movie officially opens Feb. 21. www.cinemark.com.
In Milwaukee tonight, rockers Big Head Todd and The Monsters are performing at the Pabst Theater. 7:30 p.m. Tickets are $29.50 (plus fees) at pabsttheater.org.
A free screening of the animated film "Coco" is the "Winter Picnic Flick" today at the Kenosha Public Museum, 5500 First Ave. Families are welcome to come at 5 p.m. for art and music projects, with the film starting at 6 p.m. Don't forget your picnic blanket and snacks! Admission is free, but registration is required. Call 262-653-4140.
"Fighting for Home: Stories of Women Who Serve" — written by Carthage College theater professor Martin McClendon and directed by Marcella Kearns — opens tonight at Carthage in the Wartburg Theatre. Performances are 7:30 p.m. Feb. 21-22 and 27-29 and 3 p.m. Sunday (Feb. 23). "Fighting for Home" presents stories from women in the military, using their own words and built from extensive interviews and research. The play highlights women's struggles to protect their country from all enemies while they deal with rapidly changing policies and deeply entrenched beliefs within the military. Tickets are $14 for adults, $10 for senior citizens (55 and older) and $8 for students with a valid ID and can be purchased at www.carthage.edu/tickets.
The University of Wisconsin-Parkside's Noon Concert Series continues today with a performance by the Chicago Koto Group. Noon in Bedford Concert Hall, located on the west side of the campus at 900 Wood Road.
It's Margarita Day, which you can take with a grain or salt (or two)!
The Pringle Nature Center, 9800 160th Ave., is hosting a Winter Scouts Day — and you don't have to be in a Scouts troop to take part! Activities are 10 a.m. to 2 p.m., open to all girls and boys in grades 2-5. There will be a campfire lunch along with the activities. The cost is $15, and registration is required in advance. www.pringlenc.org.
"3 Sisters" — a drama by UW-Parkside graduate Ann Walaszek — will be performed tonight in Studio A at the University of Wisconsin-Parkside. The story, based on the play "Three Sisters" by Anton Chekov, was developed by Parkside Playwriting Workshop participants over the last several months. Ten students tackle a classic play — interweaving their experience, memories and perspective into the lives of three sisters as they question the meaning of life. Admission is free to this Fresh Ink staged reading of the play. Performances are 7 p.m. Feb. 21-22 at UW-Parkside. There's also a 2 p.m. matinee today (Feb. 22) at Kenosha Creative Space, 624 57th St.
In Milwaukee tonight, comedian Ron "Tater Salad" White, who first rose to fame as the cigar-smoking, scotch-drinking funnyman from the Blue Collar Comedy Tour, is performing at the Riverside Theater. 8 p.m. Tickets are $45-$75 (plus fees) at pabsttheater.org.