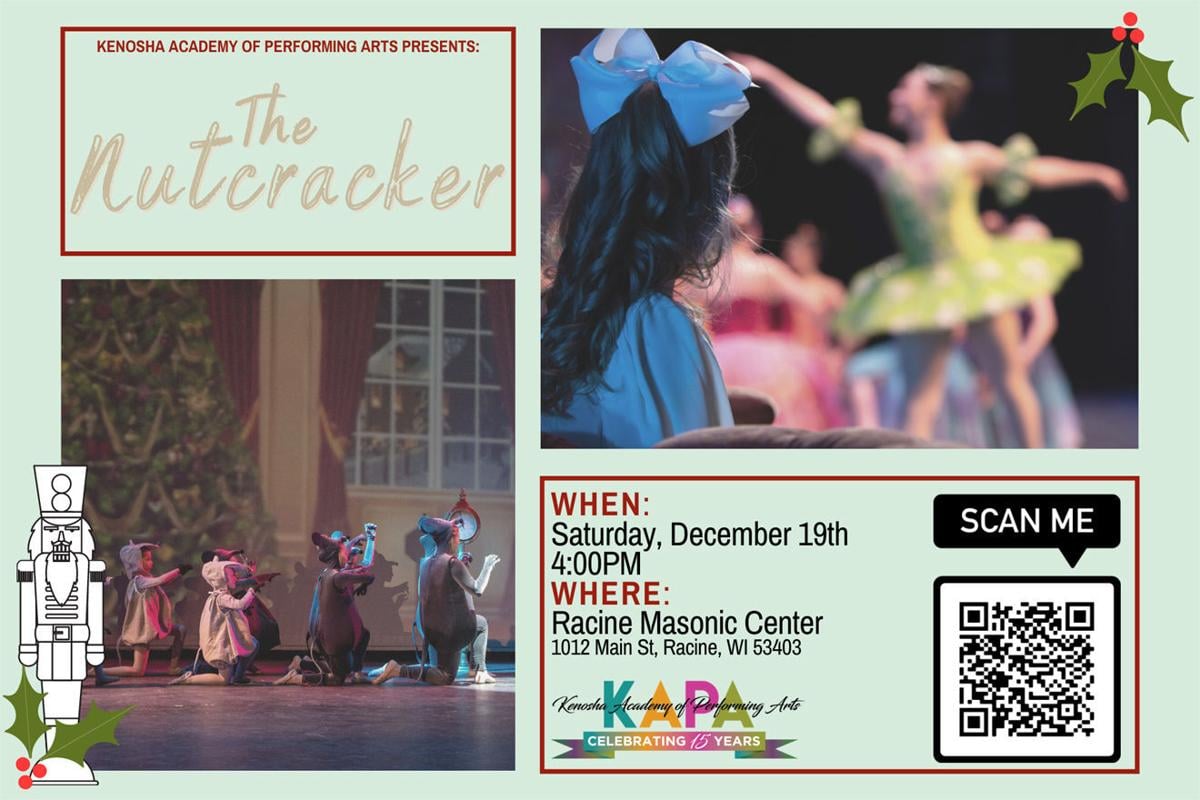 The Kenosha Academy of Performing Arts presents its seventh annual production of "The Nutcracker" this weekend.
However, because of the COVID-19 pandemic, this year's show will be performed without an in-person audience.
Instead, audience members can watch online from home by purchasing a live link to the show.
The show, which is performed annually around the globe, features world-famous music by Russian composer Pyotr Ilyich Tchaikovsky.
The local production is "complete with dancing mice, toy soldiers, sugarplums, magic and more," according to show organizers.
Students from the Kenosha Academy of Performing Arts are performing the show at 4 p.m. Saturday.
The full-length production features audience favorites like the exquisite snow scene (complete with "real" snowfall) and the Land of Sweets, known for its Sugar Plum Fairy.
"After nearly four months of rehearsals, the dancers are excited to bring this version of the iconic ballet to life," organizers said. "The performances include students as young as 6 years old, with lead roles danced by high school students."
In deciding to continue its annual "Nutcracker" production, the dance school staff members said they "wanted to continue bringing arts to the community, educating young artists and to keeping holiday traditions alive" despite the pandemic, which has forced the cancellation of so many events.
History of 'The Nutcracker'
"The Nutcracker" is an 1892 two-act ballet, first performed in Russia, with a score by Pyotr Ilyich Tchaikovsky.
The libretto is adapted from E.T.A. Hoffmann's story "The Nutcracker and the Mouse King."
Although the original production was not a success, the 20-minute suite that Tchaikovsky extracted from the ballet was. However, the complete "Nutcracker" has enjoyed enormous popularity since the late 1960s and is now performed by countless ballet companies, primarily during the Christmas season, especially in North America.
Major American ballet companies generate around 40% of their annual ticket revenues from performances of "The Nutcracker."
The first complete performance outside Russia took place in England in 1934, and the ballet's first complete U.S. was on Dec. 24, 1944, by the San Francisco Ballet, staged by its artistic director, Willam Christensen, and starring Gisella Caccialanza as the Sugar Plum Fairy, and Jocelyn Vollmar as the Snow Queen.
After the enormous success of this production, the San Francisco Ballet has presented "The Nutcracker" every Christmas Eve and throughout the winter season, debuting new productions in 1944, 1954, 1967, and 2004.
The New York City Ballet gave its first annual performance of George Balanchine's reworked staging of "The Nutcracker" in 1954.
Beginning in the 1960s, the tradition of performing the complete ballet at Christmas eventually spread from New York City to the rest of the United States.
Kenosha Academy of Performing Arts was founded in 2006. The school serves more than 600 students and offers classes in dance and music for all ages. For more information, log on at kenoshadancemusicdrama.com or call 262-605-3951.