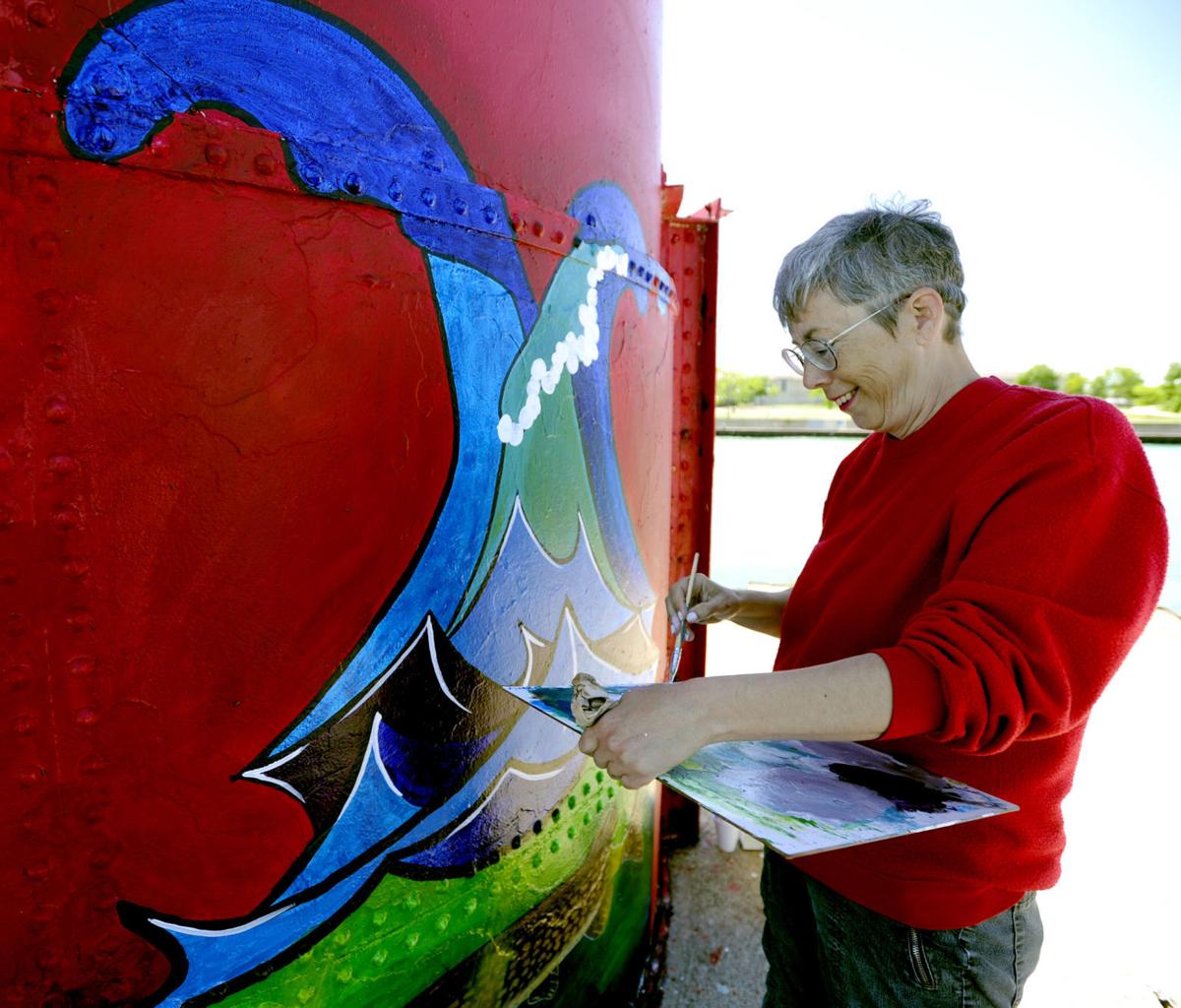 Kenosha artist Dale Mellor is no stranger to Kenosha's iconic North Pier Lighthouse.
In the past few summers — as one of the artists in residences at the lighthouse — Mellor has painted murals on the landmark and, in 2018, she painted a gold ring around it.
For her residence this month, Mellor is going big.
She's also hoping "to make people smile."
Mellor is working on a temporary art installation that consists of large, handcrafted daisies attached to the exterior of the lighthouse.
The installation — called "New Beginnings" — will be in place every day during her July 22-31 stay (weather permitting) at the studio inside the lighthouse.
Mellor said daisies traditionally represent new beginnings, adding that "every day is a new day to bring peace and harmony to Kenosha."
There will also be a blue daisy "to remember those who have been tragically lost in Lake Michigan," Mellor said.
The Paddock Lake resident "wanted to do something visible for the iconic lighthouse," she said. "I wanted something that could be seen from across the inlet."
She thought of a floral idea, saying, "Everyone loves daisies, and I really wanted to so something big and happy. Happy, happy, happy."
She hopes her daises will remind people "that there's still a lot of good in the world, even with all our recent upheaval."
When she's working out at the lighthouse, Mellor said she meets "visitors to Kenosha and locals. I am hoping to give them something unexpected."
Hoisting the daisies
That "something" will be 17 daisies, which she started assembling earlier this week.
The daisies have wire frames (which won't be visible) covered with "the corrugated plastic used for yard signs," Mellor explained. "It had to be durable."
The daisies will be suspend from the lighthouse's portholes, with a combination Mellor laughingly calls "some magic and some magnets and some rope."
Her plan is to put the daisies up starting on July 23 and, weather permitting, "the daisies will go up and down every day. We can't leave them out overnight."
The big factor will be the wind.
"If it's blowing a gale down there," Mellor said, "the daisies can't go up. I do have some Plan B stuff, so people can see something if it's too windy. I have more artwork related to the daisies that people can enjoy."
She's hoping the daisy installation — the largest one is six feet in diameter — "will be really cool."
The public is invited to meet with Mellor and see her artwork starting about 9 a.m. each day of her lighthouse residency.
"This residency program is a great opportunity for artists here to be at the iconic lighthouse," she said. "It's a great location; it's fun, and you meet so many people. I'm going to keep doing this as long as I can and there's room for me. It's a great promotion for Kenosha, too."