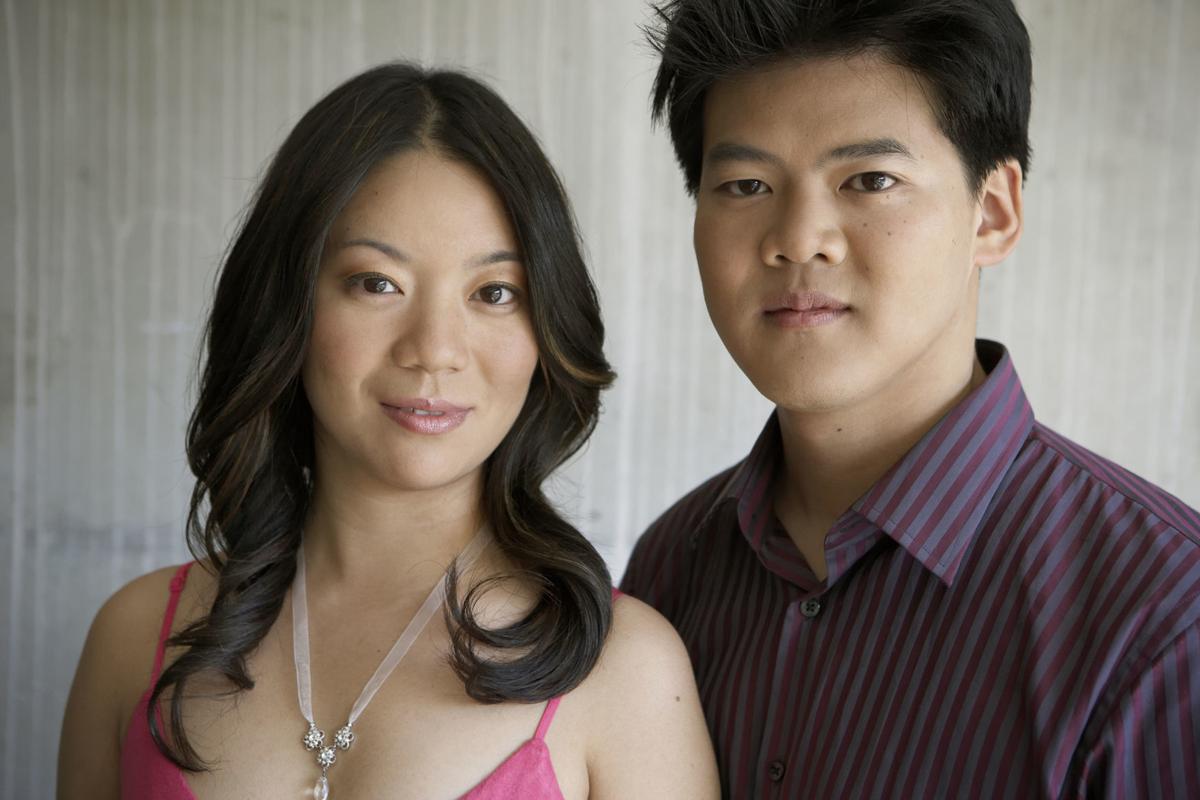 Like many others, I have been eagerly awaiting the beginning of the new Fine Arts at First season on Sunday.
The free concerts take place within the nave of the acoustically sound sanctuary at First United Methodist Church and conclude with a reception in the church's Bauer-King Hall, where audience members can meet the performers and enjoy dessert.
The first concert in this, the 15th season, will be by Duo Diorama. The duo members are Chinese violinist MingHuan Xu and Canadian pianist Winston Choi. They perform an eclectic mix of musical styles, ranging from standard to avant-garde.
It helps to understand where the name "Diorama" comes from. In 19th-century Paris, the diorama was a popular theater entertainment that pre-dated cinema. A landscape scene telling a story was painted on linen and brought to life by use of dramatic lighting effects redirected by a series of mirrors. With this, the scenes would appear to take on dimensionality and motion, to come alive.
Instead of linens, Duo Diorama brings sheets of music to life using sonic manipulations instead of mirrors. Trust me; in the hands of skilled artists, this happens.
In addition to tours across their home countries, Duo Diorama has performed across Asia, North America, South America and Europe and are strong proponents of the works of living composers.
Their Sunday program will include Beethoven's "Violin Sonata No. 8, Op. 30, No. 3," Ravel's "Violin Sonata No. 2, " Edvard Grieg's "Violin Sonata No. 3, Op. 45" and and a newly commissioned work by Chicago-based composer Igor Santos called "as light becomes form."
The 3 p.m. concert is free and seating is first come, first served. Doors open 30 minutes prior to the show. Seating is located in the sanctuary (second floor) and balcony (accessible through the sanctuary).
Duo Diorama performs 3 p.m. Sunday (Oct. 20) at First United Methodist Church, 919 60th St. While admission is free, donations are accepted. For more information, visit fineartsatfirst.org.
Peacetree All-stars
Did you have fun at the Peacetree Festival a while back? Some of those musicians will be performing Friday night at Fusion. The Peacetree All-stars will be performing for a meager $5 cover charge at the door.
According to longtime area musician Pete Rallo, the All-stars are a four-piece band that plays some classic rock and blues with a little bit of jam, too. Well, yeah. There could be some Grateful Dead in there as well. Fusion is a great sounding listening room so you won't be bothered by TVs and pool balls clicking in the background.
The Peacetree All-stars perform starting at 8 Friday night (Oct. 18) at Fusion, 5014 Seventh Ave.
Happy birthday, Cy
Some musicians talk about how they've been playing clubs forever: "Oh man, I've been playing great clubs to dives for the last 20 years", or something like that.
Well, Cy Costabile has been "torturing southeastern Wisconsin" ears for 50 years. His words, not mine.
There's a birthday party for Costabile Saturday night at the Union Park Tavern. Costabile's longtime band, the Jill Plaisted Band, will be performing along with some likely guests. One of those guests, for sure, will be Kerry Spitzer sitting in on bass.
Costabile is probably best known as a drummer, but of late he also does Cy's Piano Jams. If you've listened to area music for a bit, you are almost certainly aware of some of the bands Costabile has been a part of — including but in no way limited to R&B Cadets, Starboys, Ash Can School, Hot Canary and the Jill Plaisted Band. The man has some stories to tell; musically and otherwise. Costabile strongly suggests you come out because the next party like this he'll throw will be another 70 years from now.
Cy's Birthday Bash is 9 p.m. to midnight Saturday (Oct. 19) at Union Park Tavern, 4520 Eighth Ave.
Triad at Sazzy B
It has been far too long since I threw some ink the way of local excellent musicians Triad. They will be performing Friday night at Sazzy B.
The trio — guitarist Terry Peterson, drummer Brian Ford and bass and trombone player Jeremy Kriedeman — deliver top-shelf chops. While the trio is first and foremost a jazz combo, each of the players brings a wide palette of other music genres to the table. A Wes Montgomery riff can give way to Steely Dan pop, rock guitar heroics and Latin syncopation. These guys are not jacks of all musical trades; they deal up all aces.
Triad performs starting at 8:30 Friday night (Oct. 18) at Sazzy B, 5623 Sixth Ave.
Saturday morning dance show
This is a new one for me. It isn't a concert Saturday at Daily Dose Cafe. After all, it starts at 9 a.m., and any musician around at that hour is probably staring into her coffee. However, this will be pretty cool, and I wanted to give it some press.
At some concerts and events around town, you may have seen or at least heard of the Women in Motion dance troupe. They have performed a Spring Maypole Dance, a Steampunk Dance of the Clock and several witch dances. For this Saturday's performance at Daily Dose Cafe, the Women in Motion will perform their seasonal Witch Dance while raising funds for the LGBT Center of Southeastern Wisconsin.
Over the years, Women in Motion has raised more than $4,000 for groups including Safe Harbor, the Boys & Girls Club, NAMI/Kenosha, Women & Children's Horizons, Kenosha Creative Space, Kenosha Performing Arts Center/Fusion, Grace Welcome Center and St. Matthew's Lakefront ElderGarten. Come on out and have fun. After all, life's a witch.
Women in Motion will perform their seasonal Witch Dance starting at 9 a.m. Saturday (Oct. 19) at Daily Dose Cafe, 6010 40th Ave.
That's it for this week. Bands, artists and venues, please send me your gig listings, event posts, bios, Facebook event invites or anything else you think might be useful to me to write you up. If I don't know about it, I won't write it up.
PHOTOS: Lincoln Park Live: Betsy Ade & the Well-Known Strangers
Betsy Ade & the Well-Known Strangers — a band made up of Ade on vocals, Cameron Fair on cello and piano, Brittany Lumley playing multiple instruments and backing vocals, Roger Gower Jr. on drums, John Kulas on the bass and Joe Adamek on lead guitar — played a two-hour set at the latest installment of Lincoln Park Live in Lincoln Park, 6900 18th Ave., on Tuesday, July 17.
Here are a roundup of photos of the band performing at the event.