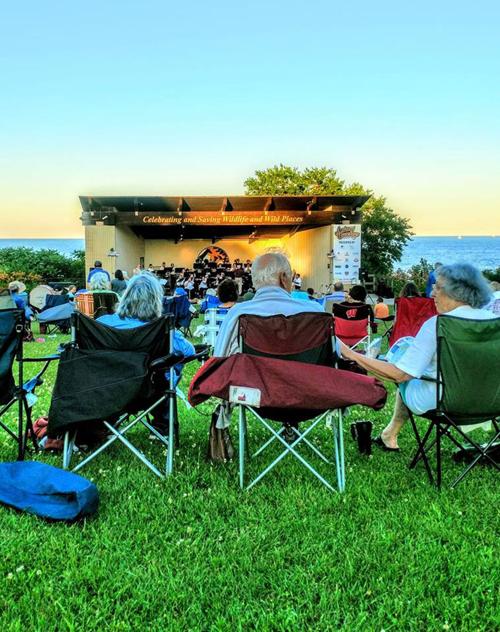 The Racine Concert Band begins its 97th season of free concerts on Sunday (June 30) at the Racine Zoo.
The concert starts at 7:30 p.m.
Mark Eichner, the band's music director since 2002, will conduct a program of patriotic music.
Don Rosen, a professional radio broadcaster for 47 years, is the master of ceremonies.
Kyle Miskovic is the xylophone soloist.
The official band of the city of Racine, which includes several members from Kenosha, will be highlighting the work of American composers throughout the program. "American Overture," by Joseph Wilcox Jenkins, and "Concord," by Clare Grundman, are featured.
Patriotic selections include Samuel Ward's "America the Beautiful," John Wasson's "American Fanfare" and "America Finale" by Calvin Custer. Performances from the American folk tradition include "Shenandoah" by Frank Ticheli and "John Henry," arranged by Arthur Frankenpohl.
Xylophone soloist Miskovic will perform "Rainbow Ripples," composed by George Hamilton Green, a percussion virtuoso who popularized the music a century ago.
A graduate of Gateway Technical College and Carthage College, Miskovic directs the Salem United Methodist Chancel Choir and performs regularly in Belle City Brassworks, the University of Wisconsin-Parkside Community Band and the Kenosha Pops Concert Band.
Marches — including "Black Jack," which was dedicated to Gen. John Pershing, and John Philip Sousa's "Liberty Bell," "Semper Fidelis" and "Stars and Stripes Forever," will complete the program.
The concert takes place at the Kiwanis Amphitheater on the east side of the zoo grounds at 2131 N. Main St. The Walton Avenue and Augusta Street gates open for free admission to the concert at 7 p.m.
A courtesy cart, for audience members who need assistance in getting to the concert site, is available before and after the concert.
Admission is free. Audience members should bring lawn chairs or blankets. There is very little fixed seating at the concert venue. Note: The zoo's main gate at Main and Goold streets is not in use for the free concerts.