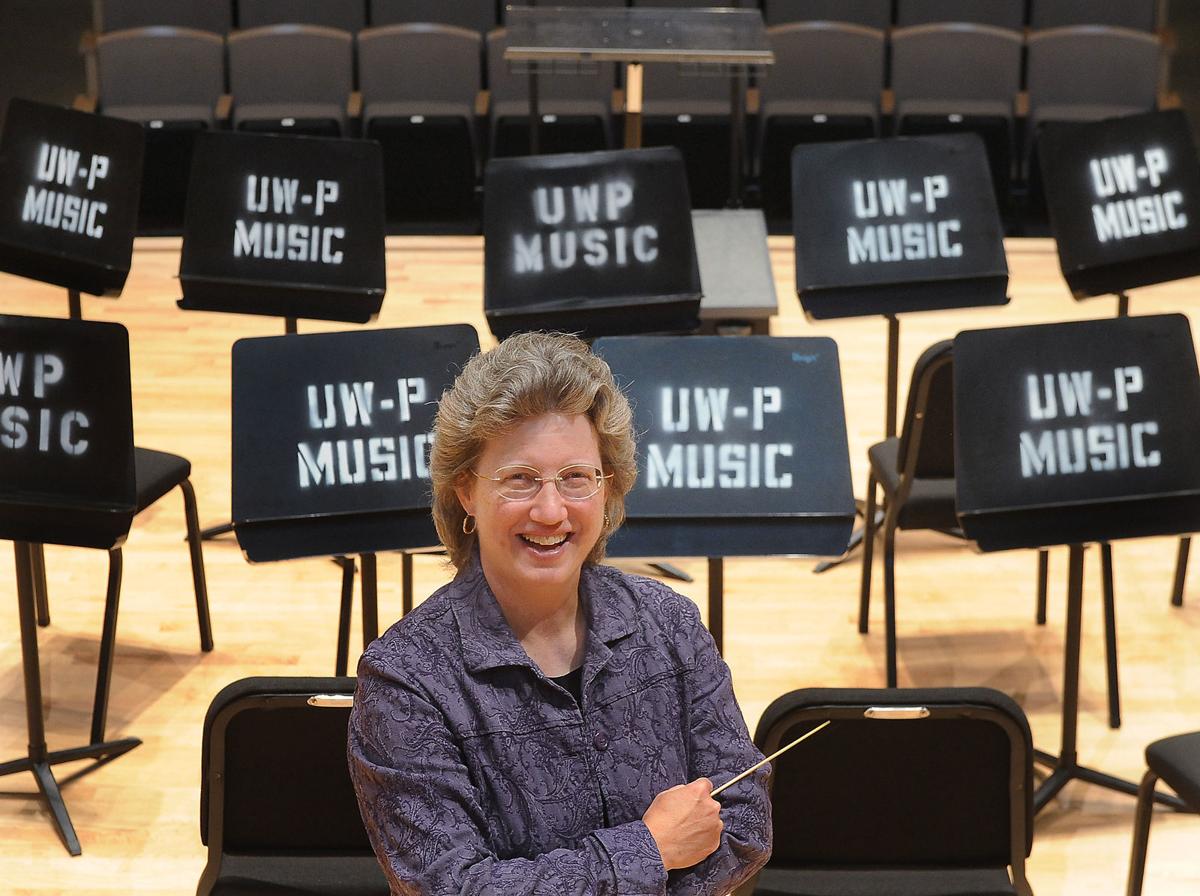 The University of Wisconsin-Parkside Wind Ensemble and Community Band are performing a joint concert tonight in the school's Bedford Concert Hall.
The program is a tribute to John P. Paynter, a Mineral Point, Wis., native who became the director of bands at Northwestern University at age 23 in 1953. The second of only three band directors in the University's history, he held the post for more than 40 years. Paynter died in February 1996.
Paynter was also the conductor and founder of the renowned Northshore Concert Band and helped organize community bands across the country.
"Mr. Paynter was one of those 'once-in-a-lifetime' mentors for me," said UW-Parkside music professor Laura Rexroth, who conducts both groups. "In my work at Parkside, I am so happy I can combine two of his favorite aspects of being a professional musician, which have become mine as well — teaching students and conducting a community band.
"He was a huge advocate of community music and thought music is a lifelong avocation. The adults I'm privileged to work with each Thursday night prove this is true, every single week."
Each work on the concert is connected in some way to Paynter, a composer and arranger as well as a teacher and conductor.
Pieces on the program tonight will include:
Wind Ensemble: "Harmony Heaven" by C.L. Barnhouse (arranged by Paynter), "Sarabande and Polka" by Malcolm Arnold (arranged by Paynter), "Full Circle" by Ryan George and "The Battle of Shiloh March" by C.L. Barnhouse (arranged by Paynter).
Community Band:"The Trombone King" by Karl King" (arranged by Paynter), "Whatsoever Things" by Mark Camphouse and "Tam O'Shanter Overture" by Malcolm Arnold (arranged by Paynter).
Paynter met composer King through his mentor at Northwestern, Director of Bands Glenn Cliffe Bainum, and they became friends. The C.L. Barnhouse Company published Paynter's arrangements of King's marches, including the vigorous "Trombone King."
Barnhouse was also a composer himself, and Paynter arranged two of his works. Barnhouse's "The Battle of Shiloh" is "a brilliant showpiece, typical of the turn of the century virtuosic style," Rexroth said.
Paynter's best-known arrangements are of the music of the English composer Arnold. He transcribed five of Arnold's works, two of which are on tonight's program. "Sarabande and Polka" are "two charming and beautiful movements" from Arnold's ballet "Solitaire," Rexroth said, and "Tam O'Shanter Overture" is based on the hero of a 1790 poem by the Scottish poet, Robert Burns.
In the poem, a tipsy farmer, Tam, gets on his horse to ride home in the very late evening. He is pursued by witches — one who reaches out to grab him, but only succeeds in taking the horse's tail as Tam rides safely over the river (these witches can't cross water).
"Whatsoever Things" was commissioned after Paynter's death by the Revelli Foundation for the 1997 Honor Band of America, directed by Ray Cramer, as the inaugural commission of the Paynter Project.
Composer Camphouse is a former student of Paynter's. The melody of Northwestern's Alma Mater hymn is heard throughout the piece, and the title is taken from Northwestern's motto, itself from Philippians 4:8: "Whatsoever things are true, whatsoever things are honest, whatsoever things are just, whatsoever things are pure, whatsoever things are lovely, whatsoever things are of good report; if there be any virtue, and if there be any praise, think on these things."
"Full Circle" by George, "really does bring everything on this concert full circle," Rexroth said. "The Parkside bands are members of the consortium that commissioned this work for the 2019 Music For All National High School Honor Band, also conducted by Ray Cramer. The performance will be the Midwest premiere of the work."
"Last spring, we had the greatest pleasure of having Ray Cramer on campus to work with our students and the Community Band for a week," Rexroth said.
Cramer is the emeritus Director of Bands at Indiana University, and he and Paynter were very close friends, she added.
"This concert is certainly a circle completed for me — connecting both of my wonderful musical mentors, Mr. Paynter and Mr. Cramer, my teaching at Parkside, and my work with the UW-Parkside Community Band. It will be an amazing musical experience for our listeners."
Stay up-to-date on what's happening
Receive the latest in local entertainment news in your inbox weekly!