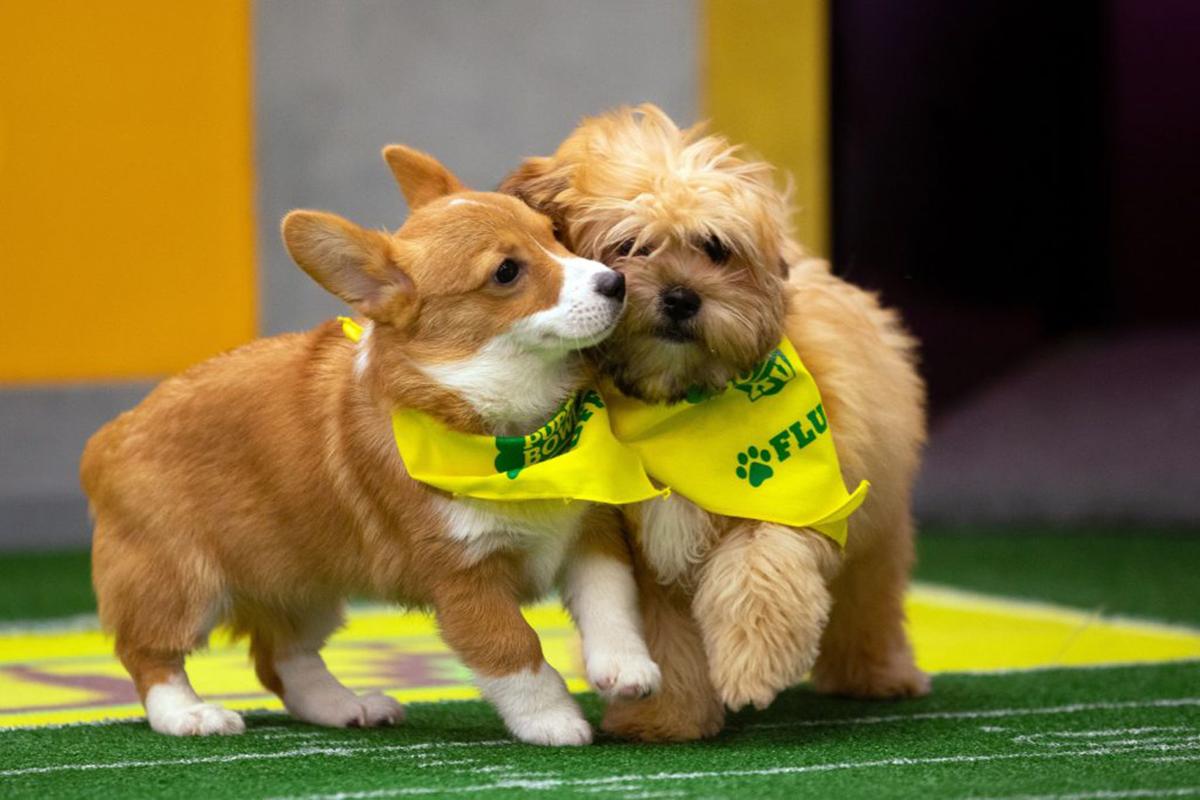 The event we've all been waiting for — the Puppy Bowl!
OK, it's true the Super Bowl is airing today on CBS, but not everyone (gasp!) likes football.
If you don't want to watch the Super Bowl or the ads, there are always alternatives:
Adoptable adorableness: Animal Planet's Puppy Bowl XV features 90 puppy "players" selected from thousands of submissions sent in from shelters across the country. It airs in marathon fashion starting at 2 p.m. This year also features a fan club of sloths (just like us at home watching TV all day!), baby kangaroo cheerleaders and porcupine mascots. (Bonus: Every year, 100 percent of the featured pups are adopted, and each shelter that participates reports a huge increase in adoptions after the game airs.)
Our turn: Not to be outdone by dogs, felines star in the "Kitten Bowl" on the Hallmark Channel, starting at 1 p.m. The sixth event also focuses on animal adoption.
Your highness: PBS is sticking with its Sunday night lineup of the third season of "Victoria," followed by "Tales from the Royal Bedchamber."
Tell us again what this has to do with history? An "Ancient Aliens" marathon, featuring tales of visitors form outer space, airs on History.
It's magical: USA is airing a marathon of movies in the Harry Potter franchise, starting at 9:30 a.m. with "Harry Potter and the Half-Blood Prince" and ending with "Fantastic Beats and Where to Find Them" at 7 p.m.
Classic TV marathon: TV Land is airing "The Golden Girls" from 6:48 a.m. to 4 p.m., "Everybody Loves Raymond" from 4 to 10 p.m. and "The King of Queens" from 10 p.m. to midnight.
Law and order: On the Paramount Network (formerly Spike), it's "Cops" all day and night — from 10 a.m. to midnight.
More law and order: A&E focuses on crime with a marathon of "The First 48." The series offers an insider's look at the real-life world of homicide investigators.
Still more law and order: Fans of the long-running "Law & Order" series can watch a marathon on We TV.
Munchies: The Food Channel will make us all feel better about our own efforts in the kitchen with its "Worst Cooks in America" marathon.
Our world: BBC America turns its attention to our home planet with episodes of "Planet Earth" series airing all day and all night.
More world stuff: The Science channel looks at what scientists have "Unearthed" with a marathon of this series, which explores under the earth's surface.
Baby, it's cold outside: Discovery takes viewers up north — way up north — for a marathon of "Alaska: The Last Frontier."
Fun in the sun: HGTV spends this February day focusing on homes in warm places with "Beachfront Bargain Hunt," "Caribbean Life" and "Island Life" episodes starting at 6 p.m.
To boldly go where you may not want to go ...: National Geographic takes viewers "Inside North Korea's Dynasty" with a marathon today.
Animal care: Its sister network Nat Geo Wild goes all in on shows featuring veterinarians today.
Back to work: Comedy Central is spending Super Bowl Sunday in "The Office."
Paging Patty Hearst: CNN devotes its schedule today to "The Radical Story of Patty Hearst," everyone's favorite heiress-turned-hostage.
Lost at sea: If you're looking for something completely different from all the Super Bowl hoopla, TNT takes viewers on a long journey, airing "Titanic" at 7 p.m.
Get out!
If televised football isn't your thing — or you're trying to avoid the fans shouting in the den — head out to these events:
Carthage College theater students are performing a world premiere of the musical "My Real Mother". The show is directed by Magdalene Spanuello, a 2007 Carthage College graduate, and is about an open adoption. The final performance is 3 p.m. in Carthage's Visual and Performing Arts Lab, located inside the Johnson Arts Center. Tickets are $7 at www.carthage.edu/tickets.
Today is also the the final performance of the musical "Seussical Jr." at Wilmot High School, performed by students in the Christian Youth Theater. 2 p.m. Tickets are $15 for adults, $13 for senior citizens (62 and older) and students in advance; $17 for everyone at the door.
The wild and crazy (and R-rated) musical "The Rocky Horror Show" takes the stage at 2 p.m. at the Rhode Center for the Arts, 514 56th St. Tickets are $10-$15. www.rhodecenter.org.
Enjoy the cool watercolors pieces at the Kenosha Public Museum, which is hosting "The PieperPower Photorealism Collection" of watercolors from several artists through Feb. 24. The museum is open noon to 5 p.m. today, which gets you home before kickoff. Admission is free.
You'll probably have the movie theater pretty much to yourself today, and Tinseltown Theater, 7101 70th Court, is showing several Oscar-nominated films. Also, at 1 p.m., Tinseltown i showing the 80th anniversary screening of "The Wizard of Oz." In this classic musical fantasy, Judy Garland stars as Dorothy Gale, a young Kansas farm girl who dreams of a land "somewhere over the rainbow." This showing includes "exclusive insight from Turner Classic Movies." www.cinemark.com.
Racine's Over Our Head Players have a 2:30 p.m. matinee of their annual Snowdance 10-Minute Comedy Festival. However — Snowdance is possibly a tougher ticket to get than the Super Bowl. The show is sold out, but maybe you can find a friend with an extra ticket. Or wait outside the theater door and look desperate for a laugh?
The Racine Children's Theatre is performing "Junie B. Jones: The Musical" this afternoon at the Racine Theatre Guild. One-hour performances start at noon, 2 and 4 p.m. Tickets are $6.
Lake Geneva is hosting the United States National Snow Sculpting Championship as part of its annual Winterfest. The sculpting ended Saturday, and a winner was crowned from among the snow-sculpting teams. Check out the creations today, downtown on the lakefront. (Look for the crowds.) www.visitlakegeneva.com/winterfest/
Stay up-to-date on what's happening
Receive the latest in local entertainment news in your inbox weekly!