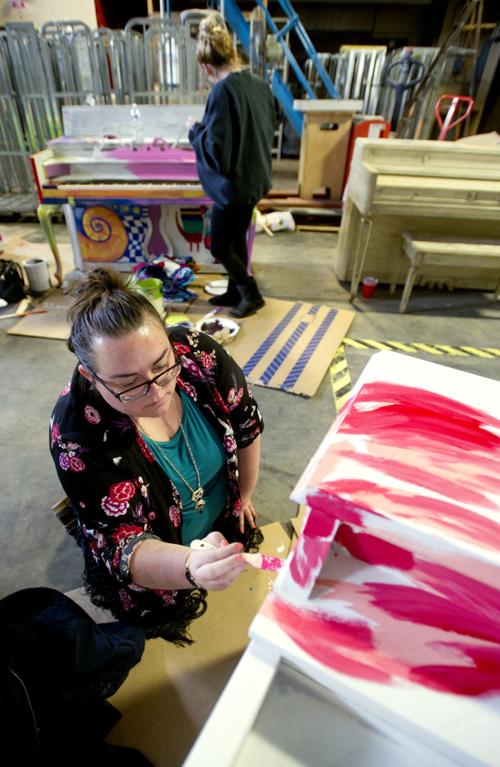 The 13 "Keyed Up Kenosha" pianos can be found:
Friendship Park, 5834 Sixth Ave. Artist Fernando Alvarez created "Undiscovered World."
Kenosha News, 5800 Seventh Ave. Artist Lynn A. Johnston created "Mammoth Music — A Duet."
Franks Diner, 508 58th St. Artist Roberta Williams created "Crescent City Garden Club: Pick of the Crop."
Kenosha Creative Space, 624 57th St. Artist Kelly Witte created "Paradise Piano."
Kaiser's Pizza & Pub, 510 57th St. Artist Alison Merritt created "A Growing Community."
Sazzy B and The Buzz Cafe, 5623 Sixth Ave. Artist Shelbiee Arreguin created "Metaphysical Razzler."
Wine Knot Bar & Bistro, 5611 Sixth Ave. Artist Beki Marquardt created "Summer Breeze."
Rhode Center for the Arts, 514 56th St. Artists Lydia Chavez, Kasey Cochran and Kristie Nixon created "Welcome to Kenosha."
Sandy's Popper, 5503 Sixth Ave. Artist Jaime Brown created "SWEET!"
Veterans Memorial Park, 54th Street and Sixth Avenue. Artist Delise Evans created "A Rose is Still a Rose."
Lemon Street Gallery, 4601 Sheridan Road and Union Park, 4500 Seventh Ave. Artist Sheillah Walsh created "Carmen."
Union Park, 4500 Seventh Ave. Artists: Bitzy Coats and Marisa Wilson created "Music & Lyrics."
A 13th piano, created by Scott Buell and called "Reclaimed Medley," is at the I-94 Visitor Information Center, at Highway 165 and the interstate.