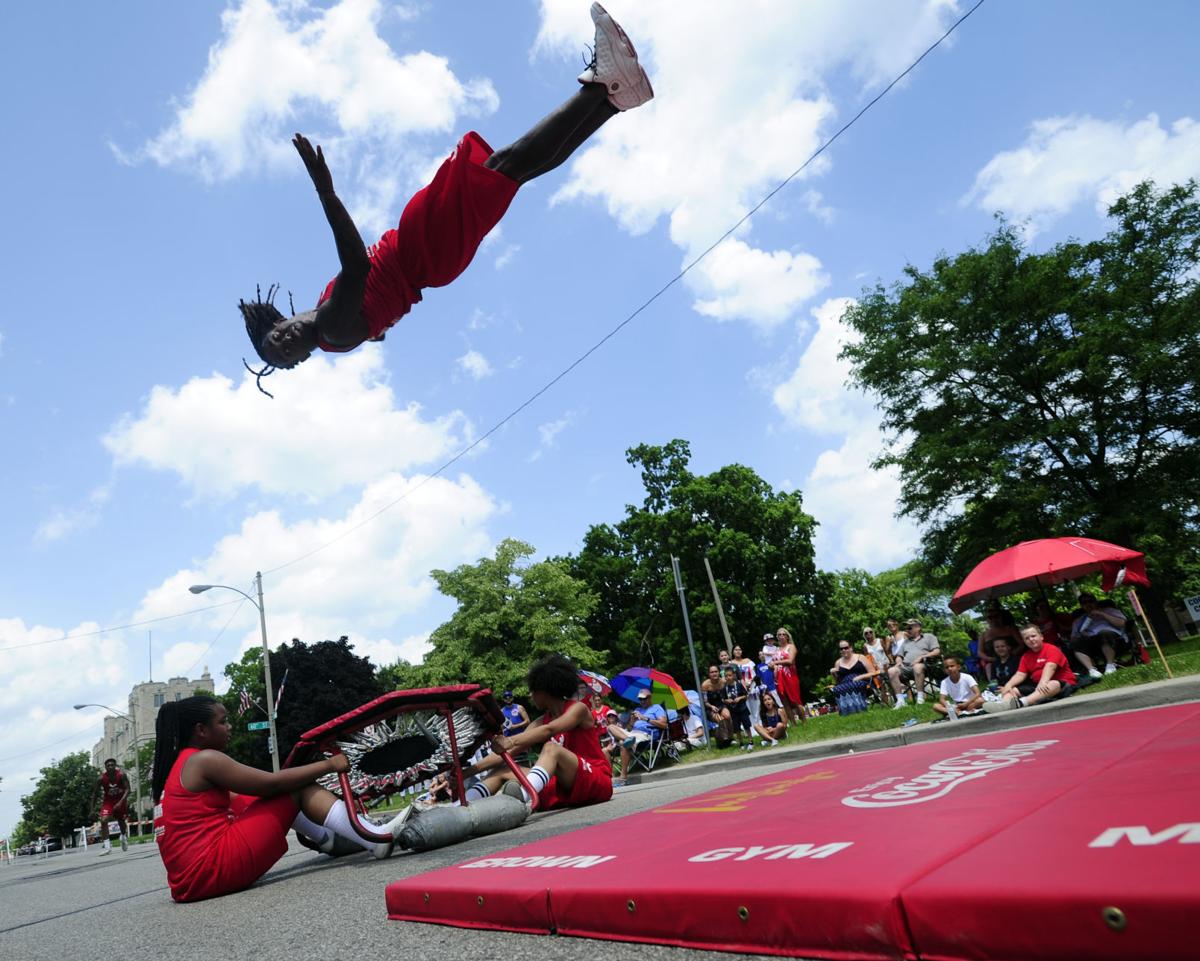 If you love a parade, Kenosha is the place to be Sunday.
The city's annual Civic Veterans Parade steps off 1 p.m. Sunday, starting from 22nd Avenue and 60th Street and heading east to downtown.
Once there, the parade's theme — "Liberty at the Lake" — will "remind everyone of our harborside location and the Tall Ships Festival coming in August," said Kris Kochman, who, as the city's community relations liaison person, is busy organizing her eighth parade.
Two groups that are new to the parade will be there at the start and the finish.
Pioneer Performance Corps — a Milwaukee-based drum and bugle corps with an Irish theme — starts things off in Division 1. The group, Kochman said, is "known for its powerful percussion line."
After numerous marching bands, floats, clowns and assorted characters make their way through our fair city, the parade will wrap up with another drum corps, Carolina Crown.
That group is a past world champion of Drum Corps International and plans a "grand finale" performance in front of the parade's reviewing stand in Veterans Memorial Park, east of City Hall at the harbor.
"I think they'll be amazing," Kochman said of Carolina Crown, based in Fort Mill, S.C. "I put out the call every year to the DCI groups. It all depends on their schedule — if they have a competition nearby and it works for our parade date, they will come here.
"They have to find someplace to spend the night, so why not Kenosha? I'm really glad it worked into their schedule." Drum corps stay at local schools, sleeping on gym floors, while traveling across the country.
Carolina Crown, Kochman added, "really plays to the crowd. We put them at the end because they will stop and perform. It's a grand finale near the reviewing stand; something new we're trying this year."
All together now
Another new feature this year is the classic cars.
Not that the cars are new — the parade features an assortment of classic vehicles every year — but, this time, all the classic cars will be riding together to lead off the parade.
"The cars are all in the pre-parade all together, instead of being place throughout the parade," Kochman said. "The History Center asked that the cars stay together, so we're trying something new this year."
As we noted earlier, Kochman is putting together her eighth parade. When asked which one was her favorite, she quickly answered "not year two!"
That parade, in 2013, "I thought it would be fun to have a 'Wild, Wild West' theme and have a lot of horse acts in the parade," she explained. "I got a frantic call that morning about a horse mess. Someone riding a horse didn't bring anything to clean up after their horse. Thankfully, a volunteer did it.
"That was also the year I left the parade float ribbons on my dining room table. Year two was challenging."
In contrast, Kochman's first stint as parade organizer, in 2012, was a breeze.
"That first year, we had Miss America Laura Kaeppeler," Kochman said. "She was so sweet, and everything went really well. But no matter what happens, it's a parade. How bad could it really be?"
Before signing off, she added, "Maybe this year will be my favorite."
Bikes!
The community bike parade is back for more fun on two wheels.
All ages are welcome, but you must be able to ride two miles without stopping and keep up with the group. All participants in the bike parade must ride a bike; no walking or jogging with the group is allowed.
To join the fun, simply show up by noon Sunday (on a bicycle) along 61st Street west of 22nd Avenue.
Be the first to know
Get local news delivered to your inbox!