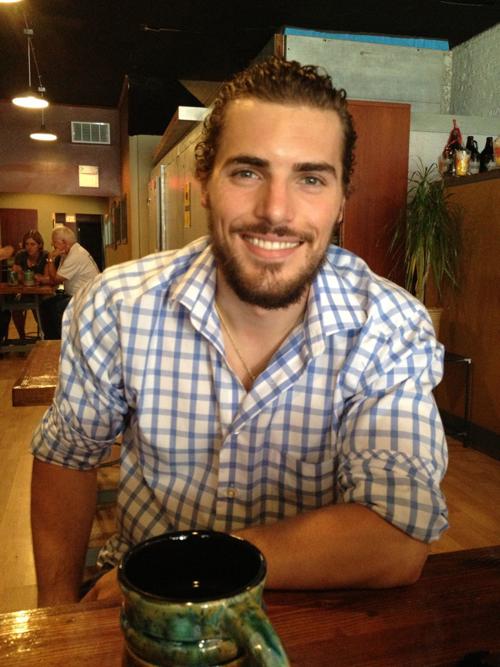 When talking with doctoral students, it's best to remind them frequently to "dumb it down."
Not that Kenosha News readers are dumb, but neither are most of us well versed in the dense language of academia. (For a similar experience, try reading legal documents. Or a James Joyce novel.)
Eric Wistrom, a St. Joseph High School graduate, has been selected to present a paper at a doctoral seminar sponsored by the Hermes Consortium for Literary and Cultural Studies. That's a big enough deal, but here's the even cooler part: The seminar takes place in May in a castle. Yes, a real, honest-to-goodness castle, specifically Rauischholzhausen Castle. The seminar is hosted by the International Graduate Centre for the Study of Culture at Justus Leibig University in Giessen, Germany.
Wistrom is a doctoral student at the University of Wisconsin-Madison, studying French and Francophone literature — specifically studying the Maghreb (Morocco, Algeria and Tunisia) — and his proposal was evaluated by a campus committee.
He first got interested in this area of study after teaching abroad where he "worked extensively with Algerian and Turkish populations in eastern France. Having had the opportunity to see and hear their stories of memory and migration led to my interest in Francophone literature," he said. "This knowledge of Maghrebi culture — coupled with my speaking French and Arabic — led to my interest in Francophone literature of the Maghreb."
The program's theme is "passages," and when asked how his paper fits into this overall theme, Wistrom said, "My paper was founded upon the following question: in our state of increasing transnational migration, have we truly become more inclined to multiculturalism and migratory integration in the face of an increasingly decentralized conception of nationhood? Or, have we been progressively plunged into a state of radical binary — viewing the Other as a threat not only to our cohesive sense of national belonging, but also to our constructed sense of ontological being?"
Which is an academic way of saying his research centers on the issue of how immigration relates to a feeling of national identity. In other words, if you move to France from Algeria, are you French? Algerian? Or do you "possess a hybrid identity between the two"?
He goes on to explain how his project focuses on such items as "phenomenological Othering" and a "non-mathematical theory of marginal utility."
What I hear is: Spending time in a German castle in late May. Won't that be fun?
The "passages" Wistrom examines in his study are both physical — as in people migrating to other countries — and metaphysical, as seen through cultural changes.
He was motivated to write this paper, he said, "as I believe that the question of migratory integration is a topic of great social interest and importance in today's political climate," which includes debates over the politics of immigration in France and the notion of Leitkultur in Germany, a term referring to a "leading" or "common" culture and the debate over to what extent migrants should integrate into society. ("The latter being one of the reasons why I was selected to present in Germany," Wistrom said).
He spent about three months researching and writing the paper, which he said went quicker than most research projects because it's part of a larger study he has been working on since 2018.
While Wistrom says "my main focus while in Germany will be presenting my research, listening to the other presentations, participating in the workshops and networking with the other attendees," he is also planning to spend a few days in Frankfurt.
And there's always that castle to explore ...