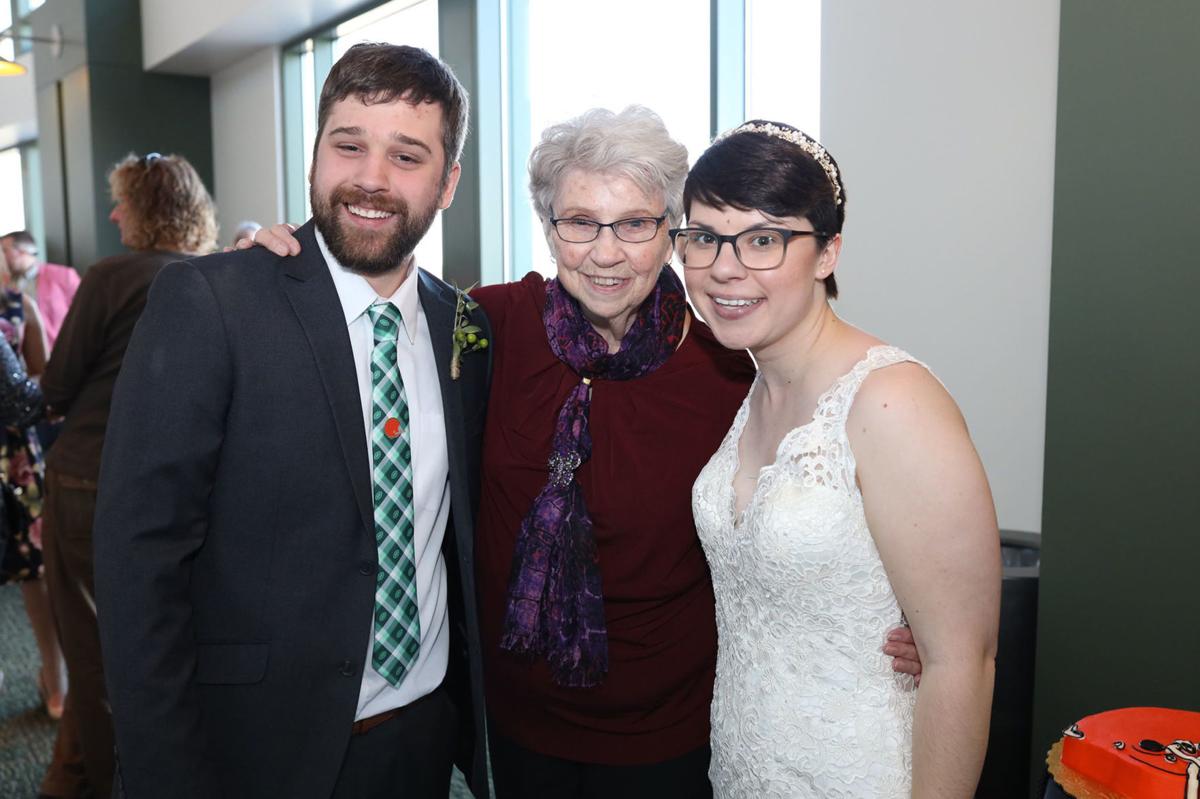 There aren't too many love stories that start with academic struggles and include the Cleveland Browns.
Yes, those Browns. The hapless NFL team that is finally showing signs of life with a new coach and young quarterback Baker Mayfield.
But I'm getting ahead of myself, and this story doesn't have anything to do with that team's on-field struggles.
It all started when Mark Loney and Maggie Lawler met in 2012 while taking — and struggling with — an undergraduate philosophy course at the University of Wisconsin-Parkside. In danger of failing the class, they both attended an extra credit lecture.
That effort paid off twofold: They passed the class, and they became a couple.
Maggie is a Green Bay Packers fan, which is not at all unusual in Wisconsin; Mark, however, is a Cleveland Browns supporter.
In fact, Mark is such a Browns booster, he was wearing his favorite team's jersey in the photo that ran with the couple's 2017 engagement announcement in the Kenosha News. (Maggie was sporting a Packers jersey.)
That engagement photo — in particular the Browns jersey — caught the eye of astute newspaper reader Florence Bohn.
Her late husband, Bob, was also a Browns fan, and she still had his Cleveland Browns directors chair.
"I asked my son if he wanted the chair, and he said no," Florence explained. (That's no surprise; Bob Bohn Jr. is a Packers fan, like his mom.)
Florence saw in the engagement announcement that Mark worked at the Pleasant Prairie Target store, "so I went to the store and asked to speak with him. I congratulated him on his engagement and then I asked him if he could come out to my car. I opened the trunk and showed him the chair," she said. "He got so excited, asking me 'I can have this? I can really have this?' He never even asked my name or anything."
The whole exchange happened so quickly and was so surprising, Mark said, "I'm embarrassed I never got her information. When someone told me there was a Browns chair up front for me, I was in the middle of running the lanes at Target. I was confused but excited; I thought it was the coolest thing because of not only the style, but the history behind it."
Maggie added that "Mark was mortified that it all happened too quickly for him to find out. We spent a few months trying to track her down through social media with no luck."
Later, Florence found a Cleveland Browns tie tack and Frisbee at her home and went back to Target.
"But Mark was no longer working there," she said.
She did the next best thing, which was contacting Maggie by calling UW-Parkside, where she works as an instructional designer. (That information was also in the engagement announcement. I told you, Florence is a careful reader of the newspaper.)
"I left a message for Maggie, and she called me back," Florence said. "I told her I was the woman who gave Mark the Browns chair, and she said, 'oh, we wanted to get in touch with you and invite you to our wedding.'"
They came over to Florence's home and got the tie tack and Frisbee.
"They are such a great couple," Florence said.
She went to their wedding last month, which was at Lambeau Field in Green Bay.
"Mark wore the Browns tie tack at the wedding," Florence said. She attended the wedding with a friend and said, "everyone was so nice; we didn't feel like strangers at all at their wedding."
"It sounds cliche, but Florence feels like family to us," Maggie said. "We do keep in touch. She has my cellphone number. We mostly text during football season, which is fun. She follows the Browns just like she follows the Packers, so she'll give us her opinions before or after games.
"It was such a privilege to have her come to our wedding. We felt lucky she made the trip. The whole bridal party wanted to meet her."
Before meeting Mark, Florence "thought my husband was the only Browns fan in Wisconsin."
Bob Bohn became a Browns fan because he admired the team's legendary Hall of Fame coach Paul Brown, Florence said.
Bob and Florence were both from the Bronx, N.Y., and moved west to Tucson, Ariz., before heading to the Midwest in the early 1970s.
As a wedding gift, Florence gave Mark and Maggie the perfect gift ... perfect for Maggie, anyway. She gave the couple a commemorative brick at Lambeau Field, inscribed with their names and the date of their wedding, March 23, 2019, at the stadium.
"They're planning to go to Lambeau Field on their first anniversary," Florence said.
As for Florence, she continues to read the Kenosha News every morning during breakfast (thanks, Florence!). And she continues to watch football, too.
"If the Browns game was on TV, my husband would be pacing the floors, worrying," she said. "I would say to him, 'it's just a game!' Now that he's gone, I sit in his recliner to watch the games and throw a foam brick at the TV if I'm upset. I've become him."
Sharing their love of football ... and Disney World
Mark Loney and Maggie Lawler were married last month at Lambeau Field, which is sacred ground to Maggie.
"I'm about as diehard a Packers fan as they come," Maggie said. "I blog about the Packers. I podcast about the Packers. My best friends call me Packers Google. I pride myself on that reputation. The first time I went to Lambeau Field, I cried. So for the wedding, since we're both such huge football fans, it made sense for us to get married in a football venue."
Even though Mark cheers for the Cleveland Browns, was happy to be married at the home of the Packers "because it's a place that means so much to Maggie."
He also proposed to her at another special place: Disney World.
For Maggie, Disney World is filled with memories of family trips, which grew to include Mark and other friends. "That adds another layer to my love of Disney," she said, "since all of my favorite people have experienced it with me." (For their wedding, the cake had a Disney-themed topper.)
Mark and Maggie have attended plenty of games together at Lambeau — including a 2017 game when Mark's Browns were the opposing team — so choosing that venue was a great fit for the football fantatics.
"It meant a lot to me even though it's a Packers stadium," Mark said. "It's still a once-in-a-lifetime opportunity and a historic location."
When asked the all-important question about how to raise any future children (Browns fans? Packers fans? A compromise in which they are encouraged to root for the Chicago Bears?), Maggie said, "We've talked about this quite a bit! We want two kids, so the running joke is that we'll each get one kid to become a fan of our respective teams.
"Mark always says the Packers are going to start declining soon and the Browns are going to become a dynasty, so by the time we have kids they both might want to be Browns fans since the Browns will actually be good. We'll see. One of each seems fair. Just not Vikings or Bears fans, please."
Mark adds, "I want to put a baby in a Ditka mustache and sweater. That would be adorable."
On NFL gamedays, the couple keep tabs on both their teams.
"I listen to the radio, and Maggie watches the game on mute so we can both enjoy each other's games together," Mark said.
No matter what happens on the football field, Maggie will be smiling.
"I honestly just feel lucky," she said. "I got to marry my best friend, in front of my favorite people, at my favorite location on the planet. The Packers and Browns are both going to be good this year, so it's going to be a fun 2019 in our house. Plenty of people have joked about a Packers vs. Browns Super Bowl, but I'd rather wait until we've at least been married a year before we strain our relationship that hard."
Mark added, "It's more than football. I like having that bonding time every Sunday that we get to enjoy together. It's really cool."