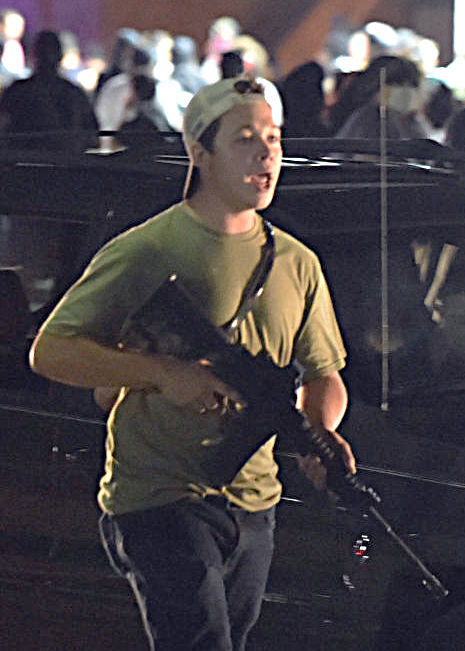 Attorneys for both the State of Illinois and for Kyle Rittenhouse have now filed briefs regarding whether the 17-year-old should be extradited back to Wisconsin to face two homicide charges related to the Kenosha civil unrest in late August.
That decision will rest in the court's hands later this month.
In a brief obtained Friday afternoon, Illinois state prosecutors disputed claims by Rittenhouse's lawyers earlier this month that their client should not be brought back to Wisconsin.
The case is expected back in Lake County, Ill., Circuit Court in Waukegan on Oct. 30.
Rittenhouse is charged in Wisconsin with first-degree intentional homicide in the Aug. 25 shooting deaths of 26-year-old Anthony Huber of Silver Lake and 36-year-old Joseph Rosenbaum of Kenosha. Rittenhouse also faces an attempted first-degree intentional homicide charge for shooting and injuring Gaige Grosskreutz of West Allis.
In addition, the teenager is charged with first-degree recklessly endangering safety for firing the AR-15 he was carrying toward other people in the street and for possession of a dangerous weapon by a person younger than 18.
The shootings happened on the third night of civil unrest, protests and riots in Downtown Kenosha in the aftermath of the shooting of Jacob Blake by Kenosha Police Officer Rusten Sheskey.
The brief, filed by the Lake County State's Attorney's Office, claims the defense is relying on issues not meant for an extradition hearing to try and keep Rittenhouse in Illinois.
"The defendant used more than half of his petition to insert irrelevant and inflammatory 'facts,' which are solely meant to sway sympathy and public opinion through the media in favor of the defendant and that have no place in an extradition hearing and are irrelevant to the issues before this court," the brief reads.
"This is an extradition hearing. It bears repeating: an extradition hearing."
Wisconsin Gov. Tony Evers requested that Illinois turn Rittenhouse over to the state, and documents indicate that Illinois Gov. J.B. Pritzker signed that warrant Sept. 23.
In juvenile detention center
Rittenhouse, of Antioch, Ill., continues to be held without bond at the Minard E. Hulse Juvenile Detention Center near Vernon Hills, Ill. He was arrested the day after the shootings and has been held in Illinois since.
The request and following warrant signed by Pritzker show that both the constitutional and statutory requirements needed to extradite Rittenhouse have been met, the brief states.
Rittenhouse's attorneys also attempted to show the warrant was invalid, the prosecution brief states, because of, among other things, a typographical error.
"These arguments are improper and a red herring," the brief states. "The Illinois arrest citation had nothing to do with the governor's grant of extradition nor is it relevant to the limited hearing on this matter."
In their filing with the court, Rittenhouse's lawyers claimed extraditing him would violate his Fourth Amendment right "to be free from arrest and detention without probable cause because there is video evidence showing without a shadow of a doubt Rittenhouse's actions were self-defense."
The brief on the defendant's behalf also states their client would be denied due process because the charges "are politically motivated." His 14th Amendment right would be violated because Rittenhouse would be jailed as an adult — in Wisconsin, 17-year-olds can be charged as adults — "subjecting him to a legion of hazards."
The state, in its response Friday, wrote that applying federal case law is one place where the Rittenhouse lawyers' case falls short. One case cited by the defense in its brief deals with an international extradition, which isn't applicable in this case, the state wrote.
"(Rittenhouse) is not being extradited to a foreign jurisdiction, such as West Germany or Lithuania, wherein that country's trials may not be governed by the U.S. and state's Constitutions' guarantees of due process of law," the state wrote.
"The defendant is being extradited to Wisconsin pursuant to Section 2 of article IV of the United States Constitution, and he is entitled to present his defenses in that state."
On Wednesday, Caledonia resident Joshua J. Ziminski, 35, was charged in Kenosha County Circuit Court with a misdemeanor count of disorderly conduct with the use of a dangerous weapon.
Video from the scene the night of the two homicides showed Ziminski and his wife in a number of Downtown locations. Ziminski eventually is seen firing a shot toward the sky from a handgun.
Rittenhouse's attorneys, who long have claimed that their client acted in self-defense, have called the shot fired by Ziminski as a "pivotal moment," because their client didn't know where the shot came from.
According to prosecutors and court documents, Rittenhouse shot and killed Rosenbaum after Rosenbaum threw a plastic bag at him, missed and tried to wrestle the gun away.
Huber was shot and killed after Rittenhouse tripped and fell in the street. As the defendant was on the ground, Huber hit him with a skateboard and tried to take the rifle away. Rittenhouse then opened fire, killing Huber and wounding Grosskreutz.
Legal experts have said that a judge is unlikely to block an extradition and that Rittenhouse will likely ultimately be transferred to Wisconsin to face charges.