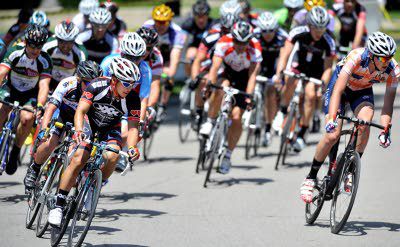 After a four-year hiatus, the Kenosha YMCA's Food, Folks and Spokes family festival is returning June 15 to Library Park as the kickoff event for the Tour America's Dairyland series of cycling races.
The 24th edition of Food, Folks and Spokes will feature food vendors and live entertainment. The evening features pro cycling races and a free concert featuring local band Weird Science from 7 to 9 p.m. This year's event features new partners and sponsors, with YMCA teaming with Tour America Dairyland for the first time.
The YMCA is restarting Food, Folks and Spokes after it canceled the event in 2013 to work closely with the Kenosha Area Chamber of Commerce in the Grill Games event.
"We miss it. It was a great event. The community missed it," said Kenosha YMCA executive director Cindy Altergott. "The community has been very supportive in bringing this back."
The event is also sponsored by Snap-on Inc., the Kenosha Area Convention and Visitors Bureau, the Wisconsin Division of Travel, the Kenosha News and the city of Kenosha. Proceeds from the event will go to support the YMCA's Miracle league, Frank Neighborhood project, Safety Around Water for kids in need and family scholarships.
Kenosha Cycling WeekLocal cycling events begin earlier in the week as Kenosha Cycling Week runs June 11-17 with events scheduled each day. Sunday features a bike check day. The Night Stock bike kickoff features the first night of racing in the Washington Park Velodrome. There will be USA Cycling competitive team Velodrome racing Tuesday with the Mayor's Cup being presented by Mayor John Antaramian. More racing is scheduled for Wednesday at the Velodrome.
Food, Folks and Spokes will be the first of 11 featured Tour of America's Dairyland racing events. Bill Koch, executive director of Tour America's Dairyland said he expects about 400 cyclists of all ages and skill levels will participate in the Kenosha kickoff event that features seven races. Racing will start at noon with the last race scheduled to end around 9 p.m. on June 15.
"We are proud to welcome Kenosha's Food, Folks and Spokes criterium to the ToAD like up as our series opener. Athletes with a history of racing in Wisconsin will undoubtedly recall the fun course and the remarkable fan support with complementary non-racing activity in Kenosha. Kenosha will be a strong kick-off to our stellar 2017 ToAd line-up."
Koch expects about 1,000 cyclists from the region and around the country will participate in parts of or all of the 11-day tour in segments of the Tour America's Dairyland event through southeastern Wisconsin. The cycling tour, in its ninth year, is sponsored by the Wisconsin Milk Marketing Board.