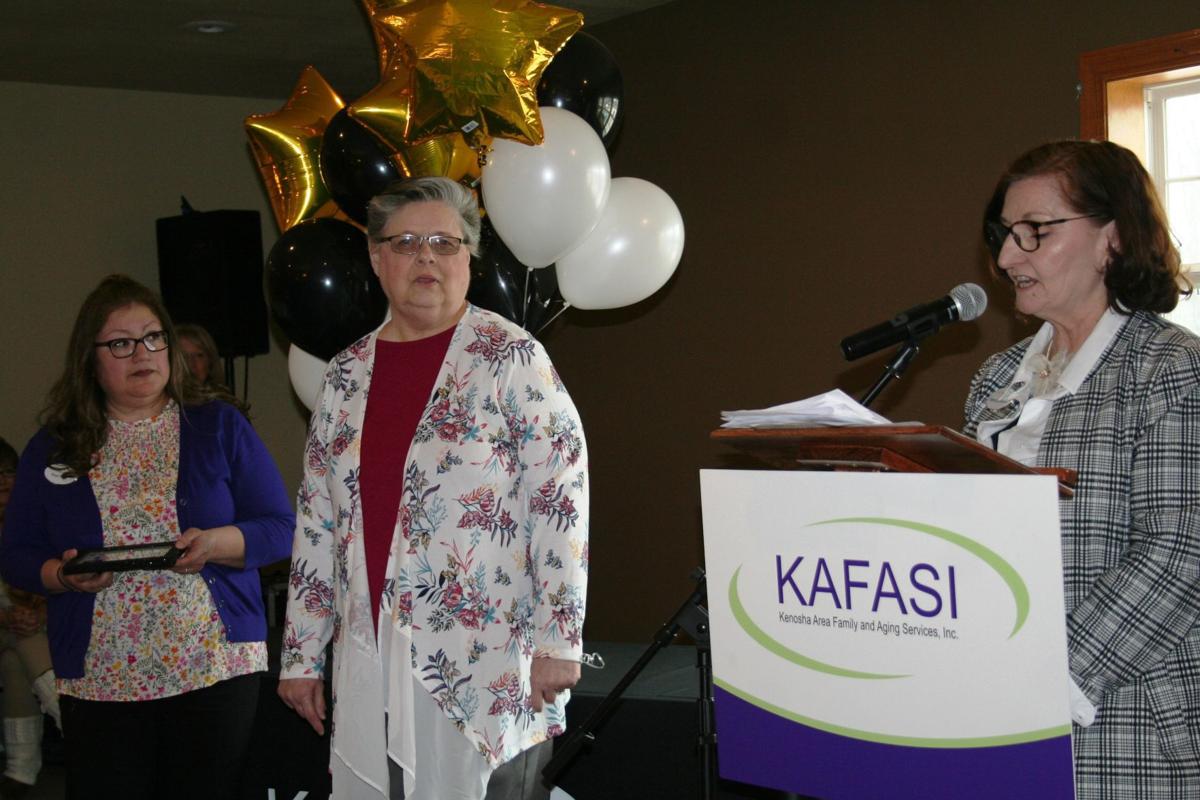 SOMERS — Those who give selflessly to others through the programs offered by the Kenosha Area Family and Aging Services Inc., were honored Saturday at the annual volunteer appreciation breakfast and award ceremony held at Cortese's Banquet Hall in Somers.
While 20 of the organization's 648 volunteers received special awards, all were worthy of recognition, said KAFASI staff members.
"These are people who are taking care of their community," said Heather Bieniarz, KAFASI operations assistant. "It really is (true) that the spirit of giving from people who understand that giving back also gives them joy."
That's what made Bristol resident Sharron Clausen, this year's Lifetime Achievement Award recipient, decide to volunteer with the Retired and Senior Volunteer Program. She put in more than 21,000 hours over 20 years as a volunteer capacity builder, training, scheduling and working with other volunteers at Aurora Hospital.
"I was done babysitting grandkids and wanted to do something special," Clausen said. "I just like being with people."
That love of helping others also inspired Volunteer of the Year award winners Dick and Judy Bold of Trevor. The couple, who've been with KAFASI for three years, have volunteered for everything from Meals on Wheels, to the Sip and Swipe and Friendly Visitor programs, to helping at the Westosha Community Center and serving on the Nutrition Advisory Council.
"I was a teacher and I know the rewards of helping people," 67-year-old Judy said.
"It's just helping others," 66-year-old Rick said. "We're one of those who were fortunate with the rest of our lives and when we retired wanted to help others."
The RSVP Award went to Jean Gitzlaff of Kenosha, who has volunteered in the Winter Wraps program, helped at school events and knit hundreds of hats during 14 of her 17 years volunteering. At 93, she said, "It's not good sitting at home alone. It's better to be out with people and volunteer. It's good for your health."
If giving had a monetary value, KAFASI members estimate that the time donated to help seniors in Kenosha and Kenosha County last year alone would be worth over $958,000.
"If there were no volunteers, all that work would not be done," RSVP Director Rebecca Stevens said.
Alexandra Leon, a volunteer since 2017 with the Daybreak program in Kenosha.
Kathryn Ratzlaff, a volunteer since 2017 with the AniMeals program, which provides food for pets of Meals to Wheels recipients.
Alma DeFina fair for Sip and Swipe. She started in Volunteer Transportation and helps with office work and the fair bingo tent, along with other duties, since 2007.
Pete Janavicius, Senior Dining, Kenosha Senior Center. He has volunteered for over nine years and also helps with Volunteer Transportation.
Pat Smith, nine-year volunteer with Senior Dining, Westosha Community Center.
Walter "Buddy" Ellis. Silver Lake's "Buddy the Leprechaun" was the first to volunteer when the new restaurant model for Senior Dining was launched last year at the Village Pub in Silver Lake.
Sally Crnich has volunteered for five years with Volunteer Transportation. Last year, she took 212 rides and put in over 6,000 miles. She also went the extra mile by going to cheer on one of her riders, who was participating in the Special Olympics.
Rosemary Kobishop, a 15-year volunteer, and five-year volunteer Gloria Keckler for the Friendly Visitor program.
Mom Janice Jansen and sons, Ben, 18, and Brock, 14, were honored for volunteering for Meals on Wheels, City, since 2011.
Jeff Andre was also honored for his commitment to Meals on Wheels, City, since 1998.
Ron Czischke was honored driving for Meals on Wheels, County, since 2013.
Andrea DeLaune was honored for driving her regular Monday Twin Lakes route for Meals on Wheels since 2017. She also was able to help a participant who had fallen in their home until assistance arrived.
Leo Mendez was honored for volunteering for about four years with the Loan Closet, which provides medical equipment like wheelchairs and walkers to residents for free use.