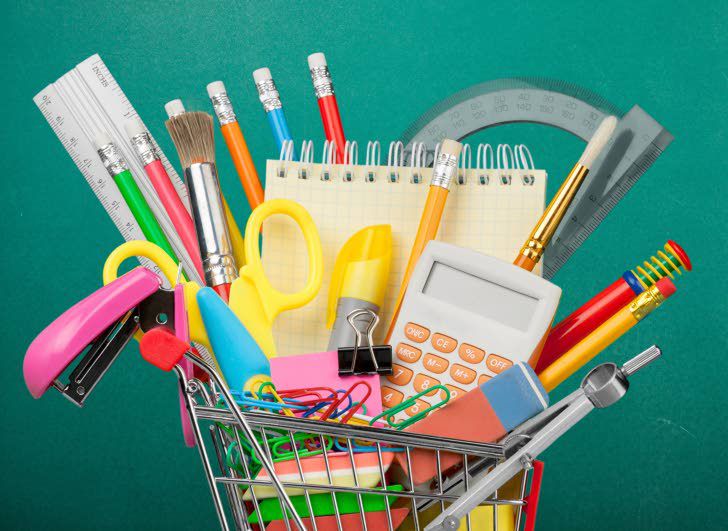 Your first test of the school year: How much can you save on back-to-school shopping for kids? (Fret not, though, we've got a savings cheat sheet to help save you big bucks).
First, a little statistics primer: Shopping for the start of the school year is big business. During the past decade, average spending on back-to-school shopping has grown 42 percent, according to the National Retail Federation. Last year, average spending on back-to-school gear (including apparel, electronics and supplies) totaled $630 for K-12 students and about $900 for college students.
Whether you're shopping for a kindergartner who is asked to buy a box of tissues to share with the class or a soon-to-be college freshman who will be sharing a dorm room, here are ways you can save on back-to-school shopping.
Only buy what's on the listYes, there are lots of cute school supplies. (Hello, locker lamps!) But, make your budget and stick to what's on the list and splurge on the extras if it's in the budget.
Invest in a good backpackLook for a backpack that is built to last and that can be carried from one school year to the next. Check out Lands' End for high-quality backpacks that your children can customize by adding monograms and embroidered icons including everything from a glow-in-the dark star to a basketball or ballet slippers.
Shop second-hand stores for sporting goodsIf your children are testing out new after-school activities and sports, don't make a huge investment just yet in the gear. (Your eager soccer player may decide they want to switch to T-ball after just a couple of practices). Find gently used gear and equipment at sporting goods second-hand stores.
Save on used textbooksIncoming college freshmen, get to the bookstore early and shop your reading lists. Bookstores carry a limited number of used textbooks, which are less expensive than new textbooks, but they go fast. You can also shop sites like Amazon for used textbooks.
Save on school uniformsStarting now, stores like Lands' End, Kohl's, Macy's and Old Navy are running sales on back-to-school clothes and they all carry school uniform staples like polos and khakis.
Plan ahead for next yearIt's never too early to plan for next school year. Come September, hit the stores and scoop up all of the school supplies that have gone on major sale and that you know are staples on your kids' back-to-school lists. Be sure to check online, too, for notebooks, binders, folders, markers and more that have made it to the sale section.
Dorm registriesFamily members may want to help your soon-to-be college student set up a home away from home. Stores like Target and Bed Bath and Beyond are offering "college registries," which are akin to wedding or baby shower registries, except they include dorm room staples like Dry-Erase boards and extra-long twin bedsheets. Even if their wish list doesn't get fulfilled, they can save. At Target, for example, students can score a coupon for 15 percent off their remaining registry items when they shop online.
Coordinate with your roommateCollege students, before you head off to the dorms or a shared apartment, check in with your roommate to see what they'll be bringing. No need for two toasters or extra door mirrors.
Save with free shippingIf you're a college student moving out of state, save on your shipping expenses and take advantage of free shipping deals. Schedule shipping of back-to-school clothes, electronics and household goods so it arrives directly at your college dorm or apartment, rather than sending it to your permanent mailing address and then paying to ship it to your school.