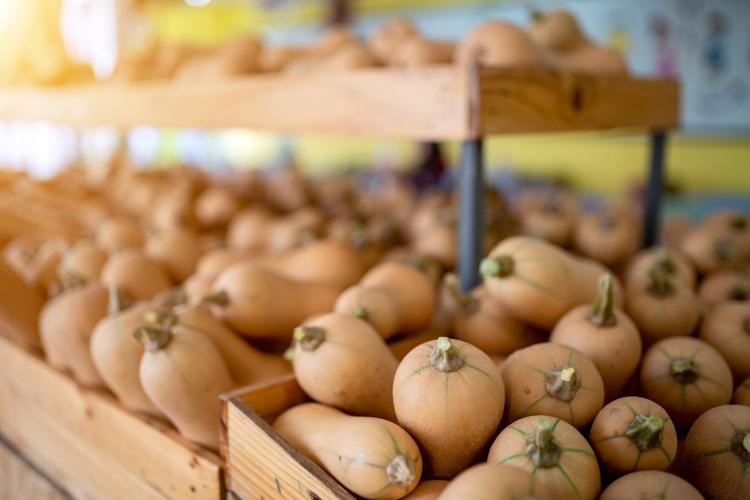 When I see the abundance of multicolored squashes in the market, I start thinking of all the ways to develop delectable dishes with them: maybe a spaghetti squash casserole with a Parmesan bechamel sauce or roasted delicata squash halves with a streusel topping. These are just a few ideas that come to mind.
I tend to roast butternut squash and then garnish it with a savory gremolata or a tomato topping, Seriously Simple style. In the following recipe, I have ventured into new territory by creating a tahina sauce to drizzle on top of the roasted sweet butternut squash pieces.
Tahini is the ground sesame paste used in myriad recipes throughout the Middle East. Tahini sauce includes a touch of garlic and fresh lemon juice. You can thin it out as much as you like with cold water to use as a drizzle or a sauce. I've added a touch of honey to lightly sweeten the tahina.
Make sure to closely watch the squash as its roasting so it doesn't burn. The tahini drizzle and roasted pistachio nuts add contrast in color and texture. Best of all, you can serve this warm or at room temperature. Serve this as a first course or a side dish. If you want to make a holiday statement scatter some ruby red pomegranate seeds on top.
Roasted Butternut Squash with Tahini and Toasted Pistachios
2 1/2-pound butternut squash, peeled, seeded and chopped into 1 1/2-to-2-inch chunks or 2 pounds pre-cut butternut squash
2 tablespoons olive oil
Salt
Freshly ground pepper
1/2 cup tahini
1/3 cup cold water, or more
1 clove garlic, grated
1/2 tablespoon honey
2 tablespoons fresh squeezed lemon juice
2 tablespoons toasted pistachio nuts
2 tablespoons chopped Italian parsley
1. Preheat oven to 400 F. Using tongs, toss squash with oil and salt and pepper on a large nonstick sheet pan. Roast until tender and lightly browned, about 35 to 40 minutes, (depending on their size), turning once or twice with a metal spatula to evenly cook the squash.
2. Make the sauce: In a food processor with motor running mince the garlic. Add the tahini, 1/3 cup cold water, honey, lemon juice, and salt and pepper, to taste, and process. Add a few more tablespoons of cold water to create a sauce-like consistency. (Use remaining as a dipping sauce or salad dressing.) Transfer to a small bowl.
3. Arrange cooked squash on a white serving platter and drizzle with sauce. Garnish with pistachios and parsley. Serve warm or at room temperature.
(Diane Rossen Worthington is an authority on new American cooking. She is the author of 18 cookbooks, including "Seriously Simple Parties," and a James Beard Award-winning radio show host. You can contact her at www.seriouslysimple.com.)
Satisfy your cravings
With our weekly newsletter packed with the latest in everything food.