I am typically not much of a follow-through-er.
My life is a trail littered with failed good intentions, uncompleted projects and former passions now forgotten. Given that history, when I set out at the start of 2018 to try to hike every week and to walk at least 1,000 miles, I didn't have a whole lot of faith I would actually find my way to the finish line.
So I was a little surprised — and pleased with myself — on Dec. 9, 2018, as I hiked the last mile of the Lake Geneva Lake Shore Path on a cold, gray, windy day, bringing me past the 1,000-mile mark for the year.
The Lake Shore Path was on my hiking bucket list for 2018. The path, an easement through private properties, runs all the way around the lake, bringing a walker across manicured yards, over a golf course, through resorts, small towns and parks, and past many, many enormous Gatsbyesque mansions.
Some maps put the path at 21 miles. Some at 25. My GPS said 24. My legs said that whatever it was, it was too freaking far. It was also, to be truthful, a little boring. After awhile, a lot of those mansions began to seem like the architectural equivalents of a Kardashian and all that excess began to bring out my inner Jacobin.
But I hobbled back into my house and unlaced my boots that evening feeling a serious sense of accomplishment. For once, I did what I planned to do.
By Dec. 31, 2018, I was just shy of 1,100 miles. My walks took me through 20 of Wisconsin's state parks, state forests and natural areas, and about 150 miles of the Ice Age Trail. I walked through deep woods and deep snow, through prairies and farm fields and city streets, along dunes and cliffs and winding single-track paths.
Along the way I've learned a lot about the state's geography and found gorgeous new landscapes I didn't know existed. Just as enjoyable were workday walks on my lunch hour, watching gardens grow, taking in Kenosha's beautiful lakefront, cataloging the cutest houses and the flowerbeds most frequented by butterflies along my routes.
Nearly as much as the walking itself, I enjoyed following the progress of an online community of walkers from the around the world through social media groups. A "walk 1,000 miles" group on Facebook sponsored by a British "country walking" magazine shared encouragement and great hiking photos, with inspiration from walkers ranging from families with toddlers to people in their 80s who walk with the aid of canes. A Milwaukee-based group, Women Hiking Wisconsin, also provided recommendations for new hikes around the state and meet-ups with fellow hikers. I found some of my favorite spots through tips from women in that group.
So, if you're seeking a project for this year or next year, take it from an experienced quitter, walking 1,000 miles is a doable goal. Hitting the target requires walking an average of 2.73 miles a day — less than an hour for most of us.
It requires almost no investment of cash. I bought a decent pair of hiking boots at the start of the year along with a $28 Wisconsin State Park pass, but you can get by happily with any comfortable pair of walking shoes and the sidewalk outside your door.
Walking is great for your physical and mental health. Give it a try. You'll likely finish the year fitter, calmer and with a lot of great photos of the beauty that reveals itself at 4 mph.
My hiking top five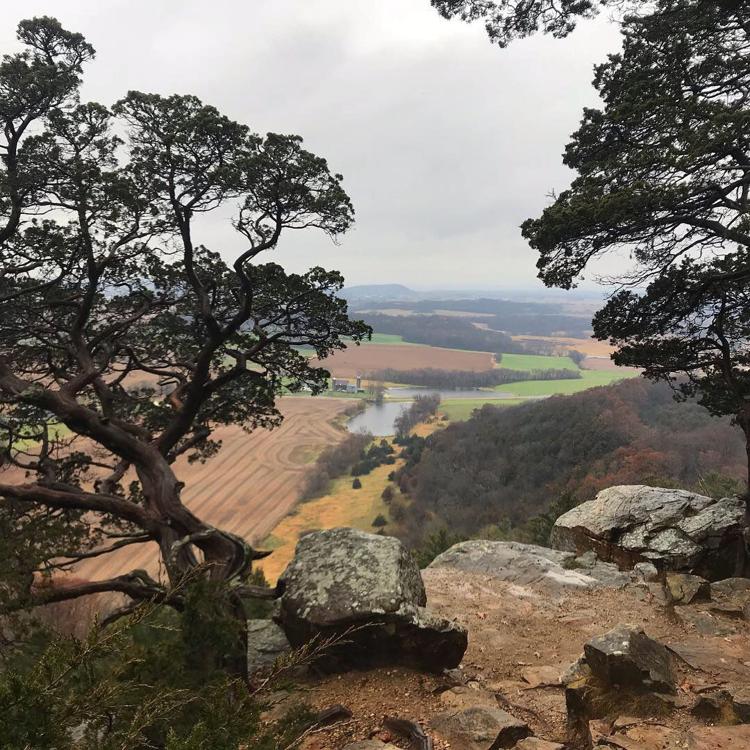 Gibraltar Rock State Natural Area in Lodi: The natural area is only 66 acres and the segment of the Ice Age Trail that winds through here is short, but it makes its way along a 200-foot butte with absolutely stunning views of the surrounding countryside. We hiked here on a rainy day in late fall and it was gorgeous, gorgeous, gorgeous.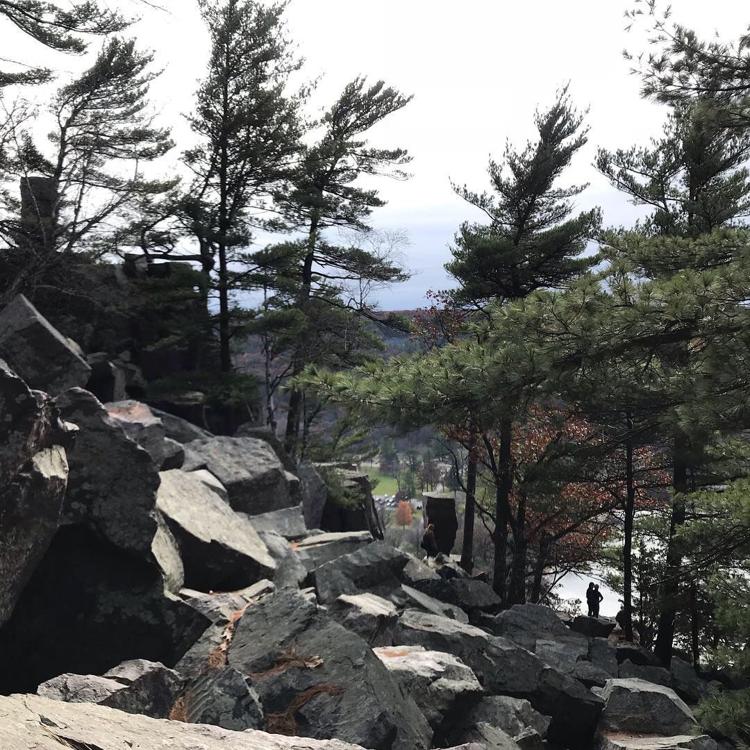 Devil's Lake State Park near Baraboo. It's the most popular of Wisconsin's state parks for good reason. Hiking around the lake by combining the West Bluff Trail, the Balanced Rock Trail and the East Bluff Trail is pretty and, while not long, is challenging with lots of climbs on steep rock steps. It gets really crowded, though, so try to visit on weekdays in off seasons.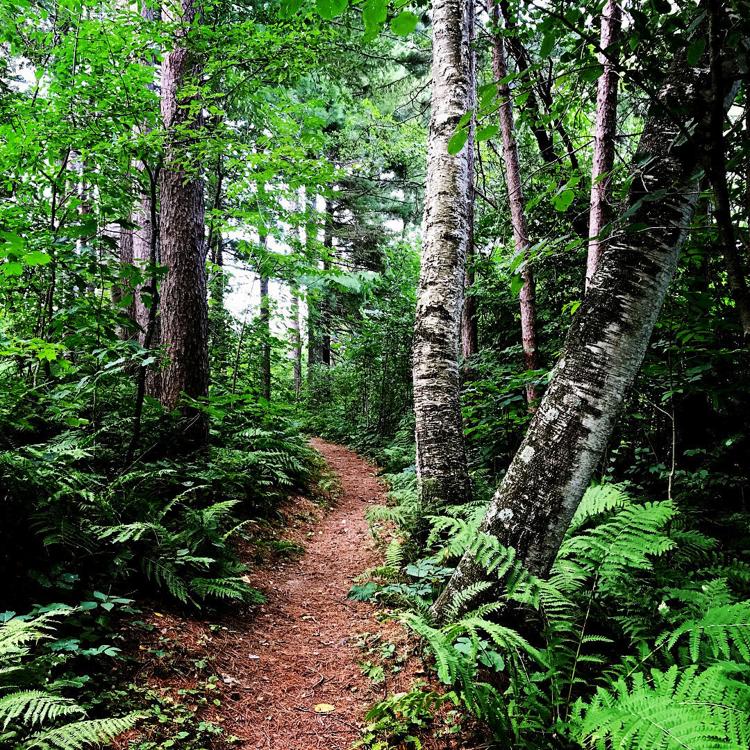 Straight Lake State Park in Luck. This is the newest state park in Wisconsin and on the day I hiked a segment of the Ice Age Trail here I appeared to be the only person in the park. There are two isolated lakes in the park and quiet woods of big trees that have not been logged for a long, long time. It was just me and the loons, and I felt like I was walking through woods of 200 years ago.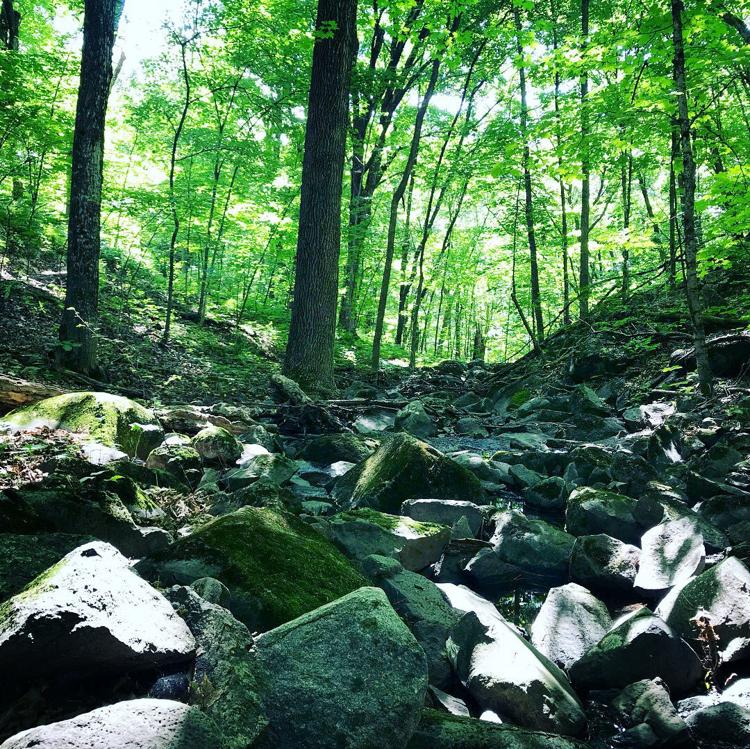 Ice Age Trail — Jefferson, Walworth and Waukesha counties. I spent a lot of really happy hours walking the trail through the southern unit of the Kettle Moraine State Forest. Much of the trail here is hilly and challenging, and it's beautiful in all seasons. It's also close enough to home to get in a hike after work on summer evenings.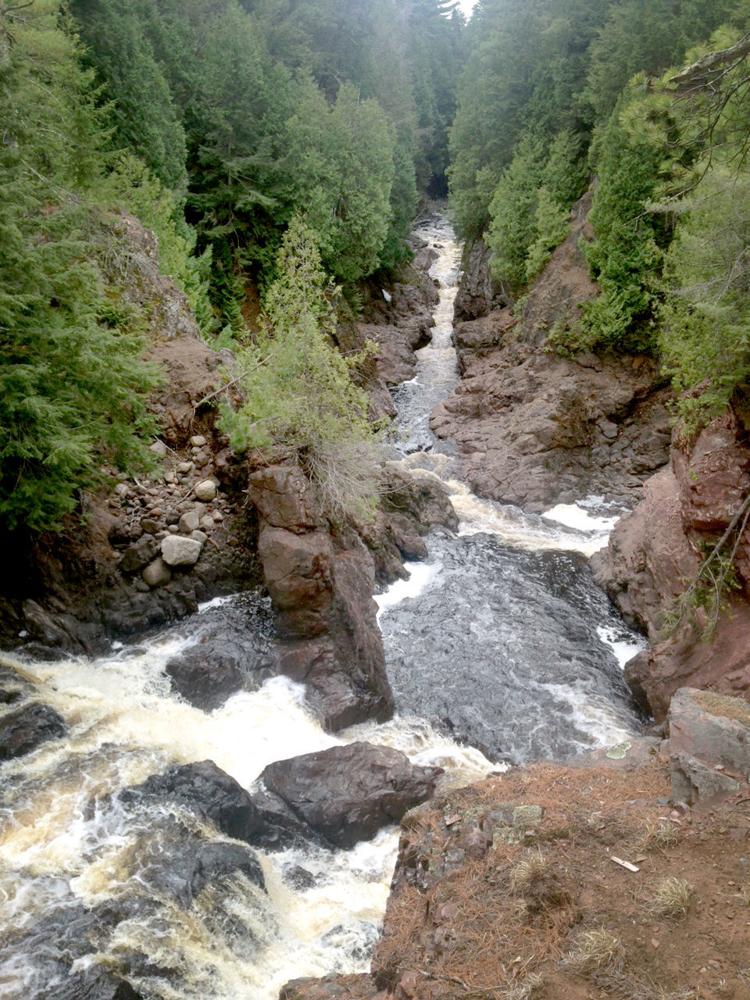 Copper Falls State Park in Mellen. We visited here on an unseasonably hot day in May. The falls are stunning. The trail around the falls is easy and accessible for people with disabilities. There are beautiful old buildings and trails that were built by the Civilian Conservation Corps and the Works Progress Administration during the Depression. And if you want a longer hike, as we did, you can take in a segment of the North Country Trail.
Other hiking highlights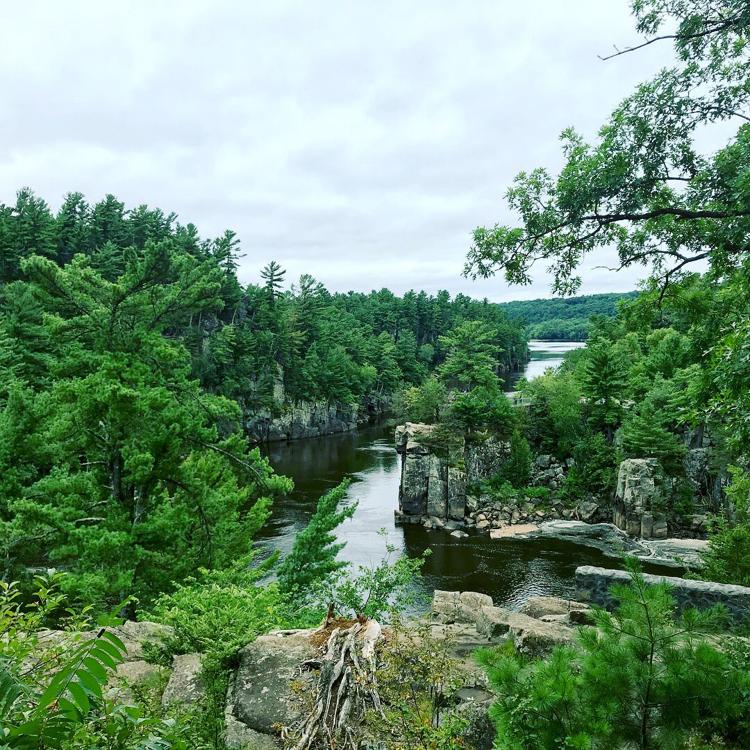 The St. Croix Falls Segment of the Ice Age Trail was a favorite walk of the year, and covered a lot of what is lovely about Wisconsin. The trail starts at the western terminus of the Ice Age Trail in Interstate Park in St. Croix Falls, covers a dramatic path overlooking a gorge and massive basalt cliffs, then winds out of the park, through the cute town of St. Croix Falls, and into a connected series of hilly, wooded parks and nature preserves before ending in a pretty park along the river.
While that hike takes you through the oldest park in Wisconsin, the Straight Lake Segment of the Ice Age Trail takes you through the newest state park, Straight Lake State Park near Luck. The day I visited the park in August mine was the only car parked in the parking lot. I walked for hours past two isolated lakes and through an older forest than typical in northern Wisconsin, the only sounds being that of my boots crunching on the trail and loons calling from the lakes. It was gorgeous.
Governor Dodge State Park near Dodgeville is close enough for a day trip from Kenosha, but features a landscape of huge white pines, sandstone bluffs and paths lined with ferns and moss. It's a busy park — especially crowded on the short Stephens' Falls Trail — but a hike linking the Pine Cliff, White Oak and Lakeview trails includes beautiful views and is worth the drive.
Also within day-trip distance of Kenosha is Kohler-Andrae State Park near Sheboygan. The park is on the Lake Michigan shore, and the hike is along a cord walk designed to protect the delicate habitat. It's a short walk, and crowded on weekends, but a really neat landscape along rolling dunes.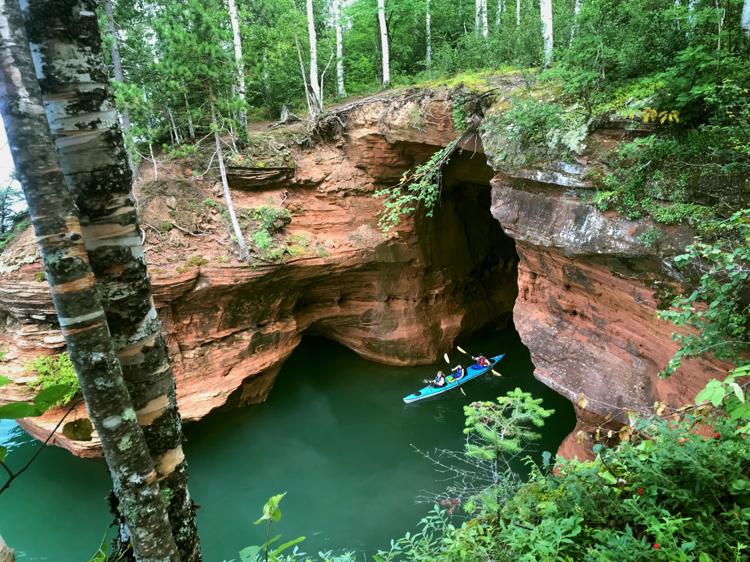 The most dramatic hike of my summer was along the lakeshore trail on the Apostle Islands National Lakeshore. I didn't have time for a ferry to one of the islands, so I walked on the 10.6-mile there-and-back trail along the shore. The trail was busy up until the first sea cave, but pretty deserted thereafter, and the trail ends at a tiny beach I had all to myself.