IN PHOTOS: Voters take to the polls in Kenosha County
Here are photos of Kenosha County residents taking to the polls around the county following the state Supreme Court's Monday night reversal of Gov. Tony Evers' executive order delaying the April 7 election. 
VOTING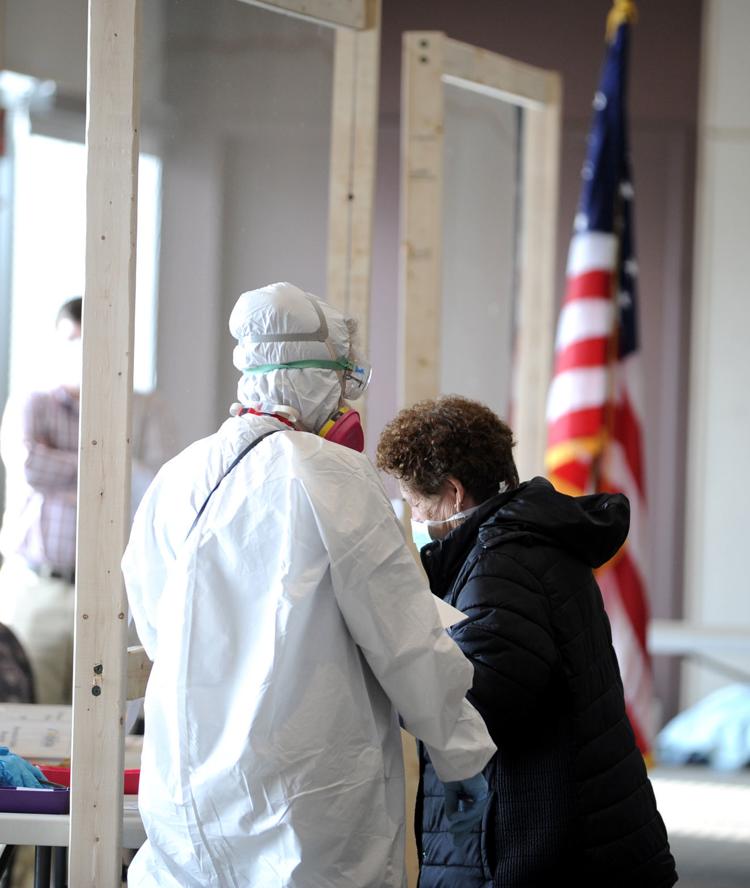 VOTING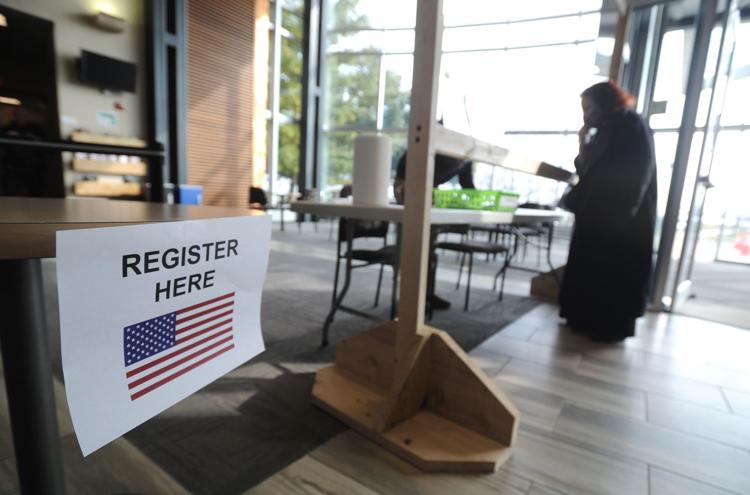 VOTING
VOTING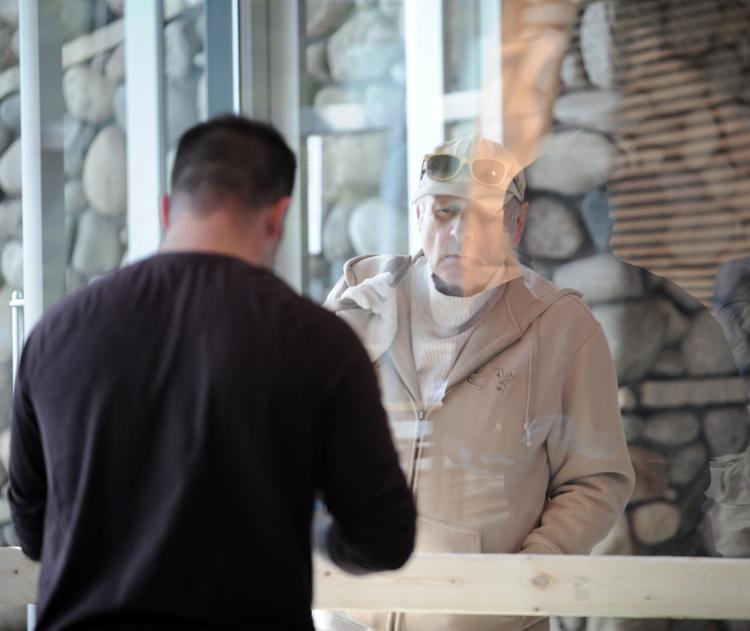 VOTING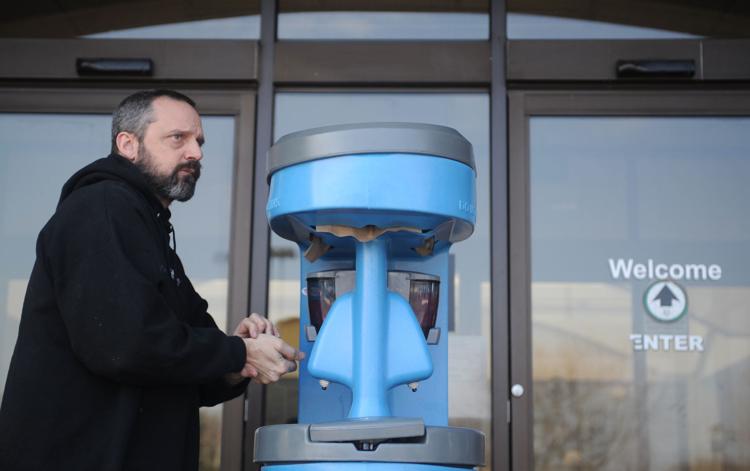 VOTING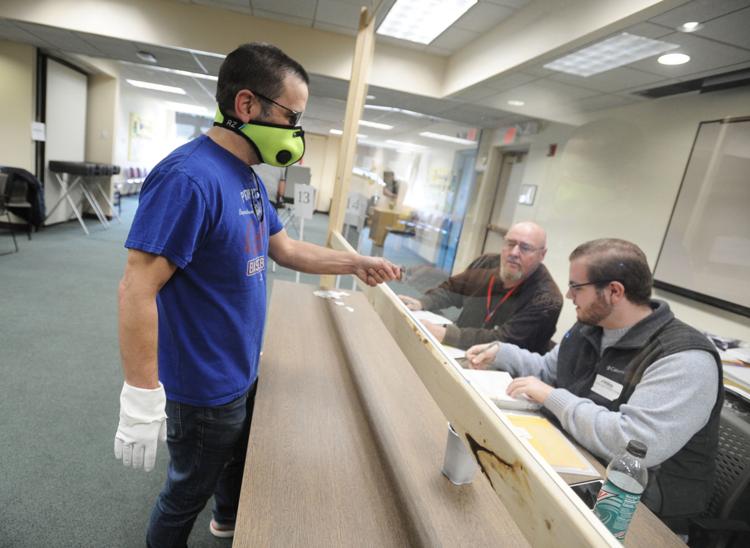 VOTING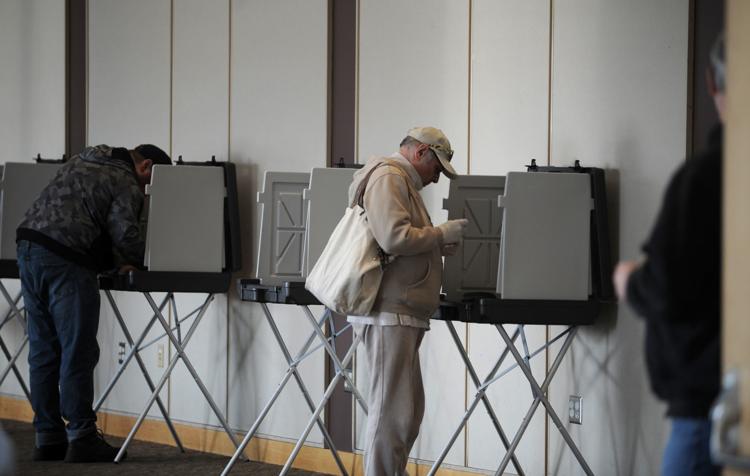 VOTING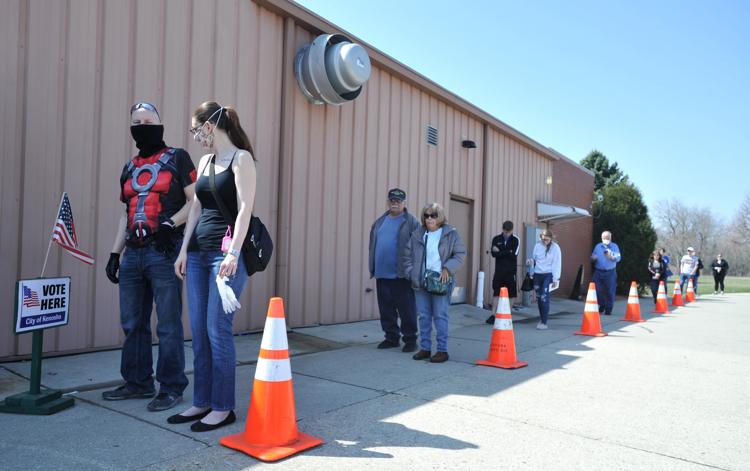 VOTING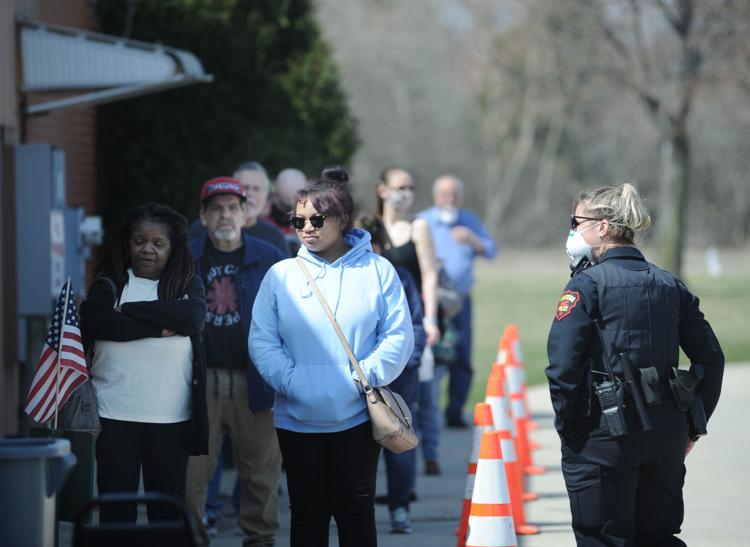 VOTING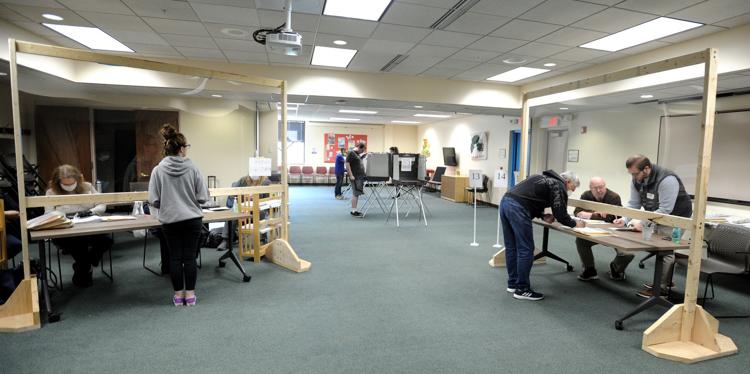 VOTING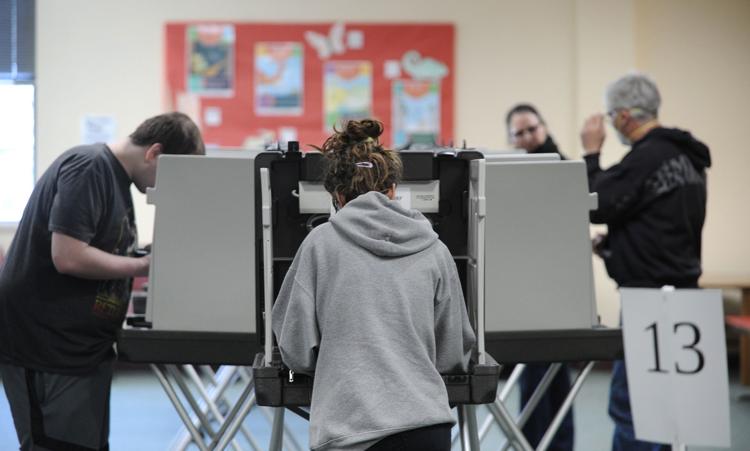 VOTING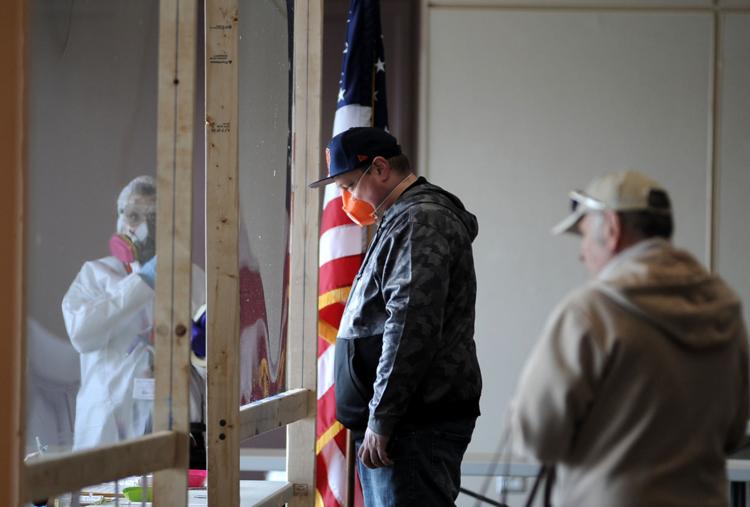 KENOSHA COUNTY POLLS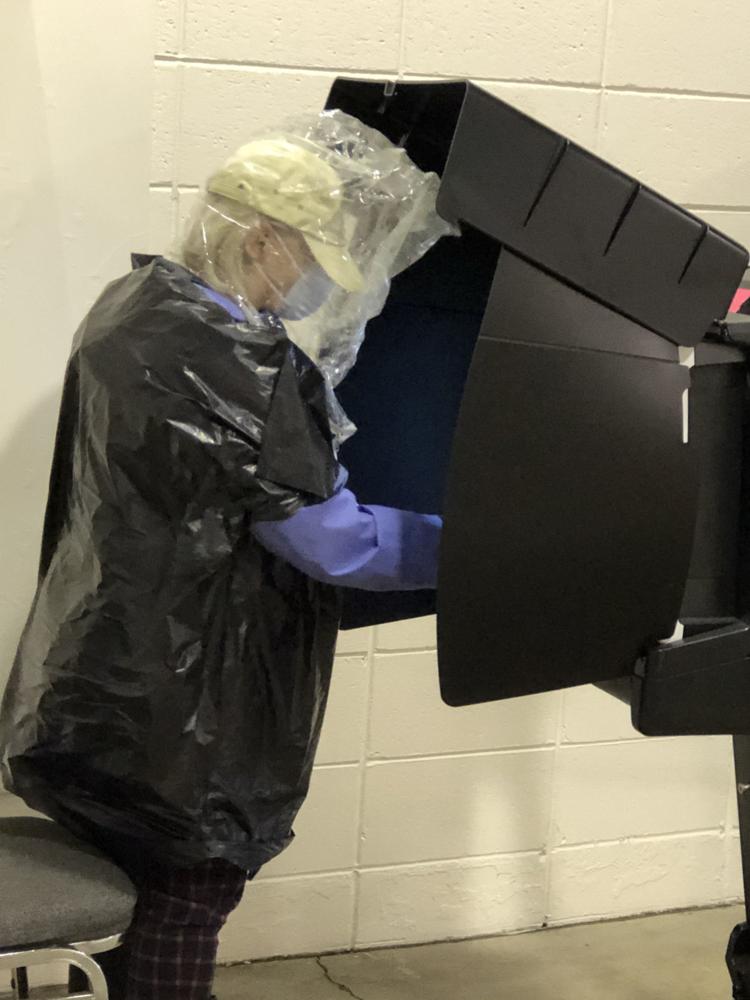 KENOSHA COUNTY POLLS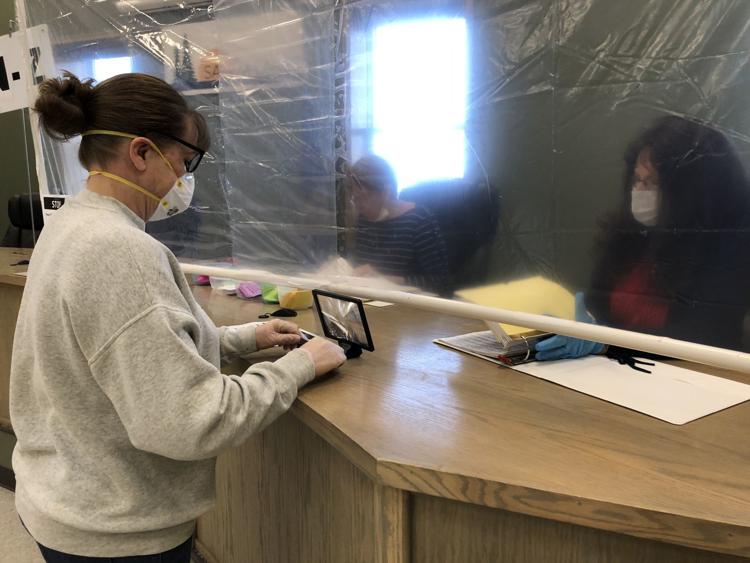 KENOSHA COUNTY POLLS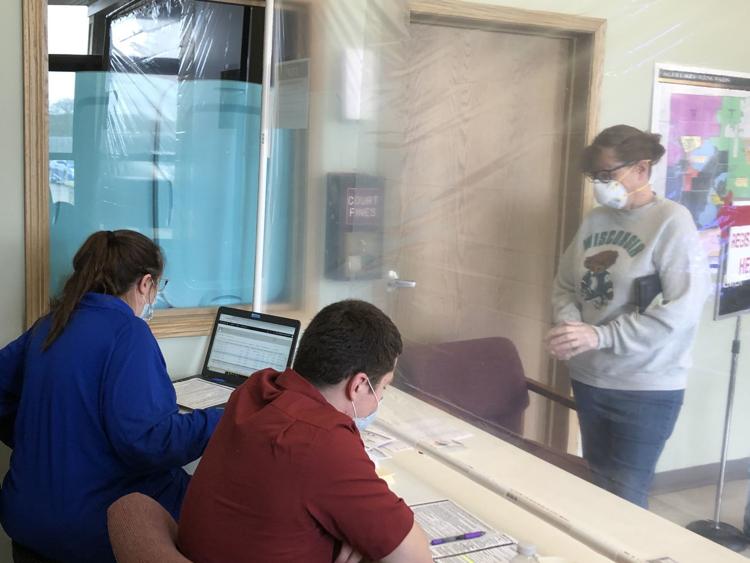 KENOSHA COUNTY POLLS
KENOSHA COUNTY POLLS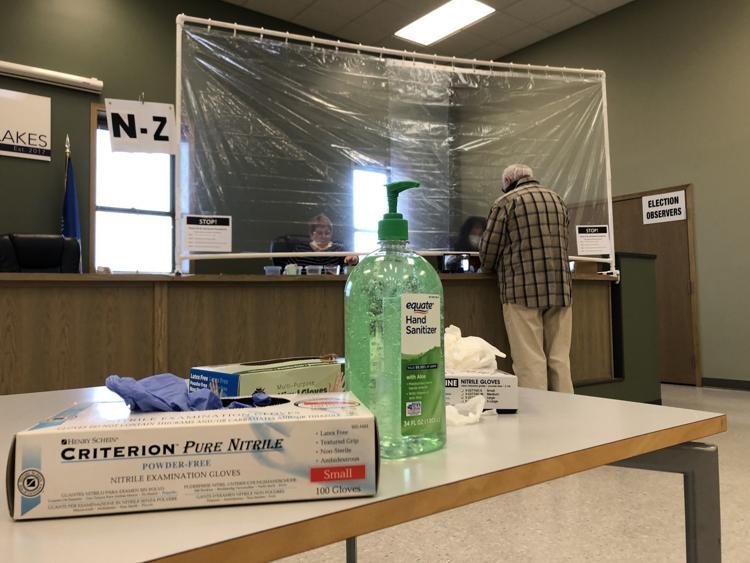 Journey Church, 10700 75th St., hosted a free food giveaway Sunday in a drive-thru style process, coordinated by the Journey Church Disaster R…
Tags
Related to this collection
Jeanne Skendziel, wearing a mask, walked out of her polling place at Kenosha's Northside Library with praise for the poll workers.
Kenosha County Health Officer Jen Freiheit gave "the biggest thank you out there" to public health care workers in recognition of the 25th Ann…
Jeanne Skendziel, wearing a mask, walked out of her polling place at Kenosha's Northside Library with praise for the poll workers.
Rep. Robin Vos, R-Rochester, spoke to the media on Tuesday in Burlington, where he is working as a poll worker.
SOMERS — With a strong response to absentee balloting, the number of actual voters who made it to the polls Tuesday was predictably down a bit.
A Somers woman was turned away from her polling place Tuesday morning after answering a series of health questions that were actually designed…
MOUNT PLEASANT — Jeff Vlasak, owner of Budget Blinds of Racine & Kenosha, said he understands what small businesses are going through duri…
Normally at this time of year, nursing school students are preparing to graduate; hitting the floors of hospitals and medical clinics and shad…
The city of Kenosha will begin its Spring 2020 curbside yard waste collection three weeks early, starting Monday.
BRISTOL — Are you looking for a way to give back to your community while getting some fresh air and practicing safe physical distancing? Then …
The documentary series "Tiger King" has sparked national interest in the world of exotic pets and the oddities surrounding a private zoo in Oklahoma.
Everyone can agree that this will be an April like no other.
People are able to be tested for COVID-19 at the discretion of their health care provider under new testing guidelines, Kensoha County Divisio…
Absentee voters in Kenosha County far outnumbered those who went to the polls, according to preliminary numbers released by the County Clerk W…
A Milwaukee man was charged with "swatting" Wednesday, alleged to have made a false report that a woman he knew was in the street holding a ba…
What a memorable election. And we don't even know the results yet — and won't until early next week.
It's been four weeks since Gov. Tony Evers declared a state of emergency, which from there led to the closure of schools, restaurants and bars…
LAUREL — To public health workers throughout Kenosha County, on the 25th anniversary of National Public Health Week. Jen Freiheit, county heal…
U.S. Sen. Tammy Baldwin and Ron Johnson are asking the Postal Service to investigate why an untold number of absentee ballots never made it to…
This is the time of April when spawning walleye are falling back downriver to return to their sanctuaries and can be very aggressive feeders.
Results of the 2020 Spring Election began to post at 4 p.m. Monday as clerks tabulated totals nearly a week after electors took to the polls d…
Jill Karofsky, a Dane County Circuit Court judge backed by liberals, has been declared the winner in Wisconsin's Supreme Court race following …
Here are Kenosha County unofficial results for president, judicial and all County Board seats:
Here are unofficial results for the Somers and Twin Lakes Village contested board seats: 
The coronavirus has shown itself to be a racist killer here in America. Its victims are disproportionately from our black communities judging …
All rural Kenosha County school districts with a contested race on the ballot will see at least one new face on its respective Board of Education.
Newly elected Kenosha County board supervisor Sharon Pomaville didn't know when she decided to run for office the county would be under a stat…
Kenosha County area lawmakers were strongly supportive of Wisconsin's COVID-19 Response Bill passed by the Assembly on Wednesday.
My photographer friend Rene Amado (look him up) clued me in last year on something called Art Drop Day. Painters, photographers, musicians and…
The Salem School Board discovered a good match in interim administrator Connie Valenza and recently hired her to fill the position for at leas…
As Gov. Tony Evers announced the extension of the Safer-at-Home order and Kenosha County had its fifth death from the virus, officials say the…
The number of positive tests for COVID-19 in Kenosha County increased to 232 Friday, while statewide cases topped 4,000.
Tom and Pat Keating had a meet-cute romance.
Nine Kenosha-based nonprofit organizations could be the recipients of a fresh infusion of federal grant dollars under a proposal discussed Friday.
The Kenosha County Joint Information Center is back this week with more answers to the community's questions about COVID-19.
The Pleasant Prairie Village Board will convene tonight for the first time since the COVID-19 pandemic hit.
Gov. Tony Evers has announced Wisconsin's "Badger Bounce Back" plan, outlining the criteria Wisconsin must meet to safely and logically reopen…
John O'Day is the new chairman of the Kenosha County Board, elected unanimously Tuesday night at the board's reorganization meeting.
Kenosha County residents are embracing using the 2-1-1 system as a pipeline to information and resources related to COVID-19.
Racine Police Chief Art Howell has announced that he plans to enforce Gov. Tony Evers' "Safer-at-Home" order, which has been extended through …
Kenosha County is not "on the downslope" of the COVID-19 pandemic, Health Director Jen Freiheit said, as the number of positive cases rose to …
With no available vaccine or proven medications to treat the highly contagious COVID-19 virus, the CDC and various national and international …
Sheriff Dave Beth has sent an open letter to the sheriffs of Wisconsin calling on them to think twice before deciding not to enforce the Safer…
As construction on Highway S has begun, Kenosha County's largest road project ever, representatives fielded questions on the effect it will ha…
Recently President Obama endorsed Joe Biden via a video where he bestowed an array of positives that quite frankly was a real exercise in prop…
Thank you to Kenosha County's Fifth District and especially to those of you who voted in the spring 2020 election. Whether by absentee ballot …
President Obama just endorsed Joe Biden and needless to say the praise was very complimentary to such an extreme that many now believe that th…
The Wisconsin Department of Health Services released for the first time Friday the percentage of COVID-19 cases by recovery status.
MOUNT PLEASANT -- An employee at the Festival Foods store here has tested positive for COVID-19, the company announced Friday.The employee, wh…
Guida Brown, executive director of the Hope Council, coordinates agency non-profit columns that are published in the Kenosha News.
KENOSHA – The City's public swimming pools at Washington Park and Anderson Park will not open this summer due to the COVID-19 pandemic and the…
Uline Corp., one of Kenosha County's largest employers with more than 2,800 employees, is committed to continuing to work through the COVID-19…
RACINE — After six days of counting, recounting and retabulating those counts, the recount of the April 7 Racine Unified School District refer…
In response to inquiries from residents on how they can help during the COVID-19 emergency, the Kenosha County Joint Information Center is rep…
As the COVID-19 pandemic strains health care in hotspots of the country, a close look at the situation at hospitals locally and across Wiscons…
MOUNT PLEASANT — Foxconn Technology Group announced last week that the company has started assembling procedural masks at its Racine County ma…
Here is the fifth in an ongoing series answering the community's questions about COVID-19. The Kenosha County Joint Information Center present…
This month's most viewed collections on Kenosha News website focused on the April election and the ongoing COVID-19 pandemic that has taken ov…
The Kenosha County Dairy Breakfast and the accompanying Kenosha County DairyAir bike ride have been cancelled as a result of the COVID-19 pandemic.
All of the staff and the 419 inmates housed at the Kenosha County Pretrial Facility and the Kenosha County Detention Center will be tested for…
A husband and wife of 73 years who both tested positive for the coronavirus died within hours of each other at a Milwaukee hospital, where sta…
A drive-through COVID-19 testing site at Gateway Technical college officially opened Wednesday, allowing the Kenosha Community Health Center t…
The crews at Kenosha County meatpacking plants, such as Kenosha Beef International, Ltd, are short personnel as a result of those who reported…
Wisconsin residents are concerned and many are angry they can't get through the state's unemployment insurance helpline.
Nearly 20% of inmates at the Kenosha County Detention Center and the pretrial jail tested positive for COVID-19 in tests conducted this week.
Weekend grocery shopping is not what it used to be.
The Women and Children's Horizons emergency shelter in Kenosha is temporarily closed as the agency adapts to providing services during a pandemic.
The Wisconsin National Guard will work with Kenosha County businesses in addition to testing the inmates and staff members at the jail facilit…
The handmade sign, held by a Milwaukeean waiting in a long line to vote and wearing a mask, said it all: "This is ridiculous."
LAUREL — To working together in these challenging times. A great example is the Kenosha Community Health Center, Gateway Technical College and…
BURLINGTON — Citing issues with the April election, a longtime Burlington resident is planning to run against Assembly Speaker Robin Vos, who …
A Pleasant Prairie man described as a "wannabe tough guy" will spend 40 years in prison for a shooting that left a 15-year-old boy paralyzed.
The number of COVID-19 cases in Kenosha County jumped sharply for the second day in a row, with 514 people testing positive for the virus.
The Kenosha County Joint Information Center has presented the latest in its series answering the community's questions about COVID-19.
The number of Wisconsin residents with confirmed cases of COVID-19 climbed above 8,000 Monday as more people in the state began to have access…
PLEASANT PRAIRIE — There's still three weeks before the governor's Safer-at-Home order is set to expire, but work already has begun to prepare…
Layoffs and furloughs at hospitals across the country have not dominated the headlines like images of the health care system overwhelmed fight…
We're now ending the third month of the coronavirus pandemic.  Gov. Tony Evers said that the "Safer-at-Home" order must continue as the virus …
By refusing to support a postponement of our state primary election on April 7, the Wisconsin Republican Party essentially engaged in an act o…
With meat processing facilities at the center of COVID-19 hot spots — and with two employees of Calumet Diversified Meats in Pleasant Prairie …
Unlike other government boards, the Kenosha County Board continues to meet in person.
If you want good decisions to be made by government bodies, then you need good people to be willing to run.
Wisconsin's five largest cities, including Kenosha and Racine, have secured more than $6 million in grants to help keep voters safe during the…
A new ballot drop-off box is now available for voters in the village of Pleasant Prairie who prefer to deliver absentee ballots in person.
In-person absentee voting for the Aug. 11 partisan primary election is underway at municipal clerks' offices across Kenosha County, while the …
As if we didn't have enough things to worry about.
More than 50 vehicles signed up to take part in a parade Tuesday morning put on by Randall teachers and staff. They drove through neighborhood…
Here are the stories that were contained in the 2020 Kenosha News Progress edition, which printed in the Kenosha News print publication in the…
Here are the obituaries that have been published online and in the print product of the Kenosha News between March 27 and April 2, 2020. 
Here are photos sent to the Kenosha News by our readers showing us what they're doing at home to keep moving forward and pass the time during …
Here are the obituaries published online and in the print product of the Kenosha News between April 3 and April 9, 2020.
Here are the photos of the day that have been featured on the Good Morning page, A2, of the Kenosha News print product throughout the month of…
Here are 15 recent Voice of the People submissions that have been published online and in the print product of the Kenosha News.