Photos: Classic cars seen at local shows
With summer here and classic cars sure to be seen on the street and in the yearly car shows in the area, here's a look back at some of the classics seen in Kenosha and the surrounding area in the past few years.
SIMMONS BLOCK PARTY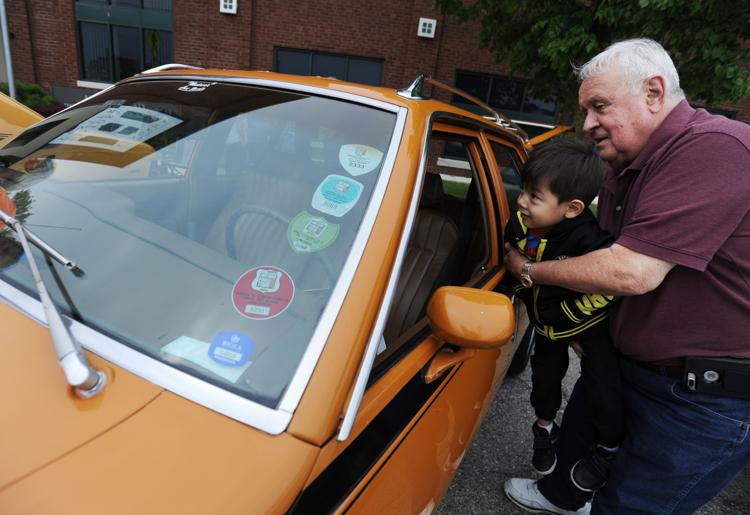 Harris and Hudson with Matt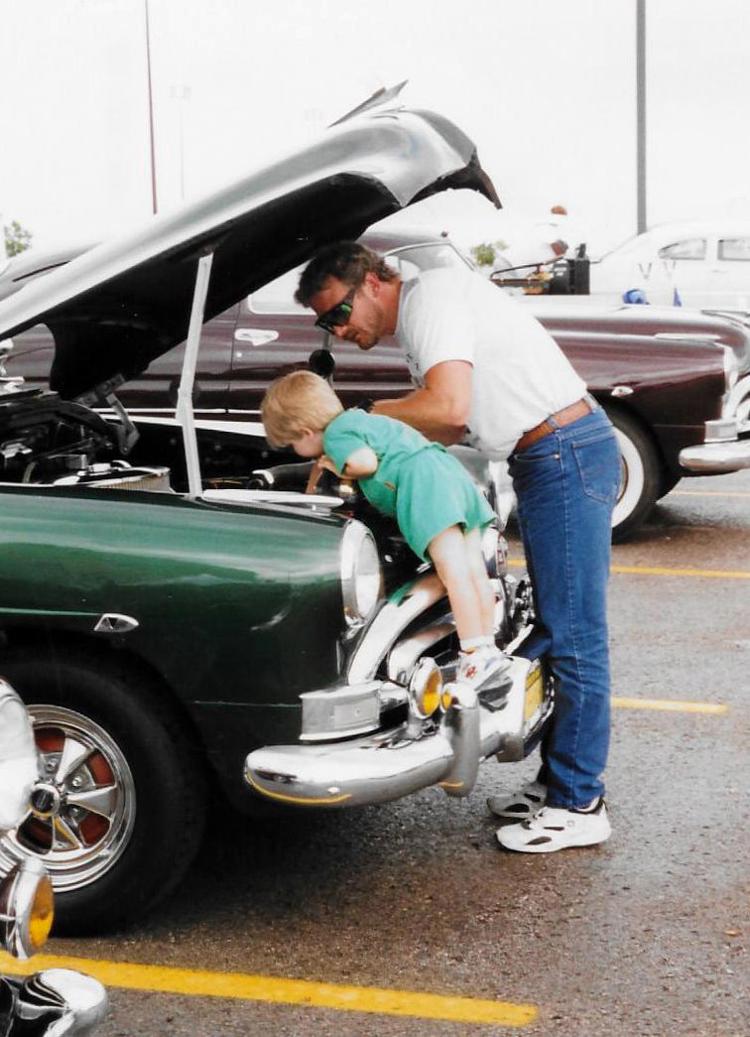 CAR SHOW BAKER PARK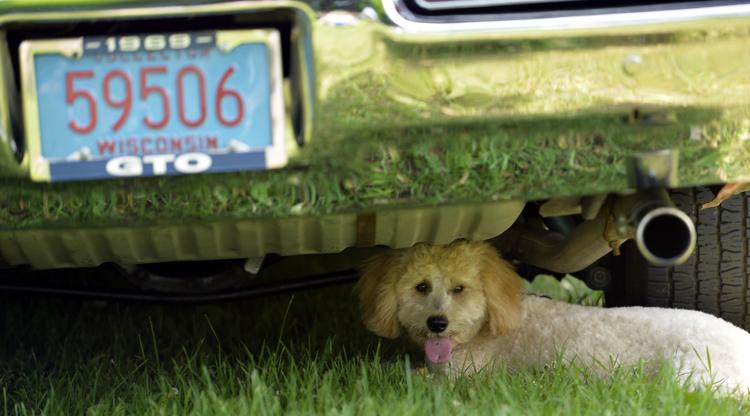 CAR SHOW BAKER PARK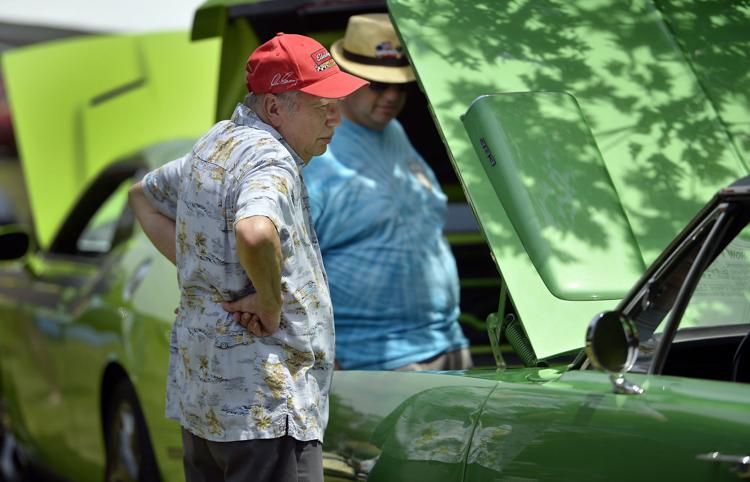 CAR SHOW BAKER PARK
CAR SHOW BAKER PARK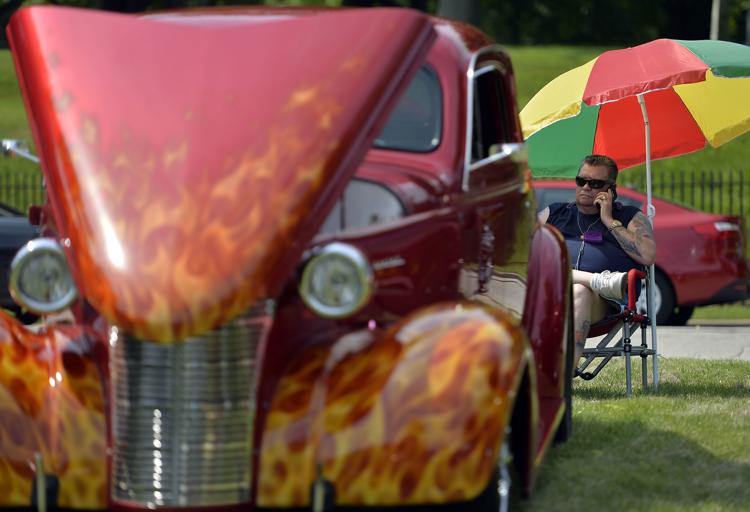 CAR SHOW BAKER PARK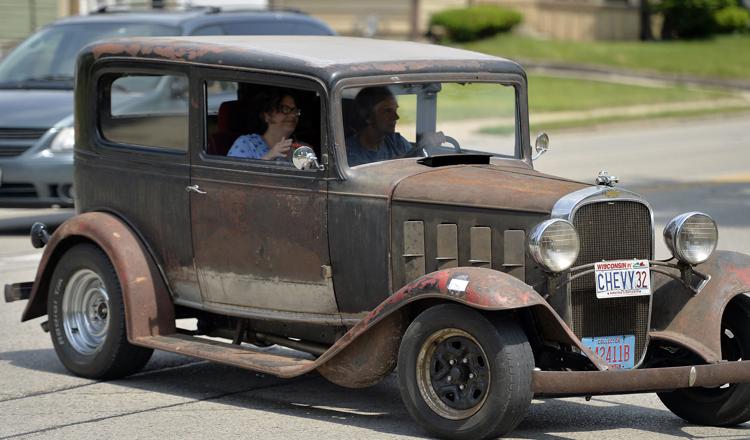 CAR SHOW BAKER PARK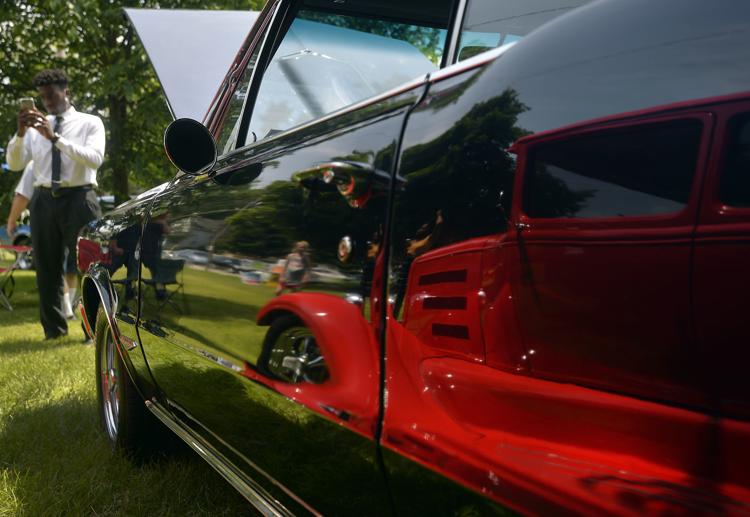 CAR SHOW BAKER PARK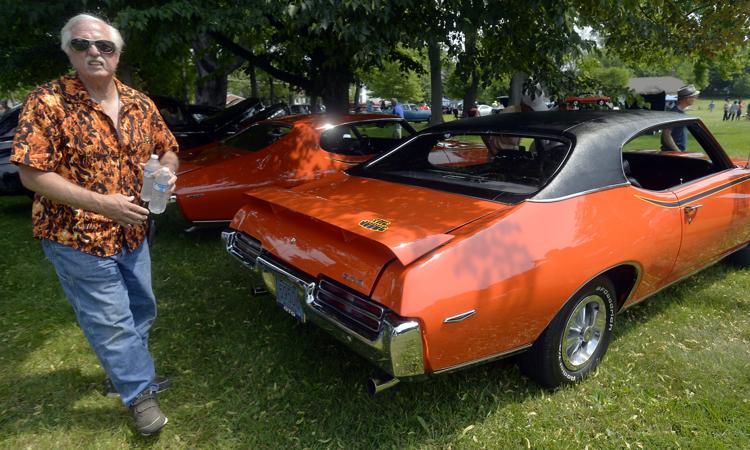 CAR SHOW BAKER PARK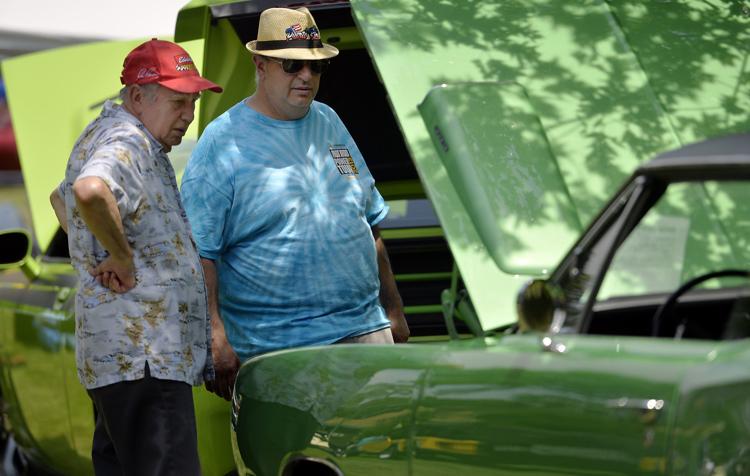 CAR SHOW BAKER PARK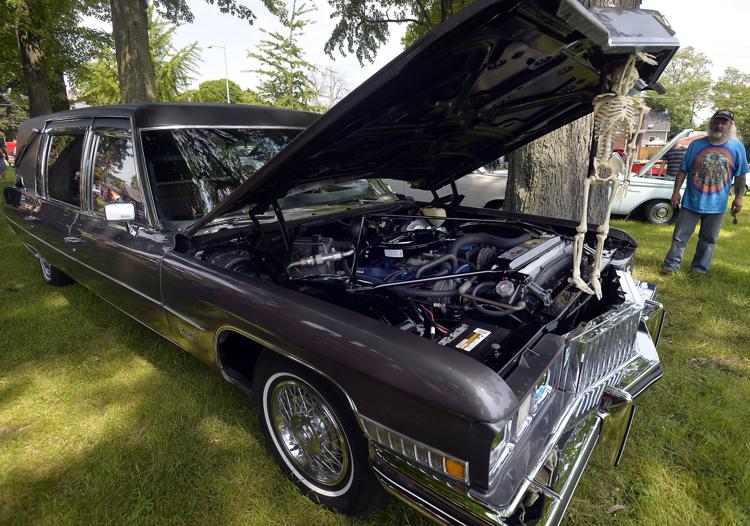 WOUNDED WARRIOR CAR SHOW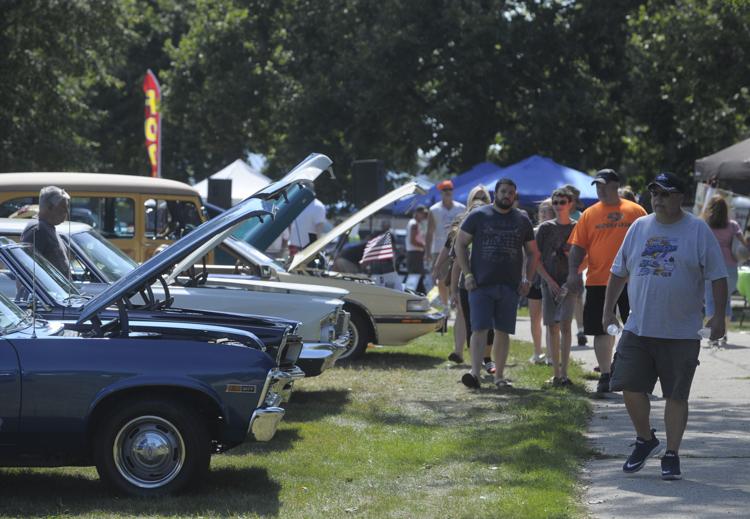 CAR SHOW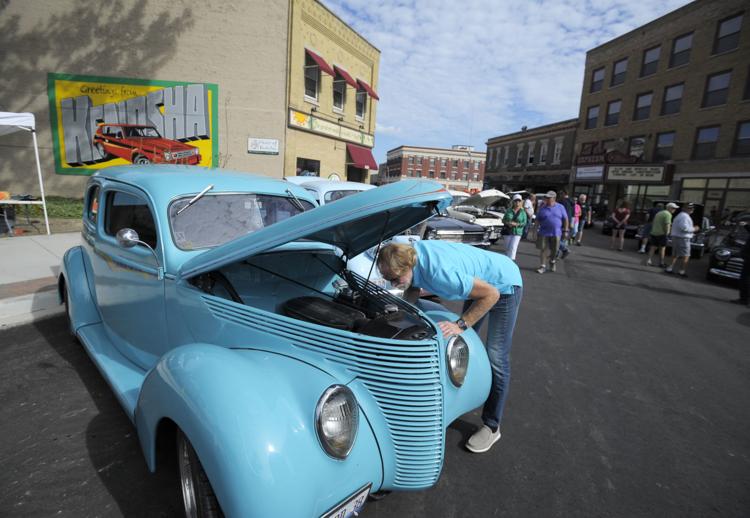 CAR SHOW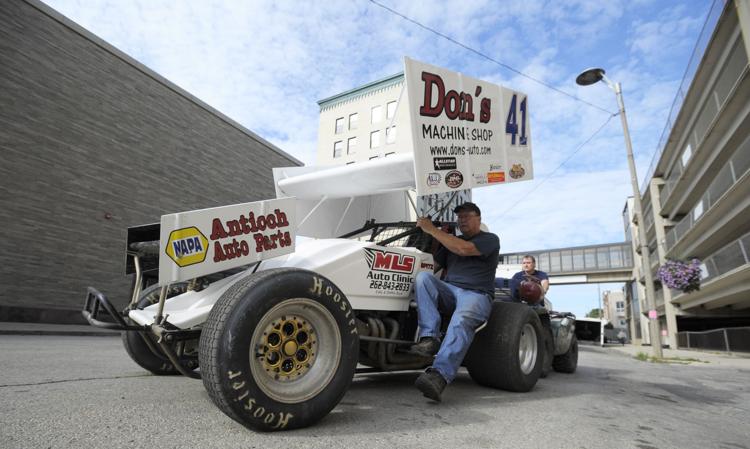 RODS FOR A REASON CAR SHOW
RODS FOR A REASON CAR SHOW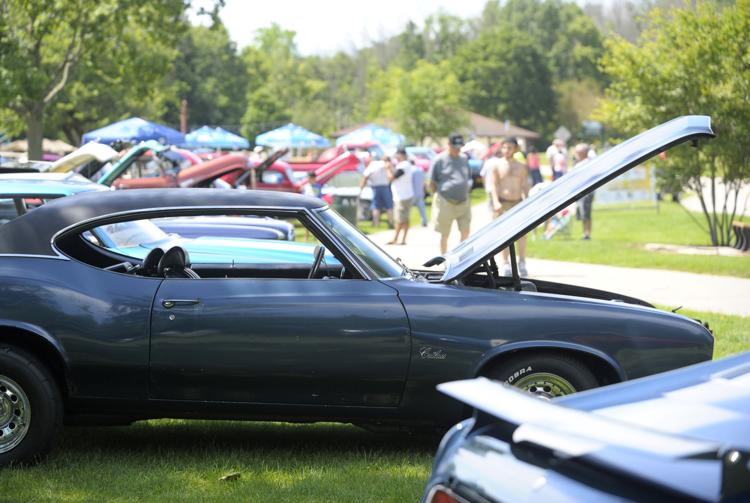 Related to this collection
We need to get serious for a moment here. It's Thursday, which means Sunday is a scant three days from now.
Jilan Lemieus enjoyed a unique view of downtown Lake Geneva during a recent trot in a horse-drawn carriage.
The late Walter Payton and Hall of Famer for the Chicago Bears wore a medal that read, "I am third, God is first, family is second, I am third."
Dear Car Talk: I own a 2016 Toyota Camry. Yesterday, on my way to the gas station, I pulled out my credit card and set it on the center consol…
We've all had some help making our way in this life. It wasn't until after my Dad passed away that I realized how much he helped me and the ma…
Randy Ruegge's lifelong dream of becoming a restaurant owner has become an itty-bitty realization that is a one-man operation that has him bus…
"The Silicon Valley of water."
RACINE COUNTY — Law enforcement and rescue personnel were left clearing Interstate 94 well into rush hour Wednesday, after a multi-vehicle cra…
Zenen McClendon's Jeep Wrangler is striking in more ways than one.
PLEASANT PRAIRIE — The public is invited to an open house and presentation regarding development plans of the Village Green Center in Pleasant…
After one rained-out concert and a soggy program last week, the Kenosha Pops Concert Band is hoping for better conditions.
Lake Geneva aldermen want to get moving when it comes to revisiting new parking kiosks and deciding on an investment that could total nearly $…
Findings/results of a Wisconsin State Patrol aerial enforcement mission over Interstate 94 in Kenosha County yesterday:
Middle school kids with an interest in mechanical careers got a chance to get week of experience working on realistic RC cars at Gateway Techn…
As a daily reader of the Kenosha News, I sometimes wonder why, today is one of them.
I just finished reading the Mueller Report. It concluded that the Russians interfered in our election and the president and his associates wel…
Established in 1959, the Valeri Agency Inc. is a comprehensive independent insurance agency. It represents 15 or more different types of insur…
The governor of Illinois was issued a warning on Geneva Lake after exceeding speed limits in his boat.
I am a total car freak. I love to look at cars — old, new, hot rods, etc. The louder, the faster, the better.
Car lovers turned out Tuesday to pay tribute to one of their own.
Some 240 volunteers from three churches scattered about Kenosha Sunday cleaning up outside, doing inside work, visiting with the elderly, and …
CALEDONIA — The Caledonia Police have identified and apprehended all four suspects they were seeking in an reported road rage incident on Sunday. 
Editor's note: This is the seventh of a "Where Are They Now?" series that will run each month during the Kenosha News' 125th anniversary year.…
After an argument with friends a Highland Park, Ill., man is alleged to have purposely struck one of the men with his car.
Kenosha Fire Department paramedics transported a boy to a local hospital after he was struck by a vehicle late Wednesday afternoon at the inte…
PLEASANT PRAIRIE — A special presentation of conceptual plans for the proposed Village Green Center will be held today by a collaboration comm…
BURLINGTON — There was a two vehicle crash at 3:14 p.m. Wednesday at Browns Lake Drive and Foxtree Circle involving a 2001 Oldsmobile Silhouet…
Police are investigating two incidents of gunfire outside of homes in Kenosha Wednesday.
A man flagged down police at 1:41 a.m. Tuesday, reporting that someone was going into cars in the neighborhood.
YORKVILLE — Recent crashes and deaths on Interstate-94 have caused public outcry to crack down on people going above the 60 mph speed limit.
Train enthusiasts and history buffs lined tracks to watch the journey of the world's only operating Big Boy locomotive.
A 68-year-old Kenosha man was cited for disorderly conduct after he loudly confronted a construction crew.
A 17-year-old boy was cited for disorderly conduct and possession of marijuana after a road rage complaint.
The conflict outside a downtown Kenosha tavern was caught on security video.
Long gone are the quaint summers when food on a stick during a county or state fair meant eating an ice cream bar, cotton candy or corn dog. Period.
YORKVILLE — A Milwaukee man was arrested early Monday after the Racine County Sheriff's Office says he hit construction barriers and traveled …
Gavin Lux is on the cusp of making his Major League debut.
Man reportedly points gun at driver
Gavin Lux is on the cusp of making his Major League debut.
RACINE — A local teen, 17-year-old Trayvion D. Weaver, of the 1100 block of Kewaunee Street, faces criminal charges after he allegedly filmed …
Kimberly Paul likes nothing better than a good story.
A Kenosha man was charged this week with operating while intoxicated for the sixth time.
A convicted sex offender from Kenosha will be under "house arrest" when he moves a residence near La Crosse later this week, but that was litt…
A Racine man is alleged to have struck several parked vehicles while driving drunk Sunday.
Man charged with sixth OWI
Everyone you know, so it seems, makes a stop at Mars Cheese Castle on their trip north or south on Interstate 94.
"At The Market" is a profile of vendors at Kenosha's HarborMarket.
Vendor: Wendy Santini, Pinzit Limited
RACINE — A man died at the hospital after he was struck by a car and was discovered lying in the street by off-duty Racine Police officers, ac…
STURTEVANT — Authorities are continuing to investigate a crash in which a vehicle struck a bicyclist and hospitalized its rider.
A Milwaukee man is alleged to have stolen a puppy while its owner was taking it for a walk.
SOMERS — Authorities were searching for a suspect who fled Kenosha County Sheriff's deputies after a traffic stop in the 1400 block of 22nd Av…
Today's problem: JC wrote, "There are so many bicycle lanes now that it can be hard to find a place to pull over to use your cellphone. So whe…
A homeowner burning weeds with a propane torch accidentally set his garage on fire Tuesday.
RACINE — A 27-year-old Milwaukee man faces criminal charges after he and a man who claimed to be his business partner allegedly stole dozens o…
All across America, from youth fields to the NFL, football is massively popular. People young and old get together to stuff bleachers every fa…
I see that the graduates of the "Richard J Daley" Street Department Academy are at it again.
You can work toward your dreams on your own or you can expect someone to make it happen for you.
An employee of a BP Gas Station, 2528 75th St., reported that a man walked into the store at 8:54 p.m. Thursday, brandished a knife and demand…
A man called Kenosha Police Thursday to report his neighbors had moved and left a dog behind in a crate.
The first time Joseph Corcoran was going to suit up for a race he got some advice from the veterans.
Make the most of the Midway
Gov. Tony Evers' visit to Kenosha last Monday was all about lead — or specifically, getting rid of it.
Two months ago I wrote a Voice of the People praising and thanking the workers who did a very good job on the railroad crossings at 22nd Avenu…
Kenall Lighting Inc.'s headquarters, manufacturing and distribution facility in Kenosha has been acquired by joint venture partnership consist…
Police use Taser on alleged drunken driver after he tries running home
TOWN OF WATERFORD — Five people were injured in a two-vehicle crash at the intersection of Highway 164 (Big Bend Road) and Wood Drive on Sunda…
The Age of Aquarius bubbled up one-half century ago. Today's definition of "awesome" was "out of sight" back then.
RACINE — A 21-year-old Racine man has been charged with attempted first-degree intentional homicide and first-degree reckless injury after he …
This is your reminder that the rail crossing at the 60th Avenue and 80th Street vicinity is extremely rough. In fact it is so rough that cars …
When former Bradford cross country and track standout Scott Seymour was choosing his college destination, two things became clear.
For the first time in 14 years, professional wrestling returns to Twin Lakes on Saturday at Rumpoles Banquet Hall, 352 E. Main St.
RACINE — A four-vehicle crash early Tuesday on Interstate 94 shut down all northbound lanes for approximately 2½ hours, according to Racine Co…
WASHINGTON — Here's a look at how the Senate voted last week. The House was not in session.
PLEASANT PRAIRIE — The Village Board on Monday approved an intergovernmental agreement with the city of Kenosha and the Wisconsin Department o…
There will be no softball at Lincoln Park this weekend.
A seven-hour standoff at 52nd Street and 24th Avenue in central city of Kenosha has ended as law enforcement personnel and equipment left the …
PLEASANT PRAIRIE — Opioid addictions continue to take their toll on Kenosha County families as the number of residents who've had their parent…
"American Pickers," a cable television show on the History Channel, is looking for subjects in Wisconsin.
RACINE — The Racine Police Department has handed over its investigation of the officer-involved shooting of 18-year-old Ty' Rese West to the R…
RACINE — The man charged in the fatal shooting of 24-year Racine Police Department veteran officer John Hetland pleaded not guilty Wednesday, …
A Salem man charged with theft for using a stolen credit card to take a vacation in Europe picked up additional charges related to the same trip.
Many fishermen are traveling outside of southern Wisconsin, hoping to locate fish from larger rivers and inland bodies of water.
A seven-hour standoff outside a Kenosha duplex at 52nd Street and 24th Avenue began after Kenosha Police spotted a vehicle outside the buildin…
GREEN BAY — A woman whose dog died in a hot car at Lambeau Field is facing a felony charge.
Matt Rizzo always planned to get back into coaching.
TWIN LAKES -- Nine-year-old Aaron Samborski of Twin Lakes was one of the kids who was excited about peeking inside the Twin Lakes Fire and Res…
"Make Summer Count" is the theme for the Holy Rosary Catholic Church Festival, which opens Friday evening at the church, 45th Street and 22nd Avenue.
Police probe shots fired from vehicle
I read a July 28 Sunday Forum column by Cameron Swallow with a "Better Angels" headline and a sub-head with a question, "Can we all just get along?"
A small area of Twin Lakes was hit by high winds that took down trees and left many residents without power early Thursday.
RACINE — The man who allegedly stole a $4,100 Yorkshire terrier puppy from Petland, 2310 S. Green Bay Road, in February has been charged.
RACINE — When Keisha Farrington allegedly struck and killed a man on July 30 while reportedly driving intoxicated, it wasn't the first time sh…
After spending 220 days in jail after he was arrested for shooting his brother in the leg, a Kenosha man was sentenced to time served and two …
Kenosha police investigated a report of several shots fired in the area north of 71st Street and 18th Avenue late Thursday.
STURTEVANT — A gym teacher who currently works at Cudahy High School, who previously had been a basketball and golf coach at Kenosha's Indian …
Our senators and representatives are on "vacation" for five weeks. Congress rarely meets for more than 95 days in a year, irrespective of the …
Some roads in Pleasant Prairie will be closed Sunday morning to accommodate the Iron Girl Triathlon.
When the 67th annual Men's County Open tees off for this morning's first round at The Club at Strawberry Creek, there's little doubt who the f…
RACINE — A police officer was injured while attempting to arrest a 22-year-old man who had allegedly threatened to shoot a woman, choked her a…
The first case of lung disease tied to vaping has been reported in Kenosha County by the Wisconsin Department of Health Services.
After spending over a decade as an assistant coach in the high school football hotbed of South Carolina, second-year Bradford head coach Troy …
Vendor: Alexandra Fodor at UrbanSamba Plants and Designs
A Kenosha man charged with negligent homicide for the death of a 5-year-old who shot himself while in his care was back in court on new charge…
RAYMOND — A man driving a motorcycle was killed Saturday evening after apparently crashing at the southern curve where Highway K (North Cape R…
Travis Engle's putter was a little shaky Sunday afternoon.
Police arrest 2 after fight in car
Unique and bizarre holidays on the calendar this week include:
The grand opening of the Nature Explore Classroom at Richard Bong State Recreation Area later this month requires a final volunteer push to co…
Defensive back Sayge Terrell had a solid junior year in 2018 for the Bradford football team.
Cameron Huss had a stellar junior season for the Tremper boys golf team, and he'll be entering his senior year with plenty of momentum after w…
"Chances Are …" by Richard Russo; Knopf (302 pages, $26.95)
Take time for a little or big getaway. Quick ideas, to get you started:
Summer may be coming to a close, but the number of ways to enjoy Kenosha County Parks is far from winding down.
It was a snapshot of partisan gridlock, our weekly roll call report of key votes in Washington.
MADISON, Wis. (AP) — The Wisconsin Elections Commission will consider spending up to $810,000 to upgrade local clerks' computer security and l…
It is with some sadness that I am writing to lament the passing of an era. Not to over dramatize the cancellation of a softball tournament, bu…
MADISON -- The Wisconsin Elections Commission has moved to bolster local election security efforts in light of concerns that some clerks' use …
The Wisconsin State Fair drew 1,130,575 people for the 11-day event in West Allis, setting setting a modern-day attendance mark.
The Wisconsin Elections Commission has moved to bolster local election security efforts in light of concerns that some clerks' use of outdated…
The Kenosha County Fair officially opens to the public at noon today, but Junior Fair 4-H project judging has been underway since Monday, and …
PLEASANT PRAIRIE — United Conveyor Corp., a Waukegan, Ill.-based manufacturer of utility and industrial environmental equipment, is expanding …
EAU CLAIRE, Wis. (AP) — Police say a man found passed out behind the wheel at an Eau Claire gas station is facing his 12th drunken driving charge.
MILWAUKEE (AP) — Milwaukee police have shot and wounded a suspect on the city's north side.
Words mean something; wrong is not right. Racism is not normal.
PLEASANT PRAIRIE — Conceptual plans for 18 ranch-style, two-unit condominiums proposed for the village's future downtown area received the app…
MADISON — Foxconn Technology Group executives met Wednesday with Wisconsin officials but no one is saying much about what they discussed.
LINN — Walworth County LGBT leaders are calling for a boycott of a musical concert featuring performers whose message has been criticized as r…
MADISON -- In response to twin massacres in Ohio and Texas, Democratic Gov. Tony Evers and Democrats Thursday introduced a bill that would exp…
Bartley House remained closed after a fire that broke out Tuesday night at the restaurant, 1212 58th St.
BURLINGTON — One person has been reported injured after a four-car accident in the City of Burlington on Thursday afternoon.According to the s…
The Kenosha Police Department is participating in the "Drive Sober or Get Pulled Over" campaign, which begins Friday and continues through Sept. 2.
Bond was set at $100,000 Friday for the mother of a baby whose body has yet to be found.
In the land of the Wisconsin dairy farm, where cows are king, something else is roaming.
CALEDONIA — A man was fatally shot Sunday after he reportedly attacked a Caledonia police officer with an edged weapon, according to the Caled…
WILMOT—The grand champion steer took the top bid for beef at the Kenosha County Fair 4-H Youth Livestock Auction on Saturday.
WILMOT — The huge downpour early Sunday morning had the 4H Horse Project riders at the Kenosha County Fair waiting – and hoping – things would…
The marquee outside the iconic building at 3615 Washington Road no longer bears the red-and-white letters proclaiming it the home of United Au…
The men of the Allied Expeditionary Force World War I developed the idea of the American Legion which will celebrate its 100th anniversary in …
CALEDONIA — Caledonia Police have identified the man who was shot and killed by a Caledonia police officer on Sunday evening after the man all…
TOWN OF BURLINGTON — A man pulled over for speeding allegedly had a "plethora of drugs and paraphernalia" in his vehicle.
Today's problem: Mr. S contacted Fix It asking how to participate in the Adopt-A-Highway program.
I know nobody wants to admit it but the death of slowpitch softball in Kenosha is upon us.
Mass shootings have become alarmingly frequent in the United States, but after three in an eight-day period, and two in less than 24 hours, th…
There is no explaining the love of a really hot chile pepper to someone who doesn't love chile peppers. By the way, chile is the correct spell…
RACINE – Burlington Coat Factory is leaving Regency Mall and moving to the old Toys R Us location, according to Dennis Roush, field manager of…
TruStone donates to Outreach Center
About 10,000 people in the Kenosha area were without power for part of the day Sunday after a strong storm downed trees and power lines.
SALEM LAKES — A motorcyclist was killed in a crash Monday on Highway C.
A judge has awarded damages to the family of a woman who sued the owner of a local financial service a year ago after he was found to have mis…
MOUNT PLEASANT — Vertical construction of Foxconn Technology Group's Mount Pleasant advanced-manufacturing plant began on Monday, right on sch…
BURLINGTON — A man pulled over for speeding allegedly had a "plethora of drugs and paraphernalia" in his vehicle.
Missing man found unharmed Sunday
Volunteers are being sought to aid older and disabled adults as Volunteer Guardians.
The start of the school year is typically filled with hopes and anticipation as parents get ready to send their youngsters off to class.
Air conditioners are on in summer because of the heat. Furnaces are on in winter because of the cold.
For third-year Wilmot football coach Keiya Square, there's more than enough reasons for optimism heading into 2019.
RACINE — An equipment issue is reportedly to blame for an extensive power outage Tuesday morning that left 10,000 customers without power, acc…
More than 80 motorists were ticketed for speeding during a three-day crackdown in the Interstate 94 construction area in Racine County.
There's no denying that it's been a tough stretch for the Central football team — to the tune of just three victories combined in four years.
Through the first two weeks of practice and a preseason scrimmage, there seems to be a different feeling surrounding the Central football team.
A Kenosha teenager awaiting trial for the stabbing death of a classmate at Bradford High School picked up an additional felony charge Tuesday,…
TWIN LAKES — A Twin Lakes man is being held on $20,000 bond after being charged with operating while intoxicated for a seventh time.
SALEM LAKES — Elected officials in Salem Lakes have decided to take a hands-off approach — for now, at least — and leave the proposed establis…
It's not like when he spent five seasons as the head football coach at Bradford from 2013 through 2017, Matt Rizzo didn't do everything he cou…
MADISON — A state appeals court says a Darien man was properly convicted of threatening police on Facebook.A jury convicted Aaron Wigman in 20…
Christian Life football coach Jack Decker had the perfect slogan for the Eagles' upcoming varsity season.
Municipal officials, including George Stoner in Somers, have waited a long time for action in Madison to close the "dark store" tax loophole.
It was 1968. Just returning from a tour of duty in Vietnam, I was in the throes of putting semblance back into my life. I re-established ties …
A few weeks ago I was scheduled for jury duty. I reported when asked, to the courthouse. As I drove around to find a parking place, I realized…
MOUNT PLEASANT — Two years ago, in the southwest area of Mount Pleasant, there were dozens of homes with manicured lawns that were maintained …
It's a busy Saturday in Kenosha, with Picnic in Park at Petrifying Springs Park and the annual "Art of the Car" car show at Kemper Center:
All Saints Catholic Catholic School hosted a Family Fun Night Wednesday in advance of the start of school.
A plea for a reduced bond failed for a man accused of beating and sexually assaulting a friend, then holding law enforcement at bay in an hour…
Today's problem: EB called the Kenosha News to complain about a missing stop sign.
RACINE — A Racine man who reportedly tried stealing money from an older man and then allegedly shot him in the leg when he was unsuccessful is…
Bradford football coach Troy Bowe knows defense.
Among Kenosha County football teams, Indian Trail was the last program standing in 2018.
Senior lineman Kyle Matrise, senior running back Jake Gessert and sophomore quarterback Jacob Ashmus led the St. Joseph football team to a sea…
CHICAGO (AP) — Illinois health officials said Friday that a patient who contracted a serious lung disease after vaping has died, which could m…
I'm writing in response to John Hoefflin's letter in Wednesday's VOP. He is wrong on several fronts.
Delegates to next year's Democratic National Convention in Milwaukee will stay at hotels as far south as O'Hare International Airport, but not…
As strange as it seems today, there was a time when the decennial United States Census was not a political battlefield. Opposing forces did no…
It still amazes me that for the single largest employer in Kenosha, the hospital downtown has absolutely the worst streets adjacent to it.
Seymour J. "Sy" Adler's passion was caring for people from all walks of life, with both a professional and self-guided mission to advocate for…
With beautiful, but slightly chilly weather, the Kenosha County Park's Department hosted Picnic in the Park at Petrifying Springs Park Saturday.
Dr. Seuss is a famous children's author. He gave us more than 60 books translated into 20 different languages. So when he tells us, "Sometimes…
Several years ago, Steven J. Frey, an engineer and all-around handyman, set out to build a casket to carry in the back of his 1983 Cadillac hearse.
The day Bernard Reavers was shot, Michael Cina walked into friends' home in Somers with a story about a burglary gone bad.
MILWAUKEE COUNTY — A semi-truck rolled over when it collided with a tow truck on Interstate 94 Monday.
A 36-year-old man was shot and gunfire rained down Birch Road in separate weekend incidents in Kenosha.
The next phase of transmission pole installation is set to begin along Highway 50 from Wheatland through Paddock Lake as part of the $70.6 mil…
A man alleged to have killed a Kenosha woman in a hit-and-run crash on Interstate 94 in Milwaukee County was wanted on a warrant for operating…
As we've written before in this space, Wisconsin has a problem with drinking and driving. One sheriff has taken a novel approach to curbing that.
CALEDONIA — A Milwaukee man with a revoked license is facing a felony charge for allegedly driving drunk at 84 mph through the Interstate 94 w…
RACINE — A 38-year-old Racine man died after being struck by a vehicle on Friday, Racine Police reported on Tuesday.
My hardest task on this nothing-short-of-perfect August afternoon is to choose. Key Lime Pie or Pineapple Upside Down Cake? Cranberry Gimlet o…
The 17th annual car show and fundraiser to benefit severely injured soldiers will be Sunday on Simmons Island.
A cheese-themed food and music festival, a classic car show and the Kenosha HarborMarket near the museum campus will converge downtown during …
RACINE — Two dogs that were left home alone were not injured in an oven fire on the 1600 block of Quincy Avenue Tuesday afternoon, according t…
Here are the 10 most viewed collections on the Kenosha News website for the month of August 2019.
The 2019 Kenosha Classic Cruise-In car show — also known as "The Downtown Car Show" — will once again take over the streets of downtown to kic…
There will be no curbside garbage, recycling, brush, tire or bulk collection on Monday in recognition of the Labor Day holiday.
Behind a pair of goals from Nolan Bruni, the Central boys soccer team claimed a 2-1 victory over Indian Trail on Wednesday during the second a…
RACINE — A 22-year-old Racine woman was rescued from Lake Michigan near North Beach late Wednesday afternoon.
PLEASANT PRAIRIE — The Village Board has approved rezoning wetlands areas in order to accommodate a proposed pharmaceutical manufacturing faci…
Maybe, just maybe, the buses carrying Democratic delegates from Illinois to Milwaukee and back next July will stop at Mars Cheese Castle like …
We live in a society where too many people believe that an OWI happens to everyone. It doesn't, but we've adopted a collective leniency about …
Milwaukee King (1-0) at Tremper (1-0)
Johnson Creek (1-0) at Shoreland (1-0)
PLEASANT PRAIRIE — Residents received their first look at the state transportation department's proposed $5 million resurfacing project that w…
Golf balls, rock shatter vehicle windows
When Tremper football coach Jared McGranahan watched film of Thursday night's opponent, Milwaukee King, at least one thing jumped right off th…
The Bradford and Lake Geneva Badger football teams aren't in the same conference.
A jury deliberated for about 30 minutes Friday before finding a West Allis man guilty in the murder of Bernard Reavers of Kenosha.
CHICAGO — Nicholas Castellanos hit a pair of two-run homers, José Quintana took a shutout into the sixth inning, and the Chicago Cubs cruised …
Behind every classic car there's a story.
A popular classic car show that has raised thousands of dollars for severely wounded military veterans has revved its engines for the last time.
To say that I've been on one heck of a crazy journey since January would be a huge understatement.
MILWAUKEE (AP) — Health officials say nearly 50,000 children in Wisconsin have vaccination waivers as the school year gets underway, leaving t…
Recent mass shootings, once again, bring everyone to attention, and there is a flurry of calls for action. If history follows, soon President …
I commute via Sheridan Road. As most know, this road turns into Alford Park Drive near Carthage College and the lake. During both the a.m. and…
Robin Vos wears many hats, figuratively speaking. He is a husband; he is a business owner; he represents the 63rd Assembly District in Racine …
Kenosha police recovered a handgun and ammunition that had apparently been left in a donation bin at a local store and was found by clerk Friday.
Woman in accident faces third OWI
A 20-year-old Paddock Lake man faces numerous charges for allegedly running a high-tech marijuana operation — with as many as 10 employees ser…
How well did Wilmot senior quarterback Zack Watson play Friday night?
MOUNT PLEASANT — A Racine man was arrested Monday after he reportedly spent the night inside a closed Walgreens store.Third-shift Mount Pleasa…
Last week I heard very sad news. The Bartley House announced it will soon close its doors. On Friday, Sept. 20, they will serve their last mea…