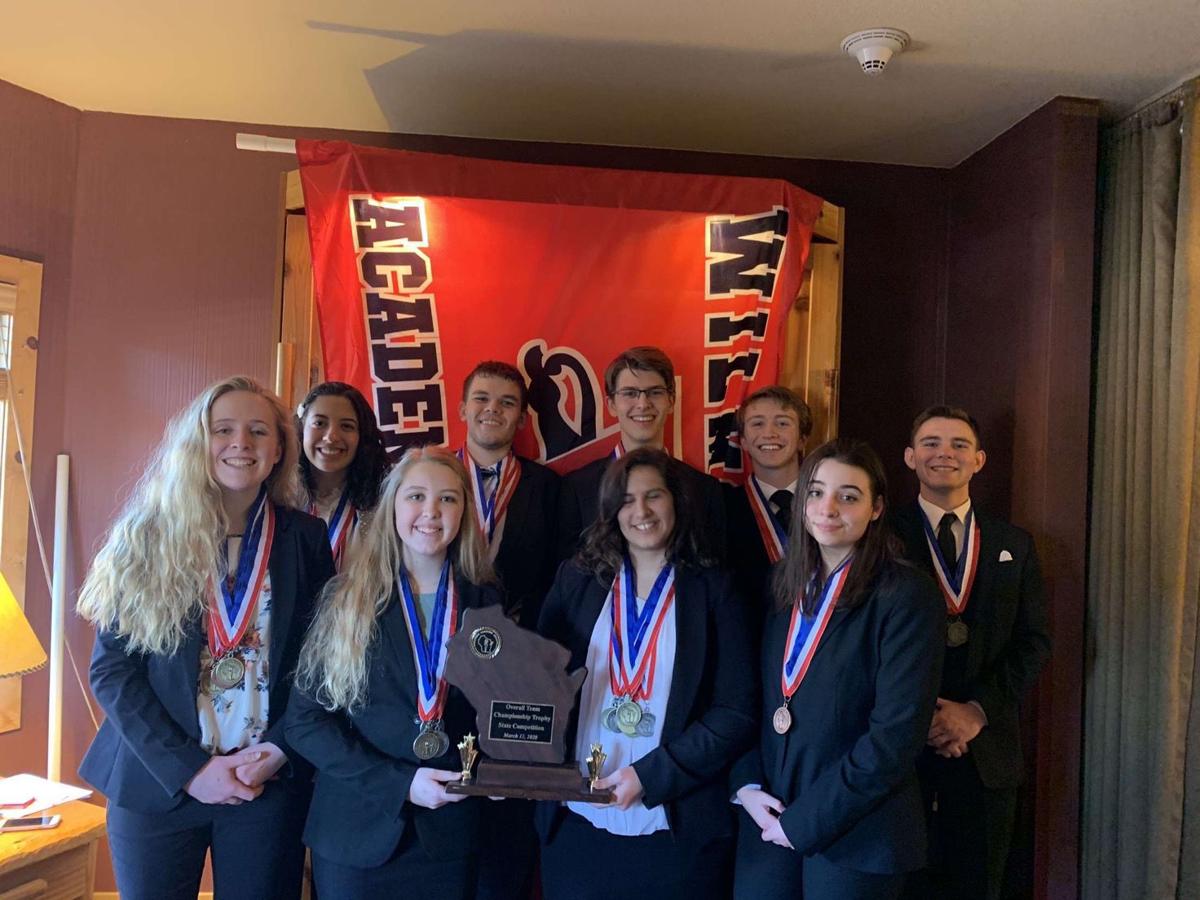 From today through Saturday, the nine team members of the seven-time defending state champion Wilmot Academic Decathlon team will be offering trivia questions for readers to answer.
Today's questions, along with bios and answers, appear below: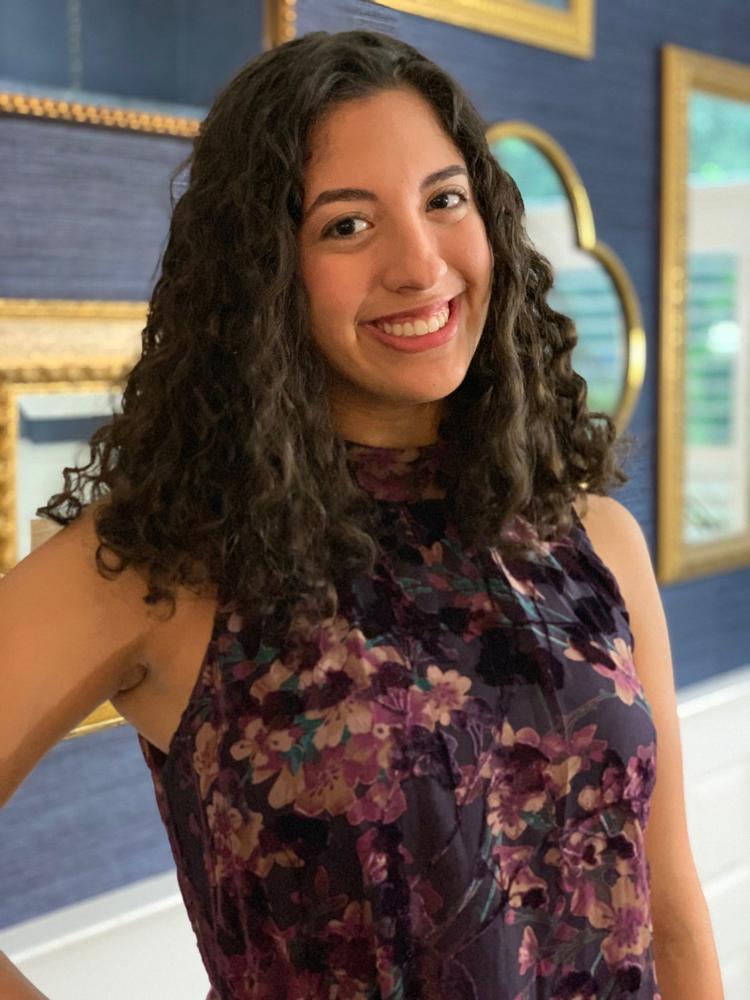 I'm currently a junior, but after high school I plan on being a lawyer. I hope to combine my love of law and scientific research to specialize in either environmental law or biomedical ethics. These are both fields of growing political, social and scientific significance, and I hope to find some opportunities to work on projects that I'm passionate about and that can make a difference in the world.
I first joined Academic Decathlon after friends and family members recommended it to me. I started taking the AcaDec class as a freshman, and I immediately fell in love with the program and knew it would be my place all throughout high school. I'm very passionate about learning, and I'm quite competitive and enjoy challenging myself. These are principal factors of Academic Decathlon, and pushing myself to learn more and expand my knowledge in different topics and skills has been all the more enjoyable with a hardworking and supportive team by my side!
Art: Which 20th-century artist is known for wrapping well-known monuments in fabric, building a 24-mile-long cloth fence in California, surrounding eleven Florida islands with pink plastic and putting orange fabric gates on pathways throughout Central Park?
Literature: What scholar coined the term and theory of the "female gothic," which explores themes (specifically that of the "maiden in flight") of gothic literary works written by women?
A. Rosemarie Garland-Thompson
Science: What respiratory disease has bacteria that can be used as an immunotherapy treatment for early-stage bladder cancer?
Economics: Which 1982 Act enacted a system that gave hospitals a fixed fee based on a patient's diagnosis at the time of hospital admission and on nothing else, preceding a sharp drop in the average hospital length of stay in the U.S.?
A. Tax Equity and Fiscal Responsibility Act (TEFRA)
B. Healthcare Quality Improvement Act
C. Hospital Readmissions Reduction Program
D. Health Insurance Portability and Accountability Act
E. Patient Safety and Quality Improvement Act
Music: Which Romantic-era pianist was able to play Bach's entire "Well-Tempered Clavier" by the age of 13?
C. Pyotr Ilyich Tchaikovsky
E. Fanny Mendelssohn Hensel
ANSWERS: B) Christo; C) Ellen Moers; C) Tuberculosis; A) Tax Equity and Fiscal Responsibility Act (TEFRA); E) Fanny Mendelssohn Hensel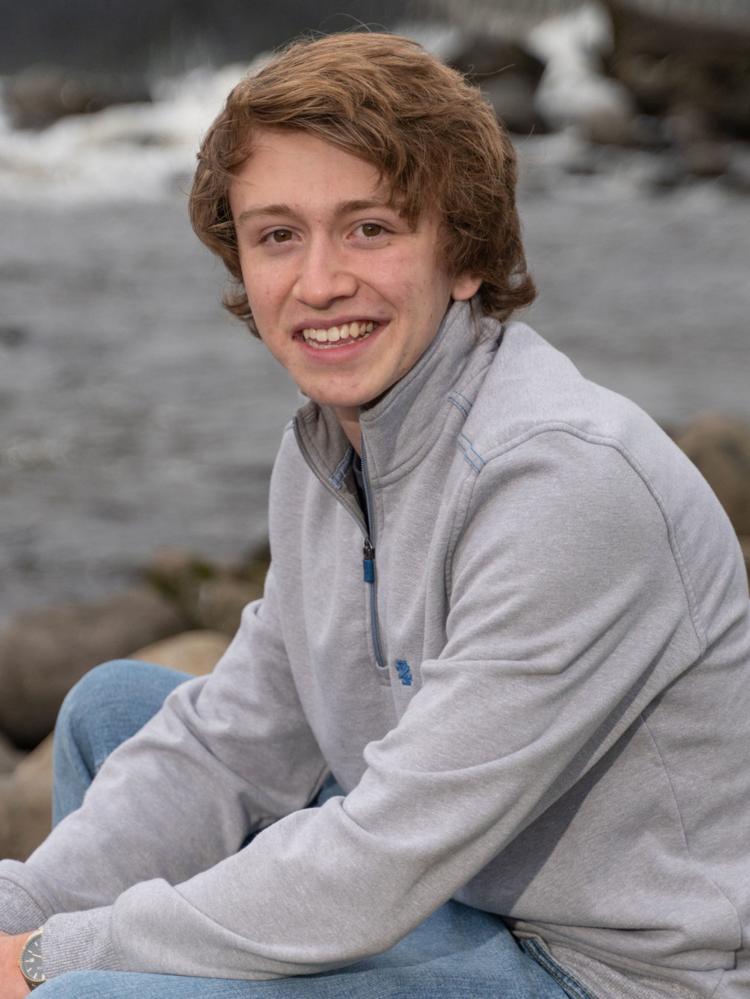 I'm a senior on Wilmot's Academic Decathlon team. This is my third year competing in AcaDec. Right now, following high school, I plan to attend Michigan State University and major in electrical engineering, accepting a freshman research position within the College of Engineering and the Honors College. Following my undergraduate degree, I plan to earn a master's degree in electrical engineering and work in the defense industry for a government contractor like Raytheon or Lockheed Martin.
Personally, I joined Academic Decathlon because it applies a notion of competition to academia that is absent in normal schoolwork. The sense of accomplishment derived from earning academic accolades in this competitive, cooperative setting is one of the most rewarding feelings I know, and it's why I've loved doing AcaDec for the past three years.
Social Science: Which of the following Grecians demanded empirical evidence for argument and used the terms "Prime Mover" and "universals" in his natural inquiries?
Music: What is musically ironic about the sad nature of Samuel Barber's "Adagio for Strings"?
A) Barber's composition features an ascending tetrachord in the bass line, while almost all "sad" Western music features a descending tetrachord.
B) The solemn cellos do not enter until the very end of the piece, after the musical climax has been reached.
C) The compound subdivision that is apparent to the ear in the melody makes the piece sound sad, while the true, simple metrical subdivision contributes to a happy sound.
D) The violins play in the sad key of B-flat minor, while the violas play their part in its relative major key of D-flat major.
E) Barber frequently features the sad F minor chord as the dominant, which is not a diatonic chord within the key of the piece.
Art: Which of the following modern artists is famous for his "readymades," such as Fountain and LHOOQ?
Economics: Which of the following economic models explains the demand for health?
Literature: Which of the following connections BEST underscores the significance of John Milton's "Paradise Lost" to Mary Shelley's "Frankenstein"?
A) Milton's epic poem was the founding work of the literary era during which Frankenstein was published.
B) The discussion of the sublime within "Paradise Lost" served as inspiration for the sublime settings in "Frankenstein."
C) The Creature in "Frankenstein" connects his plight to that of Adam and Lucifer in "Paradise Lost."
D) Adam exemplifies the theme of "playing God" in "Paradise Lost", just as the Creature does in "Frankenstein."
E) Milton's work set the stage for Frankenstein's materialist vs. vitalist debates regarding the animation of life.
ANSWERS: C) Aristotle; A) Barber's composition features an ascending tetrachord in the bass line, while almost all "sad" Western music features a descending tetrachord; E) Marcel Duchamp; B) Grossman model; C) The Creature in "Frankenstein" connects his plight to that of Adam and Lucifer in "Paradise Lost"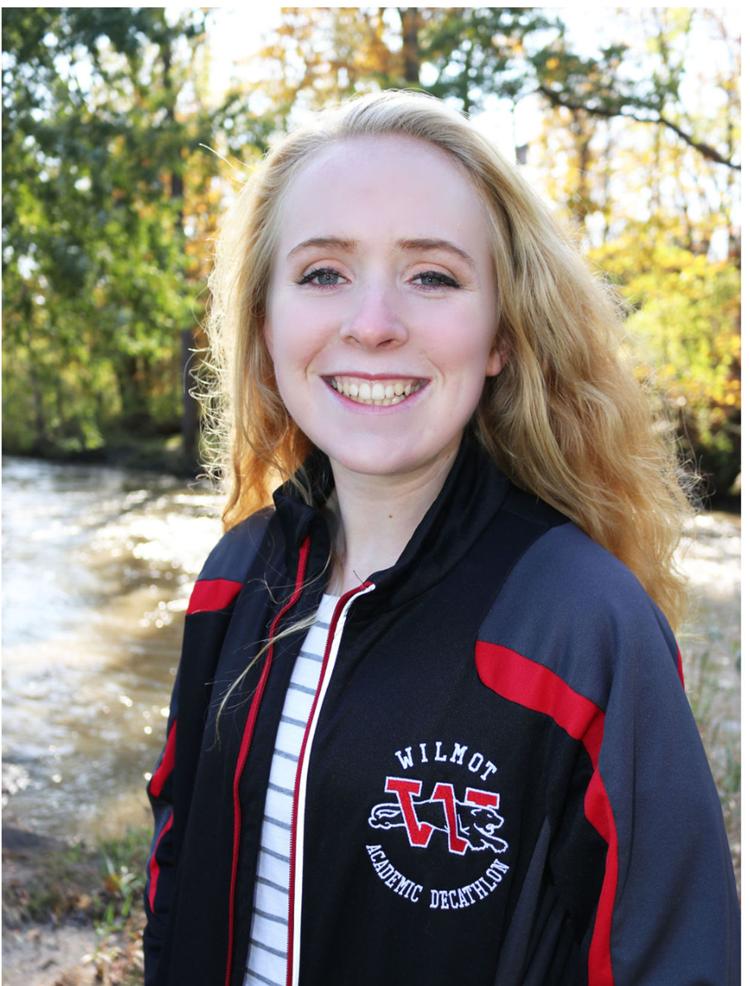 I will be attending Brigham Young University in the fall. I love science and learning how everything works together, so I plan on studying either biochemistry or chemical engineering. Following graduation, I hope to become a scientist working to improve different chemical processes or possibly making medicine.
I joined Academic Decathlon for many reasons. For one, I love learning. Learning is like going on an adventure: you never know where it will take you. For me, AcaDec took me from the savannas of Africa to the peace protests in the 1960s to the medical schools of medieval times. Each place has had vastly different things to teach me. I know that learning will be important throughout the rest of my life, and AcaDec has taught me study skills that will help me continue the adventure. AcaDec has also given me the opportunity to become friends with so many intelligent and wonderful people. I have loved every minute of being a part of this team.
Economics: What occurs once a potential new drug starts Phase III of testing?
A) The drug enters animal testing trials to test for safety.
B) Drug companies organize major randomized clinical trials of up to 3,000 participants.
C) The drug is put to the test in small-scale randomized studies of several hundred participants, where the drug is tested in a population of patients that have the disease or condition the drug is intended to treat.
D) Scientists can now distribute the drug for sale to the general population.
Art: Contemporary artist Kadir Nelson created a painting of a famous female who became, unbeknownst to her, the source of all HeLa cells. These cells are called the "immortal" cell line because after her death in 1951 the cells continued to divide. This allows scientists to this day to use those cells to research how to treat many diseases such as polio and do cancer research. Who was this important woman?
NOTE: If her story sounds interesting to you, you can watch a movie about her starring Oprah to learn more!
Literature: To which short story by Nathanial Hawthorne does the following describe: A husband is so obsessed with his beautiful wife's minute imperfection, rather than look upon it lovingly like most others, he instead goes to extreme measures to rid Georgina of her flaw?
A) "The House of Seven Gables"
D) "Phantom of the Opera"
Science: In order to fuel an endless appetite for nutrients and energy, cancerous tumors have been found to form new blood vessels, this process is known as what?
Music: Which work by Claudio Monteverdi is considered the first operatic masterpiece?
ANSWERS: B) Drug companies organize major randomized clinical trials of up to 3000 participants; C) Henrietta Lacks; B) The Birthmark; Angiogenesis; A) L'Orfeo
Be the first to know
Get local news delivered to your inbox!