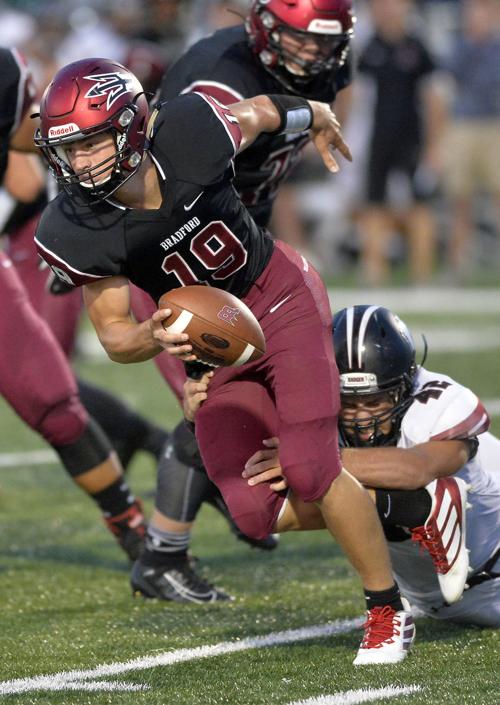 There was something quite unusual about Friday's season and Southeast Conference opener between Bradford and state juggernaut Franklin at Bradford Stadium.
Sure, there were no fans in attendance and everyone on hand — game personnel, coaches and media members alike — donned face coverings throughout the 2-hour, 45-minute donnybrook.
But it was so much more than that.
The Red Devils, who were outscored — make that overwhelmed — by the Sabers by a combined 79-0 a year ago in two games played 29 miles up the road, stood toe-to-toe with the perennial league dynamo and very nearly pulled off a memorable upset, eventually falling 24-21 when their final foray ended on a tackle in the backfield, a batted pass, a bad snap and an incompletion.
"Crazy game, right?" said Bradford coach Troy Bowe, whose team held leads of 7-0 in the first quarter and 14-10 early in the fourth. "We had a lot of chances. (We were) inside the red zone six times (and we) scored twice. We've got to convert those, and we worked on that a lot."
First, electrifying sophomore Keany Parks returned the opening kickoff 65 yards to set the Red Devils up at the Franklin 24-yard line. But four plays later, on a first-and-10 from the Sabers' 14, junior fullback Nathaniel Barker IV fumbled while trying to churn out the tough extra yards and Franklin recovered to dodge an early threat.
"Can't make that many mistakes against a good team, and they're well-coached, and we made a ton," said Bowe, whose team advanced to the playoffs in each of his first two seasons at the helm despite sub-.500 overall records. "What did we have? Four (actually three) turnovers? You can't win with (that many miscues)."
Still, it was clear from the outset that the Red Devils were primed for a fight. After bending but not breaking three times against the high-flying Sabers and heralded junior quarterback Myles Burkett (23-of-32, 394 yards, three touchdowns), Bradford got on the board first with 2 minutes, 10 seconds left in the opening quarter when its own junior quarterback, Nate Olson, connected with junior classmate Christian Crump on a beautiful strike over the middle from 22 yards away after a fumbled punt gave Bradford the ball at the Franklin 19.
The Sabers struck back to take a 10-7 halftime lead on a 10-yard touchdown pass from Burkett to split end Keaton Arendt and a 37-yard field goal by strong-legged senior kicker Luke Cool.
The Red Devils were ready for the test, though, as they actually won the turnover battle, 5-3.
"I thought we played well against him," Bowe said of Burkett, a touted NCAA Division I prospect who only threw two interceptions all of last year but on this night threw three. "I thought we controlled him real well. Myles is ... a special kid, and he's going to be playing big time on Saturdays. We mixed it up pretty good against him and gave him a lot of different looks."
Something that surely looked different to both sides was the score at the end of three quarters: Bradford 14, Franklin 10. More than that, the revved-up Red Devils were on the march again, advancing to the Sabers' 19 on a roughing-the-passer penalty on third-and-10 from the Franklin 34.
But just as quickly, the tide of the game turned when an Olson pass was knocked down by the wind and the result was a slightly underthrown aerial and an interception by Logan Matthews.
On the very next play, Burkett found lightning-fast freshman Jacques Brown across the middle for an 80-yard scoring play, and within the next 1:41 the Sabers had jumped out to a 24-14 lead, leaving the home coach feeling wistful at the reversal of fortunes.
"We probably should have stuck with the run there," Bowe said. "We had just got a big run out of (senior Brock) Lampe (11 yards on a fourth-and-3). If we pound it at 'em there, I think they're wearin' out and we look good."
One thing's for sure: Though Bradford suffered a familiar defeat to Franklin — which has now won 32 straight against Kenosha County teams dating back to the Red Devils' win in their 2011 state championship season — there was nothing predictable about the manner in which the game was decided. That should be reassuring to everyone watching at home.
"It's too bad," Bowe lamented about the empty seats. "They missed a good game. They got to see it on WGTD (Facebook Live), but we can have people here. These kids deserve people here. We can't go to capacity, and there has to be a limit, but we can have people.
"At least the kids' parents can see them play."
Be the first to know
Get local news delivered to your inbox!