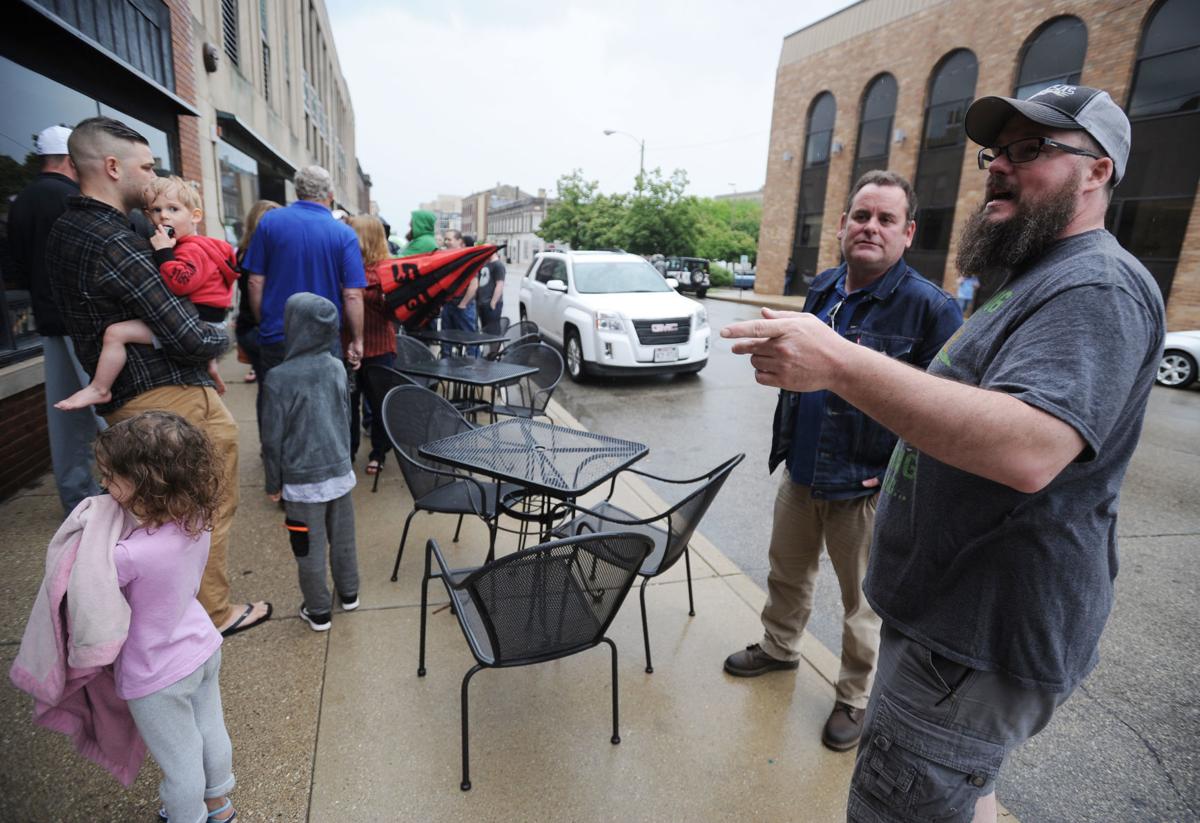 Turned out Public Craft Brewing Co.'s most recent limited release was anything but a bomb.
The craft brewery, 716 58th St., released its Bomb Pop Sour Wednesday afternoon, selling the beer in four-packs of cans, letting their fans know they would begin sales at 3:30 p.m.
Before the doors opened, a line was stretching down the block in the rain. Within 45 minutes, the last four-pack was sold out.
"That was crazy!" said Matt Geary, the brewery's owner.
Public Craft opened in downtown Kenosha in 2012, its craft beers becoming a local favorite.
Geary said he and a former Public Craft brewer co-created the Bomb Pop Sour last year, inspired by the iconic red, white and blue popsicle.
He said the beer has lactose "to give it some of that creamy mouth feel and a ton of tart cherry, raspberry and lemon lime" as an ode to the popsicle.
"Last year when we first brewed it, it sold out in two weekends in the tap room," Geary said.
When people began asking for its return, they decided to make it in cans for a limited release.
The first time they sold it last August, it sold out in three hours.
"We decided to do it a little earlier this year," he said, letting people know on social media that it would be released Wednesday.
He said he got the idea it might be popular when people started asking about the beer when Public was at a festival recently in Milwaukee.
Friends Chasity Wellman and Stacey Duchrow drove in from Trevor, each buying the two four-pack limit.
Although they had never had the beer before, they saw on Facebook that it had sold out in three hours last year.
Duchrow said she bought the beer for a gift for her husband, saying she has to be away for a conference on Father's Day.
"Since I stood in line in the rain to buy this for him, I won't feel as guilty not being home with him on Sunday."
Geary said it was great that the beer proved so popular that all 30 cases sold out in 45 minutes.
Although he felt bad telling people who were still waiting in line in the rain that they had sold out.
"I really didn't expect that to happen," he said.
He said it's tough to produce large quantities of the sour beer in their existing facility.
Fans may have more opportunities to buy their favorites in the not-so-distant future.
Public Craft is moving into a larger space down the block at the former Barden's Department Store building, 622 58th St., sometime next year. The building is currently being renovated.
The business news you need
With a weekly newsletter looking back at local history.