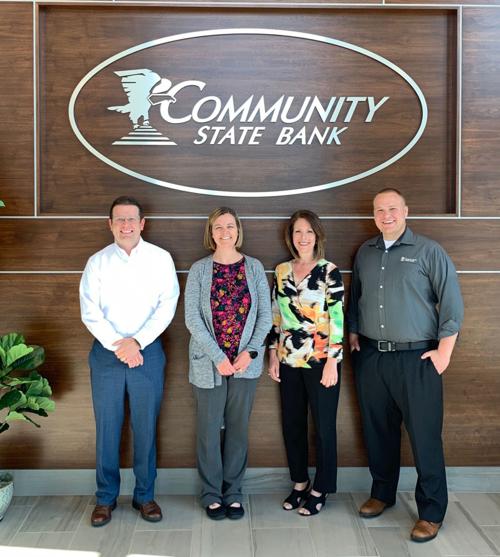 UNION GROVE — Community State Bank, a $465 million locally owned-and-operated bank headquartered in Union Grove, recently celebrated the opening of its new Kenosha office at 8304 75th St. (Highway 50).
"Our team is excited to open our doors to the Kenosha community," said Kenosha Market President Robert Pieroni. "The last few months have allowed us to continue to build trust and even stronger relationships with local business owners. We know we're right where we need to be and the timing couldn't be more perfect."
As a longtime Kenosha County banking veteran, including the past two years at CSB's Paddock Lake branch, Pieroni has a personal interest in the success of community banking in Kenosha.
"I'm super-excited to be here and offer our services to the Kenosha community," he noted. "My banking background is in Kenosha, with community banks and with corporate banks as well. To have our new office open, not only for Kenosha clients, but also for the Kenosha community, is huge."
COVID-19 delays opening CSB Kenosha was set to open in early spring, but due to the COVID-19 pandemic CSB decided to postpone the opening until Kenosha County had provided businesses with safe reopening procedures.
Ellie Heigl, marketing communications coordinator for CSB, said a number of COVID-19 safety protocols are in place including protective shields at teller stations, special cleaning protocols, safety and social distancing signage, and making non-mandatory courtesy face masks available for clients.
"We're making sure we're providing every safety precaution that we can for our guests," Heigl noted.
The CSB Kenosha Banking Team, led by Pieroni, will focus on developing commercial and consumer relationships including business development, commercial lending, commercial banking, consumer lending, deposit growth, and mortgage lending.
"Our Kenosha branch is unique in that we are one of the few true community banks in the area," said Pieroni. "There are so many benefits available to local business owners and organizations when banking with a locally-serviced community bank, and I'm eager to share that with our community."
In this age of large corporate regional and national banking conglomerates, independent local community banks bring a number of benefits to their clients.
"One of the largest benefits is we do take the time to sit down with our clients — they're not just a number, they're a true customer," said Pieroni. "And one of the largest pieces of this is all our decisions are local. We're southeastern Wisconsin headquartered in Union Grove and all of our decisions are local. We're not going out-of-state or even within the state to Madison, Milwaukee or anywhere else. Our decisions are here — local."
A perfect case in point, he noted, was working with clients through the application process for the Small Business Administration Paycheck Protection Program (PPP) loan program, part of the federal government's CARES Act response to the deep economic toll wrought by COVID-19.
"I think going through the PPP loan applications certainly showed that," Pieroni said of the advantages of community banking. "Our clients were extremely excited to work with a community bank … If you had a large loan, small loan, we treated them all the same. We got a lot of new customers through that [PPP] process because they could call us, we did answer our phones. No matter the time of day we answered our phones and we got answers to those businesses as quick as possible, where a lot of other banks weren't able to do that."
In addition to Pieroni, Laura Burnett Shoemaker has joined the CSB Kenosha banking team as assistant vice president-cash management, along with Retail Manager Mandi Maas and Universal Banker Kevin Jorgensen. Together, the team will help expand existing business and consumer banking relationships, as well as prospect and on-board new relationships.
"It's a well thought out and well rounded out team," Pieroni said. "Myself as market president on the commercial lending side and business lending side. Laura Shoemaker, who is phenomenal on the cash management side and helping small businesses with their cash management and depository needs and online banking. Mandi, who's got a great background in retail banking … and does a great job on the personal side helping individuals with their personal accounts and loan needs. And Kevin Jorgensen … who's almost like a full-service banker ... "It's a very exciting team. We all gel very well together and we all have the same focus on making sure we're taking care of things and taking care of our clients correctly."
Added CSB President and CEO Scott Huedepohl. "Congratulations to our Kenosha team and congratulations to the community of Kenosha. Community banking is back in western Kenosha County and our team is prepared to be a resource to local businesses and consumers for many years to come."
The CSB Kenosha office, designed with an open floor plan and ample collaboration space, includes a full-service teller line, drive-thru, ATM, night deposit box and safe deposit boxes. Regular business hours are Monday-Friday from 9 a.m. to 5 p.m.
Founded in 1898, Community State Bank operates its headquarters bank at 1500 Main St. in Union Grove. In addition to its new Kenosha branch, other CSB branch offices are located at: 8930 Washington Ave. in Mount Pleasant; 810 Fox Lane in Waterford; 308 Bridge St. in Burlington; 25360 75th St. in Paddock Lake; and 200 Interchange North in Lake Geneva.
The business news you need
With a weekly newsletter looking back at local history.