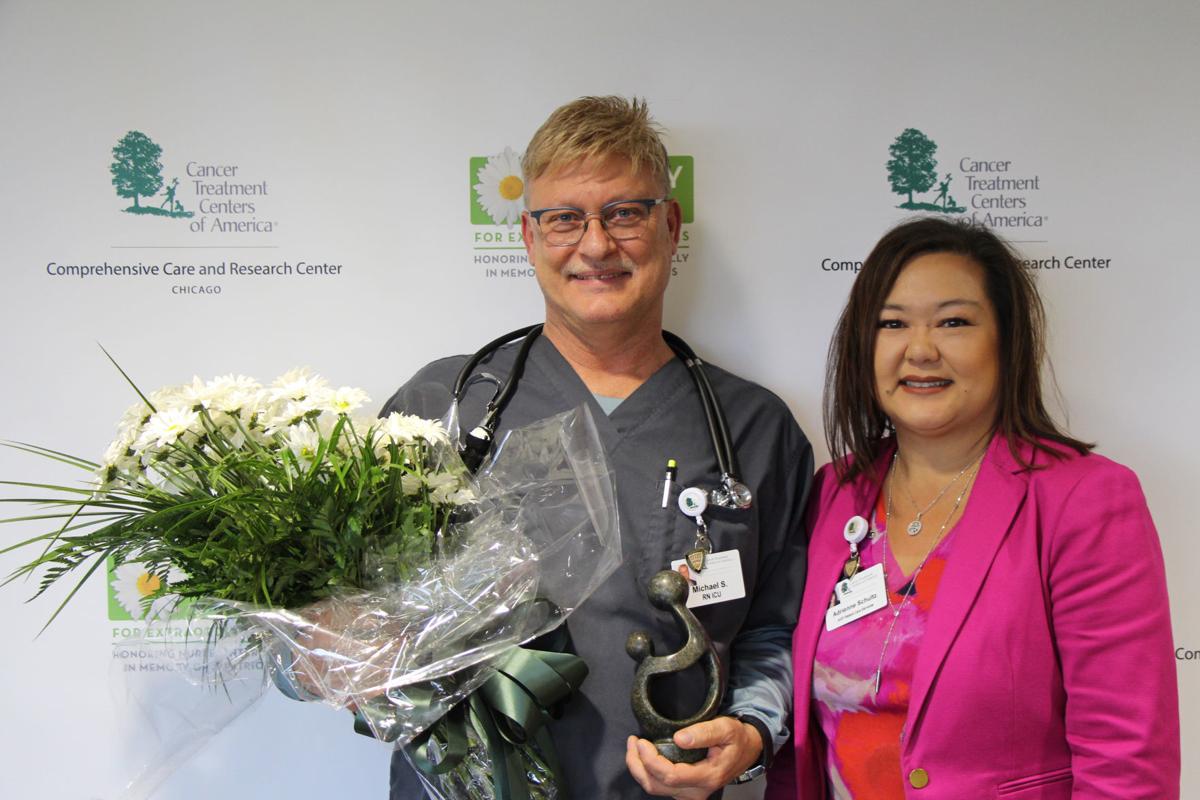 ZION, Ill. — Mike Stimac, a registered nurse from Kenosha, has received the Daisy Award for Extraordinary Nurses from Cancer Treatment Centers of America Chicago.
The award is part of the Daisy Foundation's program to recognize the super-human efforts nurses perform every day.
Stimac has been in nursing for more than 28 years. For the last five years, he has worked at CTCA Chicago assisting and serving patients in the ICU and surgical oncology unit.
"I first became intrigued about nursing as a career after being in the hospital for stitches," said Stimac. "While I was there I met a male nurse. I was very impressed with the way he and the physician interacted and communicated with one another. It left a lasting impression on me."
Stimac was nominated for the Daisy Award by one of his patients, who anonymously shares: "I was in ICU recovering after having one of my kidneys removed. Michael is by far the best nurse I have had. He has exceptional knowledge, incredible bedside care and attended to all my needs.
"When it comes to explaining what will be done as well as educating me on what I can do for myself, he is extremely detailed. A person doing his job also needs to be kind and nurturing mixed with a bit of humor — he has it all. Michael helped me to relax, which lessened my fears, and got me up and walking around sooner than later. This amazing nurse made it easy for me and my family. I thank you so much."
"Of course I was pleasantly surprised and very appreciative to be chosen for the Daisy Award since there are so many deserving nurses at our hospital," said Stimac. "I think it's important to recognize nurses for the work that we do, but we know the real heroes are our patients. They are the ones who inspire me."
The award is presented each quarter by a committee comprised of CTCA Chicago nursing leadership and peers.
"Mike is a rock, and a key member and mentor of many of the night-shift nurses," said Adrienne Schultz, vice president of patient care services and chief nursing officer at CTCA Chicago. "While the world sleeps, this group of selfless men and women make sure our patients receive care and their needs are met."
Stimac, who works closely with patients as they recover after having surgery, looks for opportunities to connect with his patients.
"By far, the best part of my job is talking with my patients and hearing their stories. They put their trust in me, as I put my confidence in them."
PHOTOS: The many perspectives of the Kenosha lighthouses
The lighthouse in the city of Kenosha bears much significance to the local community. Whether it's a simple walk to it along the north pier or appreciating the different artworks and even random scribbles that have been put on it over the years, the lighthouse at the Kenosha harbor is an iconic part of the local area. 
Here are some photos of the lighthouse taken by our photographers and submitted by our readers.