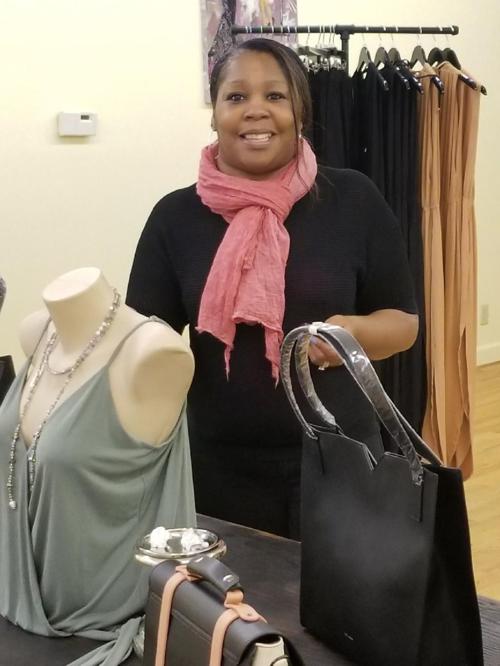 An afternoon stroll along a downtown Kenosha street shopping with her eldest daughter convinced Rashida Jackson, a Zion, Ill., resident, she had to bring her dream to this city, to this business district and specifically to Sixth Avenue.
The lakefront, the revitalization of downtown and her amazement at the shops that were going in were attractions that made her want to launch her Jax Boutique here at 5613 Sixth Ave.
Located next to Wine Knot Bar & Bistro, Jax Boutique is the only women's apparel shop on a street that two men's clothing stores — Mike Bjorn's and SJ Crystal — call home.
"I love the area. I saw that while there were men's clothing stores on the street, there was a void with no women's clothing shops. I love this city and what is happening here," Jackson explained. "I knew I wanted to be here by the lakefront."
It was her dream
Owning a clothing boutique had been her dream since high school. She had been planning to bring it to fruition.
Jackson, the mother of five, attended business sessions sponsored by the Small Business Development Association at the University of Wisconsin-Parkside, later connected with the Wisconsin Women's Business Initiative Corporation, worked with Downtown Kenosha Inc. and finally worked out a creative lease arrangement with Paul McDonough, owner of several downtown buildings.
The SBDA helped her develop a business plan and devise a marketing plan to target her audience. WWBIC helped her with financing through a loan program designed to assist prospective women and minority entrepreneurs. DKI has been an economic development driving force to attract more businesses and create a stronger downtown business district.
"I didn't know how to start a business. Mary Fisher (of SBDA) had all of the answers. she was with me every step of the way," explained Jackson. Six months after beginning the exploratory and learning process, it too six months to finally find a location.
Pop-up business
Jax Boutique is more than a minority, woman-owned business, it also is one of a growing number of pop-up businesses that are sprouting up throughout Kenosha using a concept that allows entrepreneurs to test market ideas, products and services.
Many pop-up businesses operate within the confines of another business. Jax Boutique is operating in a space for a limited period but may evolve as a yearly, full-time business in its current location or in another downtown location.
Pop-up shops, according to Heather Lux, WWBIC's regional project director, offer entrepreneurs a chance to test market their business dreams while getting their feet wet as a startup before taking the big plunge in business ownership.
The concept allows business owners, in some cases, to reduce some expenses associated with running a brick-and-mortar shop. It also allows the startup business a chance to develop name and brand recognition, an unforgetable theme and build an interested clientele.
Moreover, in a city where the downtown area has had a number of vacant buildings and spaces for a few years, the pop-up concept seems to be a good means of filling some of those empty spaces with businesses that could thrive in those locations. Businesses in those spaces help to attract more shoppers downtown thereby helping the overall downtown economy.
The new boutique
Jax Boutique is currently occupying a 1,850-square-foot space that was once was home to the Jam Fitness Factory.
McDonough said they have worked out a lease agreement that has the shop in that location through the end of September. The lease could be extended beyond that period.
Meanwhile, McDonough is renovating another location just a little further down on the block.
Pop-Up Republic, a business tracking organization, reports that "pop up" shops are a growing trend in some regions of the country and are generating billions of dollars while creating a new generation of "mom and pop" shops.
The organization reports that these stores are now bringing in $2 billion during the holiday season alone.