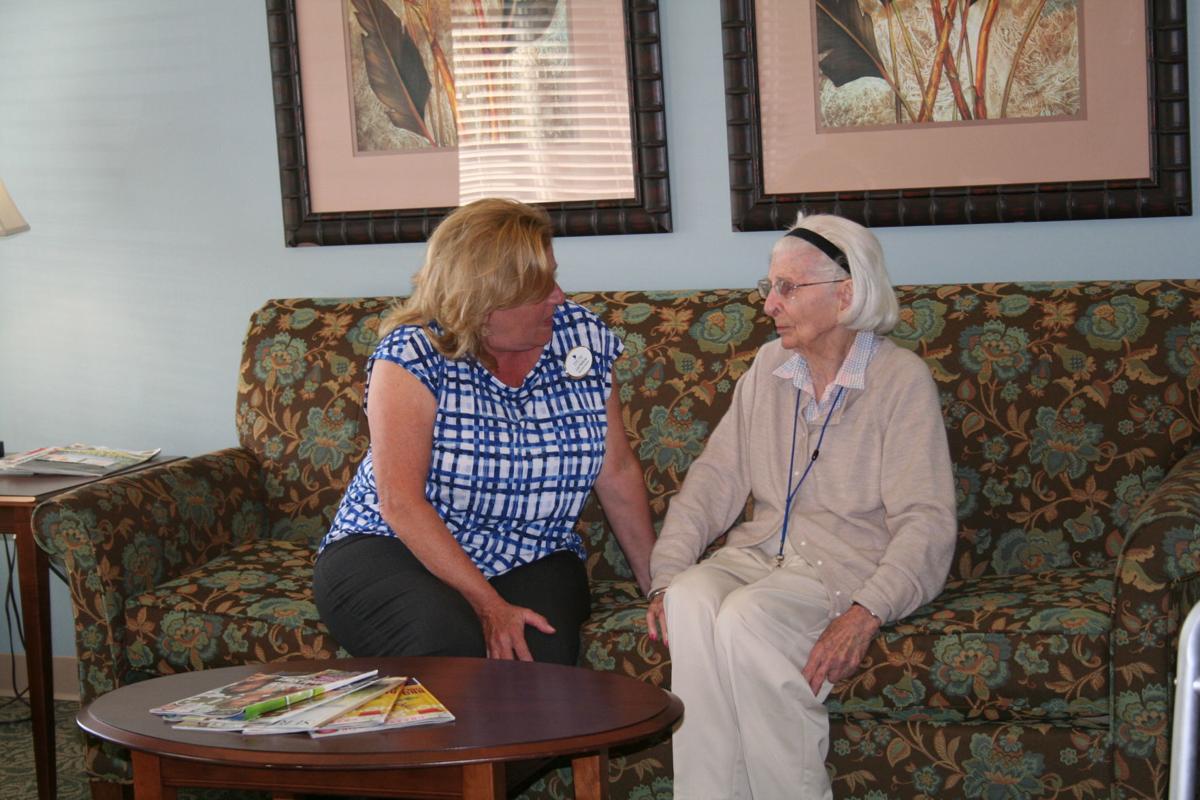 For many seniors there comes a time when they don't need a nursing home, but do need help with certain things to remain living independently. In those instances, an assisted living center often becomes the best choice.
"Maybe they can do their own medications or they need help with showers, or they're in a wheelchair and need help living in their apartment with caregivers," said Lori Keltner, executive director of Robin Way, Eagle Senior Living, a 48-room nonprofit assisted living facility at 7377 88th Ave. in Kenosha.
While the facility offers seniors age 65 and up that basic care, which includes laundry and housekeeping services, along with meals cooked from scratch, daily activities and more, Keltner said the real advantage goes beyond the physical needs—there's a real camaraderie here.
"I think the big thing is they get the socialization they didn't have by themselves," she said. "It really adds to their well-being. It's a known statistic that people die because they're alone."
The residents enjoy special events like the recent football viewing party for the Bears vs. Packers game. John Held, whose family had donated a large-screen TV to the facility, definitely wanted a front-row seat to watch the Bears win, right? "You gotta be kidding," said 94-year-old Held. "Oh, no, I'm a Wisconsin guy."
Helen Jobick, also a big sports fan, was looking forward to the party to root for the Packers, too, even if she'd "kind of" rooted for the Bears in her former office job at the Great Lakes Naval Center. "They made me a Bears fan," she said. But the party also offered her a chance to enjoy her favorite food – pizza, which she also intended to have at her party for upcoming 100th birthday on Oct. 28.
A staff of 17 trained caregivers and two chefs, along with an on-site doctor, nurse and podiatrist see to the residents' needs. There are daily exercise and other programs, along with scheduled shopping trips or outings chosen by the residents. Other amenities include an outside garden and patio, plus a small café and dining room, a spa room and the front library-sitting room. Some residents also still drive, while several have small dogs or cats, though the pets policy may change in the future. There's also a fish tank in the activity room.
Other special touches in and around the studio and one-bedroom apartments give the halls a "homey" atmosphere. Some residents knit or crochet. Ninety-five-year-old Betty Solberg's floral decorated doorway, done by her daughter, makes everyone smile. Another 81-year-old man turned his studio into a production center for knitting hats and making quilts he donates to children in hospitals across the country.
Another fun touch residents enjoy is the "happy hour," with a one-drink limit. Despite the amenities and the family-like atmosphere, what gets even more praise is the food. The menu, with items like homemade chicken pot pie or chili and desserts like the delicious-looking apple pie, gets big raves from both residents and staff thanks to the efforts of nine-year Chef Susan Lang and 17-year Chef Karen Ralph.
"I love that we can be hands-on with them," said Ralph, who began working in the kitchens at St. Catherine's Hospital right after high school. "If they don't like something, I'll see if we can change it. We also always have alternatives."
"I love to make sure they're happy and content," said Lang of cooking for the residents. A good thing, she said: "They like pasta and desserts here."
Ask anyone and the consensus is the same. "It's like home here," said Elizabeth Andrea, 79.