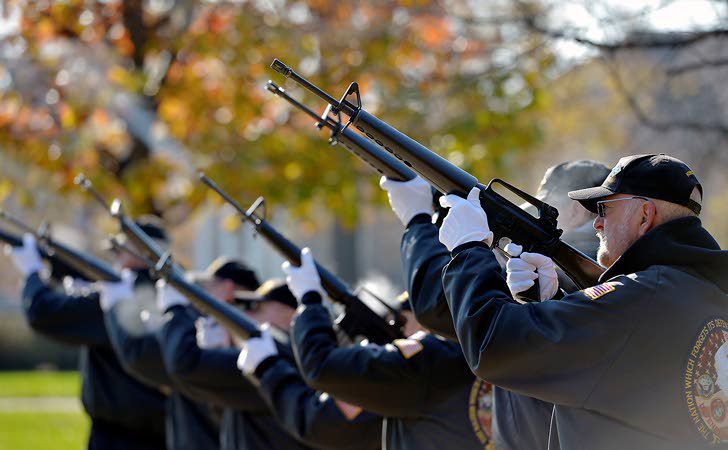 — McKinley Elementary, 5520 32nd Ave., 8 a.m. Nov. 11.
— Wilmot Union High School, 11112 308th Ave., Nov. 11. Breakfast begins at 7:45 a.m.; program begins at 9 a.m., followed by small group meetings with students at 1 p.m. The movie "Taking Chance" will be shown at 6 p.m. RSVP for the breakfast and program by calling Marlene Tilsner at 262-862-2351, ext. 260. No reservation is required for the movie.
— Wheatland Center School, 6606 368th Ave., Nov. 11. Coffee and sweets at 8:30 a.m.; program at 9:15 a.m. Photos of veterans in their uniforms are requested by Nov. 9 for inclusion in the program. Call the school at 262-537-2216 for more information.
— Bristol School, 20121 83rd St., 9 a.m. Nov. 11. Registered veterans are invited for a free lunch after the ceremony. To register, call 262-857-2334 by Nov. 9.
— Roosevelt Elementary School, 3322 Roosevelt Road, 10 a.m. Nov. 11.
— Lakewood School, 1218 Wilmot Ave., 10 a.m. Nov. 11, featuring band and choir, student speakers and area veterans. Coffee and pastries served prior to program.
— American Legion Post 21, 504 58th St., 11 a.m. Nov. 11. RSVP to Tom "Woody" Visintainer at 262-620-5646.
— Veterans of Foreign Wars Post 1865, 6618 39th Ave., 11 a.m. Nov. 11, with POW/MIA ceremony, beef stew lunch at noon and flag retirement ceremony at 1 p.m.
— Kenosha Area Vietnam Veterans, noon Nov. 11, Library Park, 711 59th Place.
— Brighton School, 1200 248th Ave., noon Nov. 11, featuring a brass quintet from the 132nd Army Band and a special gift for veterans afterward.
— Randall School, 37101 87th St., 12:30 p.m. Nov. 11, lunch followed by student-led appreciation and recognition ceremony. Reservations can be made by calling 262-537-2211 by Friday.
— Central High School, 24617 75th St., 1:15 p.m. Nov. 11, reception followed by assembly at 2 p.m., featuring guest speaker Marine Corps Aviation Operations Specialist Chris Annis and music by the band and choir.
— Paris School, 1901 176th St., 1:30 p.m. Nov. 11, featuring music teacher Ben Warmuth performing with his unit, the 132nd Army Band, which is part of the Wisconsin National Guard. A brass quintet from that band will perform.
— Trevor-Wilmot School, 26325 Wilmot Road, 1:30 p.m. Nov. 11, followed by a reception for veterans and their families.
— Shoreland Lutheran High School, 9026 12th St., 2:15 p.m. Nov. 11, followed by a light reception. To RSVP, call 262-859-2595.
— Riverview School, 300 E. Prosser St., Silver Lake, 2:30 p.m. Nov. 11, with a Wall of Honor tribute featuring photos of area veterans.
— Navy Club Ship 40, 5 p.m. Nov. 11, Navy Park, 54th Street and Sixth Avenue.
— Carthage College, 2001 Alford Park Drive, A.F. Siebert Chapel, 7:30 p.m. Nov. 11, "A Season to be Thankful" celebration, featuring Faithful Beat and the Carthage Handbell Choir, in collaboration with the Better Together Interfaith Movement, Catholics@Carthage, TAK, and Armed Forces at Carthage. For more information contact, Andrew Rewert, at faithfulbeat@carthage.edu.
— Civil War Museum, 5400 First Ave., and Kenosha Public Museum, 5500 First Ave., 1 p.m. Nov. 15.
Free for veterans— Acupuncture for veterans, 9 a.m. to 6 p.m. Nov. 11 by Three Moons Acupuncture, 11300 75th St., Suite 102. For more information, call 262- 977-8793 or go to www.threemoonsacupuncture.com.
— Free meals (on Nov. 11, unless otherwise noted) — Applebees, Cracker Barrel, Golden Corral (Nov. 14), Famous Dave's, IHOP. Check with the restaurants for times, details and proof of service requirements.