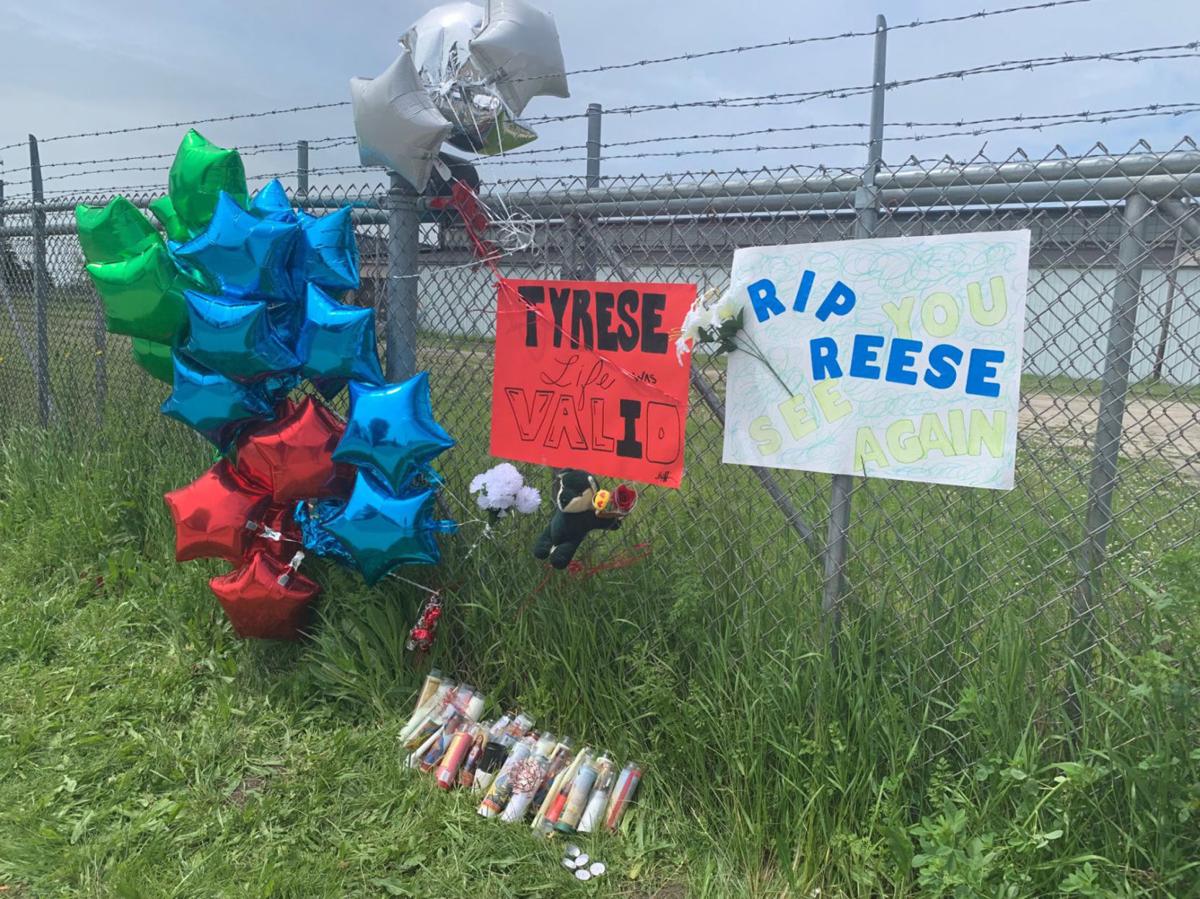 MOUNT PLEASANT — Two days after 18-year-old Tyrese West was shot by a police officer, balloons and candles lined a fence along Racine Street, and many questions remain unanswered.
Signs read "Tyrese life was valid" and "RIP Reese, see you again."
They remained after a vigil was held there on Sunday evening.
According to police: At approximately 1:35 a.m. Saturday, an officer with the Mount Pleasant Police Department shot West, who was reportedly not being cooperative.
Racine Police Deputy Chief Todd Schulz said a Mount Pleasant officer was attempting to make contact with West, when he fled. Following a short foot pursuit, the officer observed that West was armed. The Racine Police Department is the primary agency handling the investigation, with assistance from the state Department of Justice's Division of Criminal Investigation and the Wisconsin State Patrol.
"Less-lethal attempts to address the threat were unsuccessful, and commands issued to West were ignored. Lethal force was used to address the threat of the uncooperative individual," Schulz said in a Saturday news release. The shooting occurred in the 2500 block of Racine Street (Highway 32), near the former Case foundry.
On Monday, Schulz said that West was initially stopped for not having a light on his bicycle, something that is typically a safety concern. He was also stopped due to an increase in vehicle thefts, which were reportedly being committed by people on bicycles. He was also able to confirm that West was armed with a gun.
Questions remain
But many questions about the shooting remain unanswered, including:
What other non-lethal options were deployed before West was shot?
Did West shoot at police officers?
What is the name of the officer involved in the shooting?
Is the officer now on administrative leave?
What is the process for the officer on leave?
Was the officer wearing a body cam at the time? Was it on?
Is there squad camera video available?
Melvin Hargrove is pastor of Zoe Outreach Ministries, 2130 Racine St., Mount Pleasant, which is located a few blocks north of where the shooting took place.
Hargrove, a longtime community leader, said he did not know much about what happened but said he has questions and planned to make inquiries to learn more.
"The community is hurting right now and rightfully so. We have another young man who has been killed. You have to get some answers," Hargrove said. "As a pastor in this community, we need some answers as to this young man being shot down like this, period."
Victim had a record
West has had interaction with law enforcement in the past, but it was unclear as of Monday whether the officer involved had any prior contact with West.
In January, West pleaded guilty to a felony count of false imprisonment and misdemeanor counts of negligent operation of a motor vehicle and operation of a vehicle without consent stemming from an August incident in Kenosha County.
According to court records, West was also currently facing charges of disorderly conduct and resisting an officer in Racine County related to an incident in August. He was next due in court on that case on July 15 for a status conference.
He was also charged with theft of less than $2,500 in property in March 2018, a charge to which he later pleaded guilty.
Investigation underway
There is no word on how long the investigation into West's shooting will take to complete; however, Racine Police officials said they hoped to release more information in the coming days.
In the Jan. 17, 2018 officer-involved shooting of 26-year-old Donte Shannon, the Department of Justice released a report with their findings on March 20, 2018, approximately two months after Shannon's death. That incident involved the Racine Police Department. The DOJ report ruled that officers were justified in the fatal shooting of Shannon after he pointed a gun at police and refused to drop the weapon.
As of Monday, the Wisconsin Professional Police Association, which represents the rank-and-file officers of the Mount Pleasant Police Department, had not been called in to assist any officers involved in the incident, according Jim Palmer, executive director of the WPPA.
West's family was unable to be reached for comment on Monday. No obituary information had been provided to The Journal Times as of Monday night.
A gofundme account has been set up online to help family pay for funeral arrangements for West. As of 5 p.m. Monday over $1,000 had been raised.
Reporters Alyssa Mauk and Ricardo Torres contributed to this report.