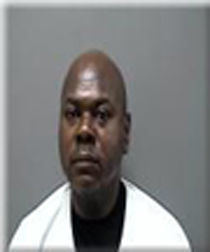 RACINE — A Racine man is facing felony charges after allegedly offering an informant $400 to kill a Kenosha County Sheriff's deputy whom the man unsuccessfully sued for alleged inappropriate touching.
Kelly L. Rainey, 55, is charged with felony counts of conspiracy to commit first-degree intentional homicide, threat to a law enforcement officer and manufacture/deliver less than one gram of cocaine and a misdemeanor count of possession of marijuana.
According to the criminal complaint:
The Racine County Metro Drug unit was using an undercover informant to investigate Rainey, who was reportedly dealing drugs in the area.
On Aug. 14, Rainey reportedly sold the informant 0.2 of a gram of cocaine and offered the informant a $200 down payment and a gun to kill the Kenosha County deputy, with $200 more to be paid when the deputy was dead.
Rainey contacted the informant later and gave the informant a $20 down payment, saying he would not be able to get the gun until Aug. 16.
Racine Police later pulled Rainey over at the intersection of 16th and Villa streets and arrested him.
"I'm suing the (expletive) out of all y'all," Rainey reportedly said as he was arrested. "I'm an innocent (expletive)."
Authorities searched Rainey's residence and found 28.5 grams of marijuana.
Rainey told police he does not sell drugs because he is "too (expletive) dumb." When police asked about trying to pay the informant to kill the Kenosha County deputy, Rainey changed the subject.
The informant also provided police with voicemails Rainey allegedly left on her phone.
"I also need you to do me a favor, and trust me, it's worth it," he reportedly said in one of voicemails. "But I will give you $500 to help me out. Just get rid of this damn pig for me. Damn police department are going to pay."
Rainey has been incarcerated before for charges including substantial battery, intimidating a victim, theft and uttering a forgery.
Rainey made an initial court appearance Tuesday, during which a cash bond was set at $100,000, records show. He remained in custody at the Racine County Jail with a hold order Wednesday afternoon.
Be the first to know
Get local news delivered to your inbox!