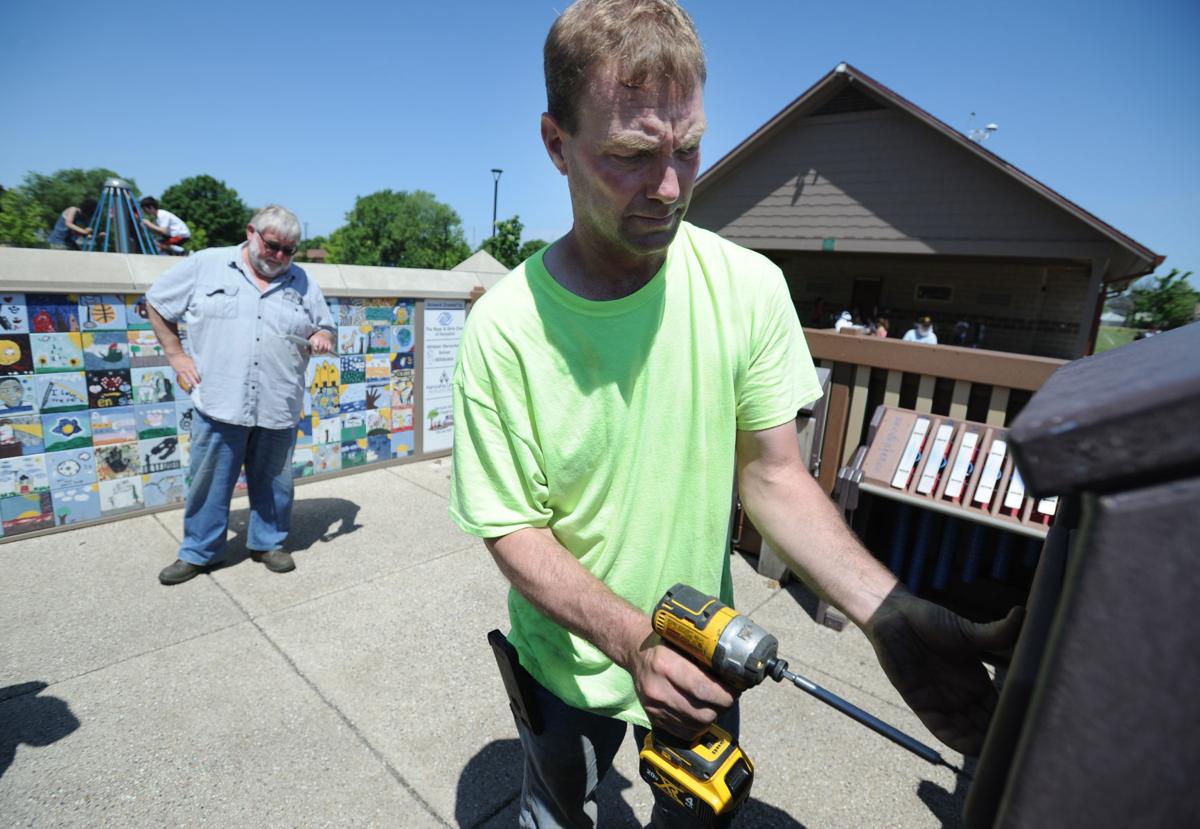 Playground, a heart- warming place created by thousands of volunteers for children of all ages and abilities, is by no means exclusive to hoodlums.
The 15,000-square-foot, nationally recognized playground was vandalized by what was believed to be a group of unsupervised juveniles sometime after 8 p.m. Monday, according to Dream Playground organizer Tammy Conforti.
The playground, located within Petzke Park, 2820 14th Ave., is the city's only fully accessible playground. It opened in October 2015 behind a $1 million fundraising effort and countless hours of volunteer labor.
Since its creation, it's been a frequent site of vandalism by individuals looking to destroy or deface the property.
On Monday, vandals wreaked several thousand dollars in damage to the pavilion, demolishing the water fountains and ransacking the bathrooms.
"When the playground was dedicated to the city, I thought it's not going to be a target of vandalism because of the way it was created," Conforti said.
"It was funded by a committee. We raised $1 million in three years. Three thousand people put it together. There was pride of ownership. Schools were connected. Day cares were connected. There was builder's trade, restaurants, businesses (involved).
"There was so much connectedness to the city, I didn't think it would be a target. Sadly, I was proven wrong."
Kenosha Police and city officials assessed the damage on Monday and are reviewing video footage of the incident.
There appeared to be heavy damage to drinking fountains, bathroom stalls, a bathroom window and garbage cans, according to Conforti. Two weeks ago, a bathroom changing table was ripped off the wall.
Conforti was notified of the incident Monday morning by Parks Superintendent Jeff Warnock.
"He wanted me to know in advance," Conforti said. "He knows I've put my heart and soul into this playground, and he knew I'd be upset."
The playground operates under the watchful eye of the Kenosha Dream Playground Project Ambassadors, a group of 47 trained volunteers who oversee the site and keep it a safe place for all.
The members work seven days a week, rotating two-hour shifts until 8 p.m.
The Dream Playground follows the rules of other city parks, which close nightly at 10 p.m.
"We have to reevaluate some of the security measures over there," Conforti said. "I don't want families to think its not a safe place to take their children."