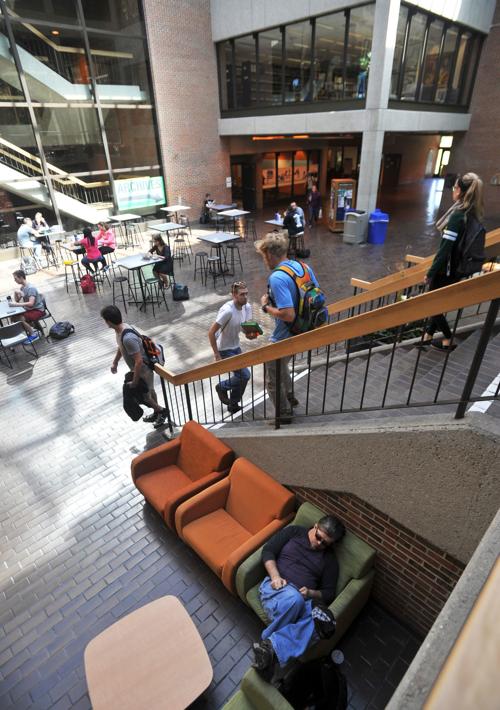 MADISON — A $35.88 million renovation of Wyllie Hall, one of the biggest construction capital projects in years on the University of Wisconsin-Parkside campus, received final approval Monday.
The State Building Commission authorized Phase 1 renovations of the 1970s-era hall that establishes a new Learn Commons that brings together student advising, financial aid, tutoring and other support services with an aim to increase graduation rates 50 percent by 2025.
In the 2016-17 academic year, 801 undergraduate and graduate degrees were awarded to Parkside students. The university's 2025 Strategic Framework would seek to increase that by another 400 students, according John Mielke, the university's director of communications.
Parkside students face a number of challenges to their academic success. A higher percentage graduated in the bottom half of their high school classes than other UW students. More than half of Parkside students are the first in their families to attend college, and half work 16 hours a week or more off campus, while 36 percent are eligible to receive Pell Grants, which are awarded to low-income individuals.
A substantial number of students are considered to be at high risk for failure, which makes academic support very important, said Scott Menke, Parkside's vice chancellor for finance and administration.
"The programs are in place to help students succeed, and now the need is to improve the facilities. ... It's something that needs to be done," Menke said.
The tax-dollar-funded project renovates 198,600 square feet of Wyllie Hall, built in 1972, and repairs structural problems and water seepage in the lower levels plus updates the original heating and cooling equipment that is no longer made and difficult to repair.
The pedestrian plaza, retaining wall and concrete planter constructed along the north side of Wyllie Hall will be repaired or replaced to correct a subsurface water leak that has caused significant damage to the basement walls.
"There's water seeping underground into the (lowest level) and a walkway. We've done nearly everything we can to fix this but now need to take bigger measures," Menke said.
The lower-level renovations will also make the student services offices more attractive, modern looking and less dark, he said.
Construction is scheduled to begin in April and be completed in October 2022. While two basement levels of Wyllie are being renovated, advising will move to the library; other functions also will be relocated to other buildings on campus.
Levels 1-3 are tentatively scheduled for renovation in the 2023-25 capital budget.