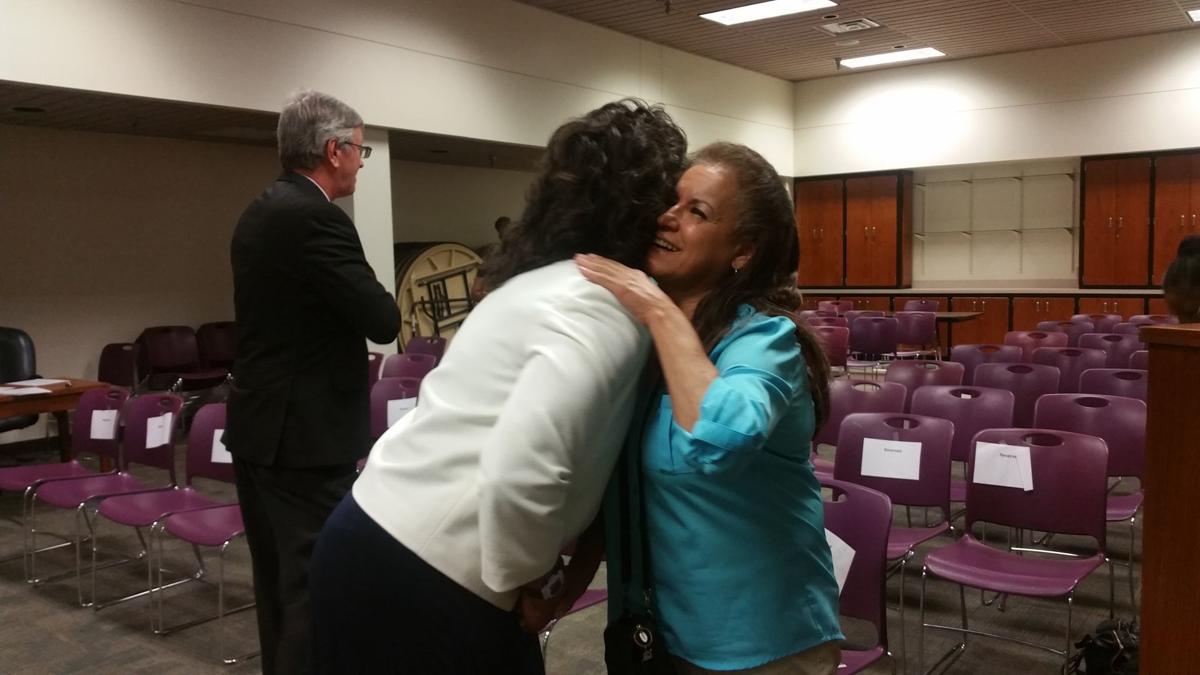 A former Kenosha Unified School Board member will return to the board following a 16-year hiatus.
The board voted 5-0 to appoint Yolanda Santos Adams late Tuesday to fill the vacancy left by Gary Kunich.
Kunich resigned Aug. 1, indicating that he would no longer be able to serve because he and his family were moving so they could be closer to their jobs in Milwaukee.
Voting to appoint Adams were board members Todd Battle, Tom Duncan, Mary Modder, Tony Garcia and Dan Wade, the board president. Board member Rebecca Stevens was absent due to a health issue, according to Wade.
Adams said she was "pleasantly surprised" at having been appointed because of the quality of candidates who had applied to fill the vacancy. During the individual interviews other candidates were sequestered in another room and that's when Adams said she had the chance to talk with them.
"We really got to kind of know each other just in that short period of time we were getting called (to interview). They just were all qualified people, what can I say? They all were," she said.
Adams said she and Adelene Greene, who are friends, decided to apply for the vacancy because "they needed to have a diverse pool of candidates."
"Age, background, experience and ethnicity. So, we really felt strongly that, since there was an opening, we'd encourage everybody to apply," she said. "That's why I'm pleasantly surprised because there's some good educated people out here."
Among them was one of her mentors, Howard Moon, a former Kenosha Unified administrator who also applied for the vacancy. Moon, she said, was the one who encouraged her and the late Rev. Olen Arrington to become involved in Unified's committees. Adams and Arrington would later serve on the School Board.
Adams served on the board from 1999 to 2003, before being defeated that year. Adams is no stranger to being appointed. In 1999, the board also selected her to serve out the remainder of the term of Juan Torres.
Adams earned the top score, with 17, among candidate finalists following two rounds of interviews conducted by the school board during the three-hour special meeting held at the Educational Support Center, 3600 52nd St.
The board narrowed the field from nine to five candidates in the final round that included Adams, Steven Davis, Todd Price, former School Board member Mary Snyder and Mary Tendayi Esquilin. Davis and Price earned the second highest scores each with 15, while Snyder and Esquilin each earned 14 points.
The interview questions focused on what kind of relationship the district should have with the community, obstacles in education and how the candidates work to overcome them what they believe the board's duties and responsibilities are, board priorities for meetings, working to attract and retain high quality educators, areas of excellence in the district and where improvement is needed.
Adams told the board that recruitment is important when it comes to attracting teachers and to spread the word about the "wonderful city Kenosha is."
She said the district needs to go beyond the state to bring in qualified employees.
She said the district excels with its facilities and in technology.
"We're so advanced compared to some of our neighboring districts," she said. "That all leads to students getting better education."
She said compared to when she served on the board, the district, while still not where it should be, has made strides in improving graduation rates and preparing students with the skills they need for the future.
A product of Kenosha Unified Schools, she also raised children who graduated from its schools and now has grandchildren attending them.
She added that the district needs to continue to look at resources, reducing class sizes, supporting the classroom so that teachers have adequate prep time and time to connect with parents.
Last week, 11 candidates, all residents of the district that includes Kenosha, Pleasant Prairie and Somers, submitted letters of interest and were scheduled to be interviewed. Other candidates interviewed, but were not finalists included former School Board member Kyle Flood, Kyle Holder, Moon and Susan Poland.
Stephen Raclaw and Robinson dropped out of the running prior to the meeting. Robinson, according to Adams, could not attend due to a family matter. Robinson sent an email to the district earlier Tuesday saying she needed to withdraw due to her mother's emergency surgery. Raclaw's reason for absence was not immediately known.
Adams said she is excited to return.
"I'm kind of excited to do it again because so much has changed," she said.
She said she also plans to run again for the job when the term is up in the spring.
"I would run again because whatever knowledge I gain in those six months, I want to use it again and not have the district lose that," she said.
Late Tuesday, Flood also announced that he has filled out declaration of candidacy papers and intends to run next year.