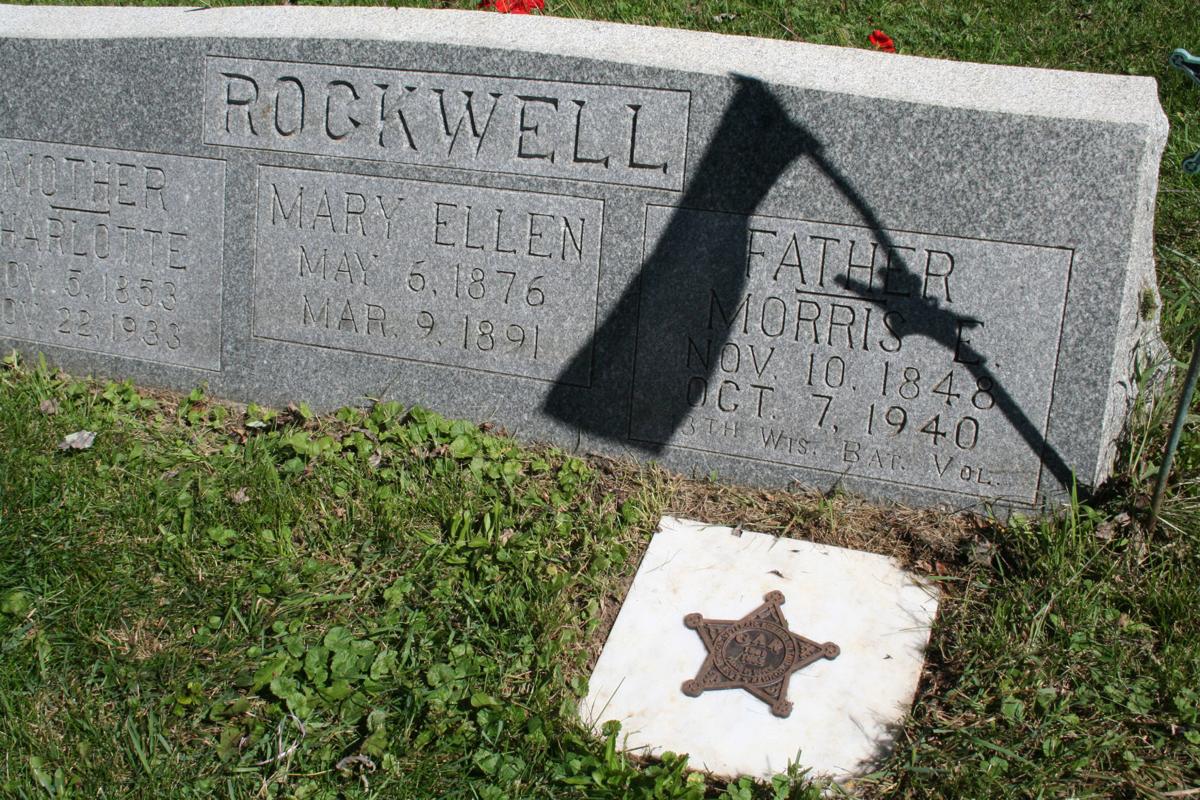 BRISTOL — The American Civil War may seem like ancient history today, but a group of descendants of Civil War veterans made sure Saturday that the last soldier of that war buried in Kenosha County was honored and remembered.
The South Bristol Cemetery grave of Pvt. Morris E. Rockwell, who was born in November 1848 and died at age 91 in October 1940, is now marked with a specially made star signifying his status as the "Last Living Union Veteran Buried in This County."
The designation by the Wind Lake chapter of the Sons of Union Veterans of the Civil War is part of a national project aimed at commemorating graves of the last known buried Union veterans in each county in every state.
Of Wisconsin's 72 counties, so far, graves have been marked in Racine, Milwaukee, Walworth, Waukesha, Sauk and Kenosha counties.
"It's like the last man standing," said Bob Koenecke, SUVCW commander of Wheatland. The national organization is comprised of descendants of Civil War veterans and is the successor of the original Grand Army of the Republic fraternal organization for veterans.
Rockwell and his wife, Charlotte, who died at age 80 in 1933, only have one daughter listed on the tombstone with them. She died at age 14.
The commemorative star, which was designed by Koenecke, is but another way for war descendants to remember those who served their country in one of its greatest times of stress and hardship.
"The records of 300 fighting regiments show that of their number, one in three was either killed or wounded," Koenecke read, quoting past SUVCW Commander-in-Chief Perie L. Fouch in 1949.
The purpose of their event, he said, is that "we the Sons of Union Veterans of the Civil War gather at this memorial in sacred memory of our fathers and their sacrifices."
Preserving the past
A couple of the organization members are involved in re-enacting as well, but most enjoy the camaraderie of the organization and are interested in keeping their family heritage alive.
Member Jeff Graf of Union Grove has been in the organization for seven years. He found after years of research that he had two great-great-grandfathers who served in the Union Army.
"I did hunt it down," he said.
Brian McManus of Wind Lake has been in the group for 10 years and said it was a way to learn more about his family's Union service from his father.
"It was a way for me to spend time with my dad," he said.
Dave Daley of Waterford was the only one who didn't have a direct Civil War connection. He qualified for associate membership in the organization by way of marriage since his great-grandfather's sister's husband served in the 41st Missouri Infantry.
Rich Kallan of Muskego said his great-great-grandfather's kepi or cap is in a Minnesota museum.
"A minie ball was shot right through it," he said. "Relatives showed us the minie ball. I was that close to not being here."
The ceremony concluded with a three-volley musket salute, the singing of taps and Koenecke reading the words, "As all the veterans here gathered are aware, a soldier cannot leave his post without being properly relieved. Pvt. Morris Rockwell, you are now relieved. I have the post."