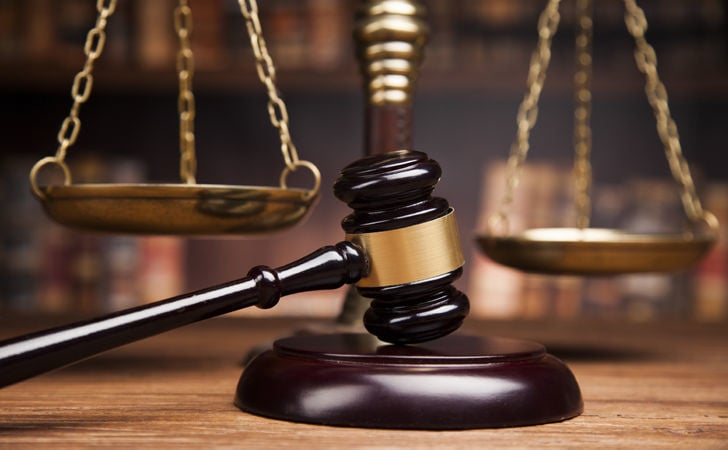 Citing what he sees as a number of serious allegations, Kenosha County Circuit Court Commissioner Loren Keating ordered a $100,000 cash bond for a city man arrested after he fired a handgun Monday night.
Michael W. Lorberter, 63, made his initial appearance before Keating on Wednesday afternoon.
Lorberter is charged with felony counts of first- and second-degree recklessly endangering safety, along with misdemeanor counts of criminal damage to property with the use of a dangerous weapon, disorderly conduct with the use of a dangerous weapon and pointing a firearm at another person.
The two felonies carry a combined maximum prison term of 22 years, six months and a total fine of $50,000.
Keating delivered a stern message to Lorberter during Wednesday's court hearing.
"They are incredibly dangerous and reckless (allegations) in terms of what's alleged," Keating said.
Criminal complaint
According to the criminal complaint, the charges stem from an incident that began in Pennoyer Park on Monday and ended with a two-car collision and the firing of a handgun in front of La Fogata Mexican Restaurant, 3300 Sheridan Road.
Police spoke to a caller, who stated he was northbound on 7th Avenue when a light-colored van cut him off in the 4000 block of 7th Avenue. The driver, Lorberter, approached the driver's side and swung his cane at the passenger side mirror and broke it.
When the driver attempted to leave, the defendant allegedly struck the back window of the vehicle and shattered the glass. The victim also told police he believed that Lorberter had a gun in his possession, but because he was afraid and drove away fast, he couldn't be certain.
Just minutes later, police were dispatched to the area near La Fogata, where they spoke to a male, who stated he was attempting to leave the band shell when he saw the defendant driving erratically near the north entrance.
Lorberter allegedly stopped his vehicle in the center of the driveway, began to exit, yelled toward the victim and pulled out a firearm. The man stated the defendant pointed the gun at him.
As the victim headed southbound on Sheridan Road, he stated his vehicle was struck near the rear passenger side by the defendant's vehicle, which caused him to lose control. Now facing northbound, the victim stated he heard a loud "pop" he believed to be gunfire, then looked in his rearview mirror and saw the defendant still pointing the gun at him.
"It's incredibly dangerous," Keating said in court. "You have a crowded restaurant right there. You have other vehicles operating on a well-traveled highway. All of that, to this court, is very concerning."
Special prosecutor Ian Hackett agreed with Keating.
"The allegations in the complaint are extremely concerning of using a car as a battering ram to get another car to stop, then pulling a gun and firing a shot," he said.
Police later located the vehicle at the defendant's residence, where they observed front-end damage.
Lorberter eventually surrendered to the Kenosha County Tactical Response Team. During a search of the residence, police found three handguns, a 20-gauge shotgun, a cane and a set of pajama pants the defendant was seen wearing by one of the victims.
Lorberter spoke to police and stated he was in the area of the band shell when another vehicle was riding his rear bumper. He stated he attempted to allow the vehicle to pass, but was instead boxed in.
The defendant further stated he fired a "warning shot" into the air with his 9mm Ruger in an attempt to scare off the three to four other people in the vehicle. He also told police he had been attacked by individuals after he arrived at his residence, and he believed they were the same people he had encountered on Sheridan Road.
Defense attorney Joseph Corcoran, who requested a high signature bond or a low cash bond, told Keating his client doesn't have a prior criminal record, other than a drunken driving offense, and that he has spent his entire life in Kenosha.
The allegations he was attacked at his home show there's still more to be uncovered, Corcoran said.
"There is still quite a bit of information out there that's relevant to this case," he said.
Second case
A second criminal case was filed against Lorberter on Wednesday that charges him with five misdemeanors for a July 8 incident.
Lorberter is charged with pointing a firearm at another person, carrying a handgun where alcohol is sold and consumed, possession of a firearm while intoxicated, carrying a concealed weapon and disorderly conduct for an incident at the Union Park Tavern, 4520 8th Ave., Kenosha.
Police spoke to a man, who stated the defendant used a racial slur at him, and later, outside the tavern, yelled at him and another man and began swinging his cane. Lorberter than allegedly pointed a gun at the man and said, "You're going to end up in the hospital, and maybe your friend, too."
Keating imposed a $10,000 cash bond in that case. Lorberter is due back for a preliminary hearing and further proceedings in both cases on Oct. 23 at 10:15 a.m.
Be the first to know
Get local news delivered to your inbox!