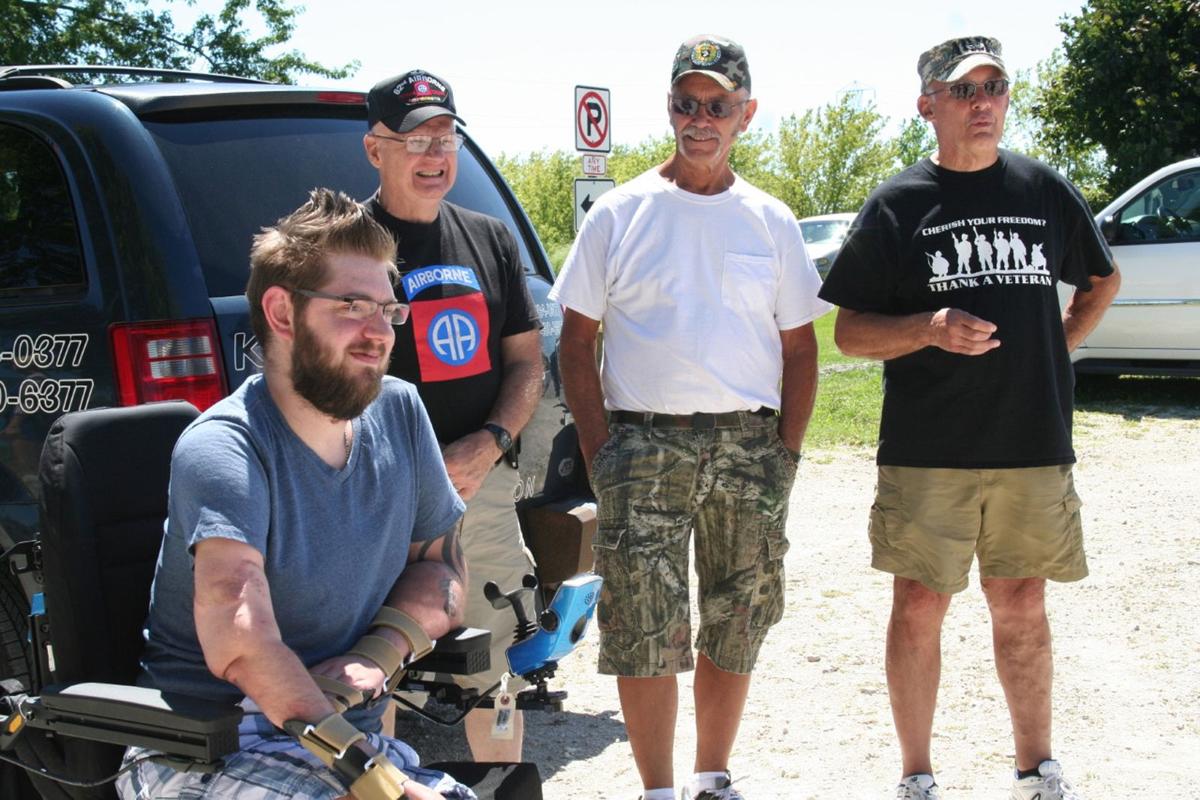 A lot of things have changed since Marine Sgt. John Peck, formerly of Antioch, Ill., was in Kenosha.
He got married in December and shared how he is doing since receiving a double-arm transplant last summer.
He lost three limbs and had to have his other arm partially amputated after stepping on an explosive during his second tour in Afghanistan in 2010.
"I wanted to make myself 100 percent independent," said 31-year-old Peck of deciding to have the transplant. "It's improved my life. I want to become a chef and I can't do that with prosthetics."
Peck and his wife, Jessica, flew in from Maryland Saturday and were escorted by the American Legion Riders to the 9th annual Fec's pig roast and fundraiser. The event, held at Moose Lodge #286 on 30th Avenue and sponsored by Fec's Place, was held in support of the Southern Wisconsin All Airborne Chapter (SWAAC), 82nd Airborne Division Association's Wounded Warriors Project.
The independent association, (not associated with the project of a similar name), is all volunteer and donates 100 percent of funds raised to help wounded veterans.
"We were sending care packages overseas and found out a lot them were being pilfered so we decided to help severely wounded veterans,' said Nick Pulera, chairman of the SWAAC. "We heard a lot of these wounded veterans are under a lot of financial strain."
The group raised over $13,000 at its last pig roast, and also holds other events throughout the year.
Donations are given to veterans whom group chairman Dan Boring meets at the military hospitals in Texas or Maryland. As a retired American Airlines employee, he flies to the locations at no charge, saving the organization additional costs.
Veteran Bob Morgan, 77, of Sheboygan calls the group's efforts "fantastic. This is why we all volunteer. The work we do goes where it pays off."
The group continues to give donations small and large to veterans in need throughout the year. They presented an additional $3,000 to Peck, who's had 27 surgeries and 81 blood transfusions, and who now has twice-daily occupational therapy, along with physical therapy. He and his wife live in a specially equipped apartment near the military hospital in Maryland.
Since the transplant, he's had three rejection episodes, including one for three months. He now
has about another year of therapy to go.
"It's very humbling," Peck said of the support the group has given to him. "There was a guy standing at the road saluting when he saw our motorcade. It's very nice to see."
"We can't do enough for these guys," said SWAAC Chairman Jack Gibbons of Kenosha, a former teacher at the Kenosha Military Academy. "They've given so much for our country."