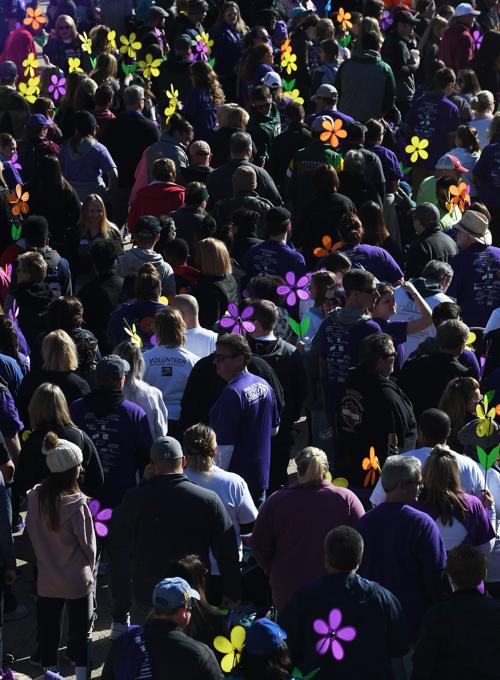 SOMERS — The annual Kenosha-Racine Walk to End Alzheimer's will be Saturday at the University of Wisconsin-Parkside, 900 Wood Road.
Hosted by the Alzheimer's Association, the event begins at the Student Center with registration at 8:30 a.m., a short ceremony at 9:40 a.m. and the walk starting at 10 a.m.
Aaron Sims, play-by-play announcer for the Milwaukee Admirals, will once again be the celebrity walker and emcee for the event. Roscoe, the Milwaukee Admirals mascot, will also be in attendance, along with Elvis, the mascot for the Kenosha Kingfish, and many recognizable princesses and superheroes from Enchanted Parties & Events.
The opening ceremony will include a special Promise Garden tribute to all whose lives have been touched by Alzheimer's.
There will be a raffle, along with food and refreshments, team photos, a Caregiver Sanctuary tent with resources and respite for caregivers, and the Purple Clubhouse activity area featuring family activities, temporary tattoos and fun characters to pose with.
A Champions Tent will recognize walkers who have raised $500 with a meal catered by Qdoba.
Post-walk entertainment will be provided by Source 1 DJ Services.
The event is co-chaired by Sue Kumorkiewicz and Suzanne Maki.
"I lost my mom to Alzheimer's in 2013," said Kumorkiewicz. "That same year, I saw a Walk sign on the side of the road and decided I would honor my mother. By walking, I learned about the education and resources the association has available to caregivers and families to help them get through their journey.
"Over the last five years, I have had the honor of being a part of the Kenosha/Racine Walk to End Alzheimer's Committee. Now I walk in honor of my mom and others affected by this disease."
In 2018, more than $111,000 was raised by the event.
Participants can register, support another walker and get information online at act.alz.org/kenrac. For questions or assistance, call 800-272-3900.